Tireless and restless, Paresh Maity is equally open to experimentation and conceptual art
Painter
of many hues
Nonika Singh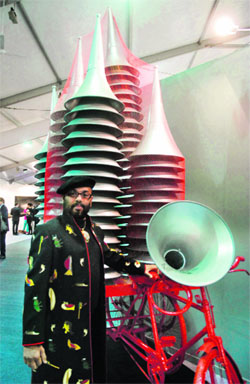 Wearing motifs of his paintings on a self-designed jacket, Paresh Maity stands in front of his art work Tribune photo: Manas Ranjan Bhui
He literally wears his art on his sleeves. But then, for prolific painter Paresh Maity who eats, sleeps lives and dreams art, wearing motifs of his paintings on his self-designed jacket is merely an extension of his passion. Art is not only his lter ego but an inextricable part of his life without which he canít hope to exist.
He smiles, "An artist never rests." So even when he is dreaming, the tireless painter is thinking of where and how to put the colours.
Not surprising not even once has he suffered an artistís block: there is not even a single day in his life when he doesnít paint. Yes even when this compulsive globetrotter is travelling. While Europe, where he was once exposed to landscape masters Turner and Constable, continues to open new doors and visions, he is equally enchanted by India, particularly Rajasthan whose vibrant colours and rich tapestry fascinate him.
Colours, which flow on to his canvasses in all its resplendence and vivacity, he says, are integral to paintings. Red, blue, yellow, green remain central to most of his works.
Born in a coastal town in Bengal, childhood memories of sea, boats have shaped his artistic sensibilities to a large extent. Essentially a master water colourist who learnt to tame the unforgiving medium of water colours early enough, today he straddles various mediums ó be it oils, mixed media, ceramics or bronze with consummate ease.
At the fourth edition of India Art Fair, his installation at the Art Alive Gallery exhibit comprising good old loudspeakers (bhonpus) piled on a rehri painted red held the attention of every passerby as it stood out as a requiem for the lost world.
Says he, "In the age of I-pods, the classical sounds of yesteryears have been completely forgotten." In Singapore, he created a life-size installation with sound (of thunder, sea), light (360 flickering lanterns), once again an ode to childhood years, of growing up.
Though certain images like boats recur time and again and landscapes come naturally to him, Maity insists that he doesnít go looking for subjects. "On the contrary subjects come calling," he quips. Not too long ago, Tagoreís 15 poems, titled Shesh Lekha (The Last Writings), composed by the poet laureate in 1941 had him enthralled and he painted the master poetís poems in large water colours and in green, the colour of nature. Virtually written by Tagore on his death bed, Maity shares how poems not only are essentially about nature but also brim with sublime feelings and spirituality.
The sensitive medium of water colours may have been his first love, he is equally open to experimentation and to conceptual art. Maity, who passed out from the Government College of Art & Craft, Calcutta, and obtained his Masters of Fine Arts from Delhi College of Art, feels academic training is a must.
"Just as one has to know the ABCD before learning to write, one has to know how to draw and paint realism before moving to abstraction." He sums up his journey from realism to abstraction simply through a simile of apple and apple juice, the tangible and its essence. As Delhi has become his home since the past 22 years, he feels each place has helped him to learn and grow. And how stupendous has been his growth is evident in more than one way.
He has the honour of painting a large public art work about 850 ft wide, at Delhi airportís T3 terminal a feat that gives him tremendous satisfaction for it connects him to the layman. He has been extensively written about and more than three books, including one by Sharmila Tagore have been penned on him.
"Age", he argues, "has no bearing on oneís artistic potential and it is pointless to judge an artist on the yardstick of age correlating years with merit."
Success, however, he agrees does act as an adrenaline booster and creates positive energy. So surrounded by positive vibes, he spreads the joy of creation through his works that are at once reflective and joyous, a strong interplay of lines and colours. As the art world recognises him as an artist of extraordinary talent, he says simply, "Just consider me an artist." But an artist, who has held more than 55 shows in nearly a two decades, who won his first award when he was merely a student and whose works today adorn the National Gallery of Modern Art as well as the British Museum, par extraordinaire he sure is.