Sushi takes a bow
Courtesy young enthusiasts, Japanese food is gaining over Chinese haka noodles in India, writes Rahul Vaishnavi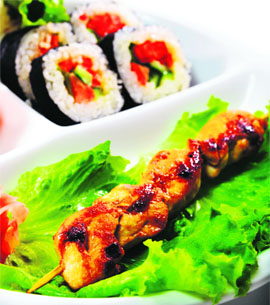 It's light, uses fresh ingredients and is different. Japanese cuisine is proving to be a hit among culinary enthusiasts in India, especially the young and the health conscious — even though many of the ingredients have to be imported, making it an expensive proposition.
Initially limited to premium restaurants in five-star hotels, Japanese cuisine has been made more accessible by a host of popular fine dining restaurants like Izakaya, Sushiya, Kyoto and Tamura.
"Japanese food is one of the healthiest in the world as it consists mainly of rice, vegetables and seafood. In today's hectic lifestyle, it is one of the best cuisines we have," says Kamal Dahal, manager at Kyoto restaurant, Gurgaon.
According to Dahal, 95 per cent of their ingredients are flown in from Japan; so the food is a bit expensive, but customers, especially youth, don't mind shelling out some extra. Dinner at Kyoto could set you back by Rs 2,500.
"Today's generation is independent and wants to experiment with its food. Many of our customers are youngsters working in nearby multinationals," adds Dahal.
Agrees Sonali Chowdhery, director of Izakaya in south Delhi's Vasant Kunj, who says people nowadays have become more enterprising and independent in their tastes.
"The customers that we get vary in age but they all appreciate the food," she says, adding that dishes like tempura and sushi were the most sought after at her restaurant. At Izakaya, some of the ingredients they fly in are basashi (horse meat), wasabi and gari (pickled ginger). A meal for two here costs around Rs 2,000.
Similar is the scenario in other metropolitan cities like Mumbai where youngsters are leading the change — some out of curiosity, others just to be fashionable.
"Japanese cuisine is fashion food and some of our young customers do come here because eating Japanese food is fashionable," says Shreeya Mitra, head chef at Sushi and More, Mumbai.
According to Mitra, her restaurant is one of the most affordable eateries in Mumbai as a meal for two costs only around Rs 500. "Our mother company imports the ingredients for us and doesn't charge any profit," she adds.
Former Indian Ambassador to Japan, Aftab Seth, says youngsters today are more open to new cuisines as they are better travelled.
A perfect example of the increasing popularity of Japanese cuisine is Sushiya in Delhi. Started in 2007 in Saket in south Delhi, it initially only delivered Japanese food but expanded into a takeaway joint in 2009. Finally, it became a dine-in restaurant in 2011 due to the rapid increase in clientele. According to Mike Adarsh, manager at Sushiya, the USP of his restaurant is the 'value-for-money' meals, which have helped in creating a loyal customer base.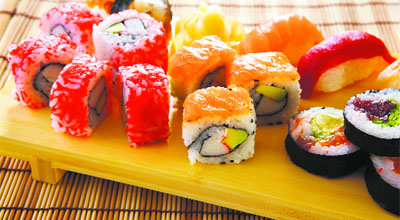 Thinkstockphotos/ Getty images
The recently opened Megu at the Leela in Chanakyapuri has gone a step further for its Indian clientele, as around 40 per cent of the dishes are vegetarian.
"We had to keep in mind that there are a large number of vegetarians in Delhi and we want to cater to everybody. Hence, we decided that 40 per cent of the dishes on our menu will be vegetarian," adds Aishwarya Nair, corporate head, food and beverages, at the Leela.
However, the restaurateurs unanimously agree that Japanese cuisine will not be able to attain the same level of popularity in India in the near future as its Chinese or even Italian counterpart due to its ingredients.
"Japanese food has the majority of ingredients flown in from Japan, so the food is bound to be expensive. Food joints selling sushi won't be cropping up in nooks and crannies in the foreseeable future," claims Vijay R. Verma, assistant manager at Harima, Bangalore. — IANS