Rainbow tourism shines bright in Tel Aviv
Maayan Lubell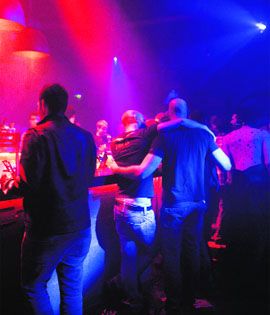 In Tel Aviv the sight of a gay couple is fairly common Photos: Reuters
Less than an hour away but a world apart from traditional places of pilgrimage in the Holy Land, Israelís freewheeling city of Tel Aviv has become a Mediterranean hotspot for gay tourism.
"Itís in the Middle East where itís not so easy to be gay and itís like a paradise in an area where you will not obviously find an open city like Tel Aviv," says Adir Steiner, who coordinates gay pride events for the city.
Leon Avigad, owner of the gay-friendly Brown Hotel, says Tel Aviv has become a "gay Mecca" and is enjoying a tremendous tourist boom in recent years.
"Tel Aviv is small enough to be intimate but big enough to absorb hundreds of thousands of tourists every year...weíre cosmopolitan, weíre very Western, European and American but on the other hand weíre very much into the Middle Eastern warmth and welcoming, and this combination attracts," adds Avigad.
At The Block club, a blond drag queen twirls and bops as the vampire-fanged DJ spin his records. Under a mirrorball, the men take to the dance floor.
A few weeks back Tel Aviv won best city on an American Airlines and a GayCities.com contest, sweeping past New York, Berlin and San Francisco with 43 per cent of the votes. Russell Lord, travel consultant, who specialises in gay tourism, says he has been flooded with requests since.
Israeli authorities do not have exact figures for the number of gay tourists who visit, but Steiner says international attendance at Tel Avivís annual pride events was up 25 per cent last summer.
Lord says the itinerary he designs for his gay tourists has all the sites one would find on the "regular" tourist trail through the Holy Land, but with a gay twist. "At the Yad Vashem Holocaust memorial (in Jerusalem) I make sure the guide will also speak about the (Nazi) persecution of homosexuals," he adds.
Lord says that Tel Aviv, about a 50-minute drive from Jerusalem, "is close to all the tourist sites so it serves as the base and at the end of the day they go back there for the night life."
At Tel Avivís Evita club, it is Eurovision song contest night. British tourist Tom Berry, 27, sys it is his first time in Israel.
"It is a great city, I canít compare it to any other city. Thereís a vibe about it, itís different. A small city that acts big. A lot of variety in restaurants, cafes, shops, markets and the people are from all different backgrounds," he adds.
Tel Aviv is often referred to in Israel as "the bubble", a city far different from Jerusalem, where ultra-Orthodox Jews in their traditional black garb make up a quarter of the population.
In Tel Aviv the sight of a gay couple walking down the street hand in hand is fairly common. "Ours is a city in which everyone can be proud of who they are," said the city Mayor, Ron Huldai, after it was recently announced winner in GayCities.com contest.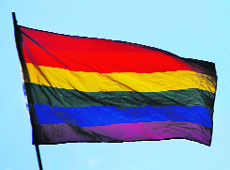 A rainbow flag on the roof of a homosexual and lesbian youth centre in Tel Aviv
Steiner says gay tourism has become a growing market internationally. "Billions of dollars are spent around the world ... each gay tourist coming into Tel Aviv is spending a lot of money, going to good restaurants going to theatre, the opera."
Israelís Tourism Ministry, along with Tel Avivís municipality, launched a campaign three years ago aimed at boosting rainbow tourism. "Gay tourists spend more money and are trend setting," says Pini Shani, director of the ministryís Overseas Department.
Back at The Block, the Holy Wigs drag queen ensemble is preparing to take the stage. Wearing a red dress and blond wig, drag queen Ziona Patriot says part of cityís allure is its freshness. New York and Amsterdam were old news. "And of course we have the Israeli guys, who are so amazing. The best-looking dudes in the whole world are in Israel," Patriot said. ó Reuters