ULTA PULTA
Beauty and the beast
A few days back there was a fashion show in Haryana with a difference. A look at the models on the ramp and even Aishwarya Rai, Sushmita Sen and Diana Hayden would have looked on with awe and bewilderment.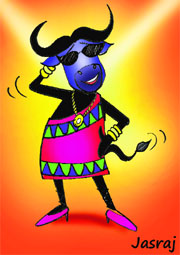 In Haryana, buffaloes of the murrah species took to the ramp amid the thumping heartbeats of the farmers present there. When these black beauties walked the ramp with their "Chhammak-chhallo" gait, many milkmen eyed them longingly.
Usually, when models scorch the ramp, they are flooded with endorsement offers. Just imagine a murrah rising from the dirty waters of the pond and looking coyly into the camera and saying. "The secret of my dark and shining complexion ó Dark and Lovely cream."
Horses and dogs have always enjoyed a royal and glamorous patronage but not all animals are that lucky. After this show, the Animal Husbandry Department of the Haryana Government may get similar petitions from pigs, goats and sheep that they have been discriminated against.
One woman asked the milkman, "Arrey, why didnít you deliver milk yesterday?" The milkman replied, "Yesterday my buffalo had to go to the beauty parlour so she took a chutti."