Mamata prevails, Trivedi goes
Tribune News Service & PTI
Kolkata/New Delhi, March 18
Dinesh Trivedi resigned today as Railway Minister ending his defiance and bringing to a close five-day drama after he incurred the wrath of Trinamool Congress for hiking passenger fares in the Railway Budget.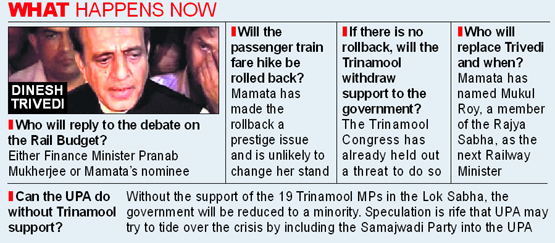 Trivedi, 61, spoke to the Trinamool chief and West Bengal chief minister on Sunday evening and assured her that he would be sending his resignation to the Prime Minister shortly. This was disclosed by Mamata Banerjee herself at Kolkata airport, just before she boarded a plane for New Delhi, where she has sought a meeting with the Prime Minister.
Banerjee told the media that Trivedi would continue to be a Trinamool MP. Her decision to convene a meeting of the Parliamentary Party on Monday at 2 pm sent alarm bells ringing in Delhi. Trinamool MPs privately confided that if Trivedi failed to resign before the Parliament session on Monday, the Parliamentary Party of Trinamool Congress would formally adopt a resolution to withdraw support from the UPA Government.
Once the game plan of Mamata became clear in New Delhi, Trivedi was hurriedly advised to speak to Mamata and resign from the Union Council of Ministers.
Dinesh Trivedi told the media in New Delhi that he decided to speak to Mamata Banerjee and end the prevailing 'confusion' over the party's stand. Banerjee communicated to her the party's decision that he should resign and as a 'disciplined soldier' of the party, he decided to fall in line.
It is not clear, however, whether Banerjee will be satisfied with just Tivedi's resignation or whether she would demand a rollback. She has already taken the public position that she would not accept the passenger train fare hikes.
Trinamool spokesmen have gone on record to state that "anything that hurts the common man is not in the party's DNA".