Magic of words and images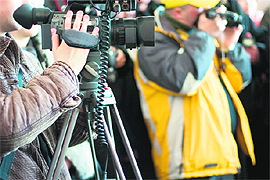 The world is still ruled by words that can 'create magic'. Communication being the most potent weapon in the modern world has the ability to create public opinion, influence public sentiments and send vital messages to the masses. From Doordarshan's penetration in the early 1980s to a decade full of information in the new millennium, communication in India has come a long way. With an entire spectra of media in a race to get hold of the masses, be it in the form of movie posters, advertisement hoardings or on the go FM channels, mass media catches up with you wherever you go.
Career Hotline
How can I get into weapon development?
Increase your employability
What's the scope in social work?
What's the best route to newsroom?
Productive break
Cool Counsel
How can I overcome exam anxiety?
Power of positive imagery
Tested techniques for better retention
Course cruising
Globalisation and liberalisation of Indian economy along with integration of world markets have opened up horizons of prosperity and growth for business. The fast pace of changes have made entrepreneurship the latest buzzword among the enterprising professionals.
career compass: ivf expert
Spread hope and happiness
Infertility/reproductive medicine is a very specialised branch of medicine that has saved countless couples from the trauma of being childless. One of the revolutionary treatments of chronic infertility is through in vitro fertilisation or IVF.
field in focus: social sciences
Road to a rocking career
Most students are wary of subjects such as history, political science, sociology, as they think these subjects require a great deal of rote learning, and also do not lead to any worthwhile career option.
Scholarship round-up
Fellowships for scientists
CareerCature@@
sANDEEP jOSHI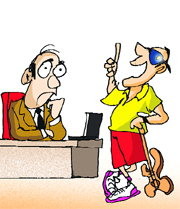 ... and one more thing. You'll have to accept my terms and conditions too.
classroom and career
A smooth transition
From time immemorial, the classroom and career have been at logger heads — each passing the buck onto the other. While the buck game continues, one common denominator gets sacrificed — the student. Today, students are at such a gain (pun intended) at the plethora of information available for them that choosing the right career is like choosing a needle in the haystack. With colleges with their marketing collaterals, each breathing a different story down their necks, career choice has become a real mind boggling exercise. Here is what as students you should do:
Lukewarm pay hikes
Uncertain economic environment in the country is going to affect the pay hikes across all major sectors this year as companies adopt a cautious approach towards pay raises. This has been indicated by the results of the annual Salary Increase Survey by Aon Hewitt. Salary increases in India are projected to be 11.9 per cent, marginally lower than the actual increase of 12.6 per cent in 2011.
'Smart' ban boosts performance
Imposing a ban on staff from checking their BlackBerrys, iPhones or any device just one evening a week can lead to improvements in happiness and performance at work, a new research has found. The Harvard Business School study involved management consultants being banned from monitoring their work after 6 pm once a week.
Happiness @ work
Keep a level field
Partiality towards a few causes heartburn in the others. As a boss, maintain as much neutrality as you can.