Bollywood sons, Punjabi soil


Yash Chopra's fascination for the exotic locales of Switzerland; Karan Johar's love for the plush hangouts of New York…we take a detour…sprawling green and golden fields, old heritage buildings and a lot of rustic flavour of Punjab.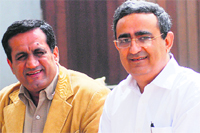 All in the dreams
Why do we have so many interesting stories, tales of valour, bravery and adventure around us? Someone just decided to pick up his bag, spin a fire in the heart and went around doing something he had always wanted to — Navneet Choujar wouldn't just sit, wait and brood over things in life.
Two to Tango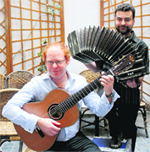 Sometimes it is sheer love for music that tends to bind two people together. Such is the case of Denis Plante and David Jacques. It was no other name than David's that Denis had heard when he went out on a search for a passionate musician. Although their instruments are as different as chalk and cheese, it has been the sheer love for music that has bound them together. In Chandigarh for the closing of the Mois De La Francophonie, organised by Alliance Française, the duo say they perform their creations around the world. His sea-green eyes move into oblivion as Denis Boreal starts talking about his life partner Bandoneon.
It's happening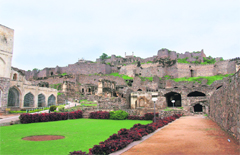 Fort-right
Why no attention is being paid to the forts, why people haven't been sensitized towards the heritage of the country and why even the government authorities have an indifferent approach—a number of important questions will be answered during the two-day festival addressing the imperiled condition of forts of India beginning from March 23.
Go Getter


Law of success
Saurabh Garg, 25, a young lawyer practising in the Supreme Court, was invited to the Bar of England and Wales in October 2011. Saurabh was invited to the Bar by the honourable society of the Inner Temple, which has notable alumni, including MK Gandhi and Jawaharlal Nehru, to its credit.
green thumb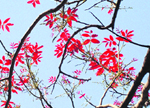 A city truly beautiful
This region, specially Chandigarh, is the best when it comes to gardens and greens. But here also, there is a time when these are at their best. And that time is approaching fast. If you want your friends and relatives to visit this city, to show them where you live, call them in the second week of April. That is the best time to be around.
Doc Talk
How sweet!
Chocolate is no threat to your skinThis definitely comes as good news for chocolate lovers. No more worrying about the calorie count or the tiny pimples that appear overnight after the sweet indulgence!
Master Chef
Heart smart!
Don't scowl! You needn't be a bed ridden patient to read further. It would be good to remember that food related to the heart's good health is beneficial to one and all. Healthy food consists of bright coloured fruit and veggies, whole grains, beans, nuts and soya products. Foods containing antioxidants and fibre would also help your heart, irrespective of your age or condition. I bring you a recipe where the flavours of fresh mint and paneer enliven a healthy brown rice. You can even toss in any leftovers to create a satisfying meal.
Neck-to-neck


Spring is here and it is time you show off some bare necks and trimmed waist-lines. From statement-making prints to cool new colour combos, discover tons of new outfits and necklines for the warm weather ahead. And trust us, you'll find something you just can't wait to put on. Talking of neck styles they are the very basis of a good outfit, so we list what is going to be hot in the coming season. Boat neck is one trend, as it showcases the beauty of the shoulders. As for the designers, they are playing with the versions of this trend where necklines can go as deep as you wish. "During summer, neck-lines are an important tool to woo the customers," says Ankush Mahajan, manager, Whistles, Sector 17, Chandigarh.
Stat Track
Splitsville for Katie and Alex
chatter box