M A I N N E W S
Now, Naxals kidnap Odisha MLA
Hostage crisis deepens as talks between Patnaik govt & rebels suspended
Bhubaneswar, March 24
Maoists today abducted a ruling BJD MLA while he was returning home from Koraput district, leading to suspension of negotiations between the authorities and ultras for the release of two Italian nationals taken hostage by the rebels 10 days ago.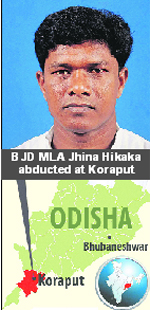 Around 50 armed Naxals stopped the vehicle of Laxmipur MLA Jhina Hikaka near Toyaput where the road had been dug up and a truck blocked the way, Koraput Superintendent of Police Avinash Kumar said.
While the personal security officer and driver of the MLA were allowed to go by the ultras who took away their mobile phones, Hikaka was taken away into the nearby forest at gunpoint, around 40 km from here, he said.
A declaration has been made by Maoists through posters that the MLA would be kept hostage until the anti-Naxal operation by security forces is halted.
Odisha Chief Minister Naveen Patnaik called up Home Minister P Chidambaram during the day and briefed him about the situation arising out of the kidnapping of the MLA and the two Italians.
State Chief Secretary BK Patnaik also called up Union Home Secretary RK Singh and briefed him about the kidnapping.
The kidnapping of the MLA has led to abrupt suspension of talks between Maoist negotiators and the state government.
Home Secretary UN Behera, one of the mediators on the government side, said that during the last two days unfortunate incidents like the killing of a police sub-inspector and the abduction of the MLA had taken place. — PTI
Red rage
50 armed Naxals stopped the vehicle of Laxmipur MLA Jhina Hikaka near Toyaput where the road had been dug up and a truck blocked the way
The personal security officer and driver of the MLA were allowed to go by the ultras who took away their mobile phones
Hikaka was taken away into the nearby forest at gunpoint, around 40 km from Bhubaneswar
Two Italians Paolo Bosusco and Claudio Colangelo were kidnapped on March 14 from Kandhamal district while they were trekking