Memories of a shared life
Reviewed by Roopinder Singh
The Wings of Time
By Salma Mahmud
Har Anand Publications. Pages 152. Rs 395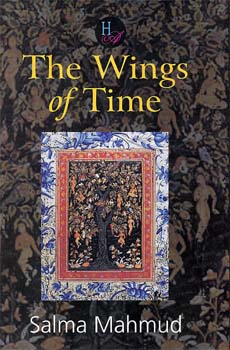 IT does not take a long life for someone to be remembered, it is how much impact that a person leaves which makes others reminisce about him even much after he is gone. Accomplishments, associations and the memories that a person leaves- all form the intangible legacy of the memory of a shared life.
Of all those who reminisce, for none are those memories as bittersweet as they are for the family members. Salma Mahmud's biography of her father, Dr Muhammad Din Taseer (1905-1953), started as a journalistic endeavour when The Friday Times asked her to write about her father's friends. Why? Because they constituted the most important writers, academics and critics of Pakistan. "Writing about them was nothing short of a traumatic experience. I felt I was drowning in a sea of sorrow and regret. Each one of them was an uncle for me, be he Uncle Victor, or Uncle Som, or Uncle Najji or whatever." She persevered and has presented to the readers an account of the times seldom dwelt upon. The 1930s was the period when a large number of Indians went to the hallowed halls of Oxford or Cambridge universities to study. They came back, generally speaking, equipped with an excellence in English and western education, as well as, often, a keen involvement in their mother tongue. Some, like MD Taseer, returned not only with a PhD in English from Cambridge, but also with a romantic interest in a British lady. In this way, we are introduced to Christabel, the author's mother, whose sister, Alys was later to marry Faiz Ahmad Faiz, then a lecturer in a college in Amritsar where Taseer was the principal. Alys came to India on the same ship as Jewell and Margaret in 1938. They all were to make India their home.
In a delightful aside, the author explores the genealogical tree of her mother and thus we find out that Christabel came from a French Huguenot family that had to migrate to Britain after they were hounded because of their religious beliefs.
As we explore Taseer's life, we find in it familiar places, Amritsar, Delhi, Simla and Srinagar, along with Lahore which dominated the later part of Taseer's life. Amritsar, a vital centre of commerce and education at that time, Delhi, with references to Lodhi Gardens, Simla with its Mall, and Lahore that is now as much a stranger to the readers in India as the first three cities are to readers in Pakistan.

Dr Muhammad Din Taseer with his wife Christabel
Marked by literary renaissance, poetic rebellions, coupled with political upheavals that changed the course of history, these were indeed interesting times and the Taseer family was in the middle of them. Through the family's perspective, we have a macro view of the world around them. The structure of the book is unusual. In the first four chapters, we have a unique collection of individuals who dominated the intellectual life of the subcontinent.
A S Bukhari, Sufi Gulam Mustafa Tabassum, Faiz Ahmed Faiz, Colonel Majit Malik, Badruddin Badar, Tajbans Khanna, Prof Hamid Ahmed Khan, Dr Aftab Ahmed Khan, Syed Abid Ali Abid, Allama Iqbal, Somnath Chib, Iqbal Singh, Victor Kiernan`85 names that are well known and these individuals contributed in various ways to the literary richness of the sub-continent.
Then we have Taseer himself. A rebel at heart, he was an educationist who was also an Urdu poet of distinction. He was awarded a PhD by Cambridge University in 1935. One of the founders of the Progressive Writers' Movement, he later fell out with those at the helm. He insisted that his daughter learn Urdu and Persian, even though it was English that was her primary interest. The man that emerges from the pages of Salma Mahmood's book is the kind of cosmopolitan Pakistani, a much-endangered species in Pakistan now. How much so? The answer comes sadly from the assignation of Dr MD Taseer's son, the Punjab Governor Salman Taseer, who was assassinated only last year, for his opposition to Pakistan's draconian blasphemy laws.
Salma Mahmud's account will find resonance on both sides of the border.