Jagir Kaur gets 5-year jail term for daughter's abduction, quits
Acquitted of murder charge, but held guilty of conspiracy in 12-year-old case
Umesh Diwan & Naveen Garewal/TNS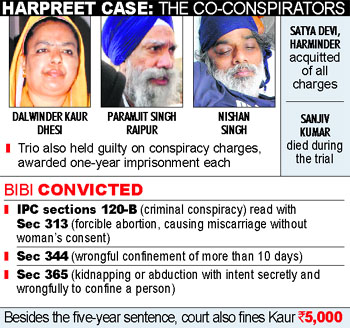 Patiala/Chandigarh, March 30
The only woman minister in the SAD-BJP government, Bibi Jagir Kaur (57), resigned today after she was convicted and sentenced to five-year imprisonment by a CBI court here for conspiring in forcible abortion and abduction of her daughter Harpreet Kaur, who died 12 years ago. Kaur, however, was acquitted of the murder charge.
The Rural Water Supply and Sanitation Minister broke down in court after special CBI judge Balbir Singh pronounced the sentence. She was immediately taken into judicial custody.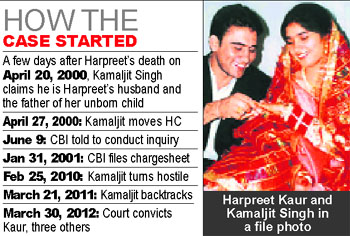 Harpreet alias Rosy died under mysterious circumstances on April 20, 2000. The family hurriedly cremated her at their ancestral village Begowal in Kapurthala the next day. No post-mortem was conducted.
Jagir Kaur, along with three other accused, Dalwinder Kaur Dhesi, Paramjit Singh Raipur and Nishan Singh was convicted under Sections 120-B (criminal conspiracy) read with 313 (forcible abortion - causing miscarriage without woman's consent), 344 (wrongful confinement of more than 10 days) and 365 (kidnapping or abduction with intent secretly and wrongfully to confine a person) of the IPC. Besides the five-year sentence, Kaur, a former SGPC president, was also fined Rs 5,000 by the court.
Two other accused Satya Devi and Harminder were acquitted of all charges. The seventh accused Sanjiv Kumar died during the trial.
The main complainant in the case Kamaljit Singh, who claims to be Harpreet's husband, refused to comment.
Kaur, who also held the portfolios of Defence Services Welfare, Removal of Grievances and Welfare of Pensioners, forwarded her resignation to Chief Minister Parkash Singh Badal after the verdict. The Chief Minister's Office said Badal would shortly send the resignation to the Governor. All departments held by Kaur will automatically come under the Chief Minister and stay with him till these were allocated to a new minister or distributed among Cabinet ministers.
According to the formula worked out between the allies, the Cabinet berth will remain with SAD. As first-time MLAs are like to be adjusted as parliamentary secretaries, the slot vacated by Kaur is likely to go to someone who has been an MLA more than once.
The names Gurbachan Singh Babehali, Balbir Singh Ghunas and Mohinder Kaur Josh are doing the rounds for the job. Babehali could be the choice as the Gurdaspur district is unrepresented in the Cabinet. Ghunas belongs to the reserved category, while Josh could be the choice in case the Chief Minister wants to replace Kaur with another woman.