A musical journey
The music museum in Rudesheim, Germany, gives visitors a fascinating look at the history of mechanical instruments, writes Inder Raj Ahluwalia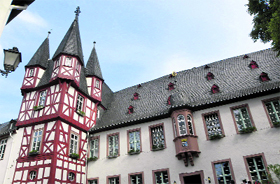 The museum is housed in Bromserhof. One of Rudesheim's famous old buildings, it dates back to the 15th century
Time has passed it by, or so they'd like us to believe. Housed in an architectural historical relic, just a few yards away from a world-famous little street better known for its wine taverns than its length — which happens to be a mere 144 metres by the way — it is deliberately and subtly old-fashioned in appearance, almost archaic. Just in case one doesn't get the message, the staff attires itself in period costumes that belong to the 19th century, and gesticulates ceremoniously a la opera-style. Welcome to 'Siegfried's Mechanisches Musikkabinett', also known as the 'music museum', an apt and well-deserved title, thanks to its pride and joy: one of the world's biggest collections of self-playing mechanical musical instruments from the 18-20th centuries. The collection includes pianos and recording systems that were the world's first instrument to produce music. A tour of the museum is a tour through fantasyland, enjoyable, fascinating, and educative.
The museum, which covers an exhibition space of more than 400 square metres, has one of the largest and most beautiful collections of mechanical music boxes. There are approximately 350 exhibits of mechanical instruments– from delicate musical boxes to a gigantic piano-orchestrion. The museum also includes tools and machines for manufacturing barrel organs, cardboard music, piano rolls and musical box plates.
The building is a story in itself. The Bromserhof is one of Rudesheim's famous old buildings and a tourist attraction in its own right. The former seat of the Knights of Bromser, the impressive old structure with its impressive fa`E7ade, it dates back to the 15th century. As it has done for centuries, it squats regally in a little garden with rose bushes and fountains, its medieval-looking entrance doorway framed by specially-costumed staff. The interiors are a labyrinth of little rooms, corridors and halls, their roofs and ceilings embellished with frescoes. And it is literally just seconds away from the world-famous Drosselgasse that gets more daily tourists than a giant oak has leaves.
Transfixed in its image, the museum seems to belong to the realm of folklore. Led through a labyrinth of chambers, rooms, halls, corridors, and even under staircases, one steps back in time as one files past an invaluable and beautiful selection of automatic music instruments ranging from the giant 'Concert-Piano Orchestrion', down to the tiniest music box.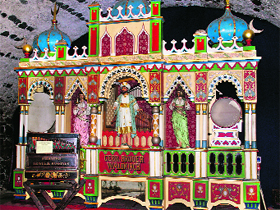 The music museum has one of the world's biggest collections of self-playing mechanical musical instruments
Amid all this hype, it is bemusing to learn that things didn't start on a serious note. It was just for fun that Siegfried Wendel first collected and restored mechanical musical instruments, but his hobby went further than expected and finally developed into the opening in 1969 of Germany's first museum of its kind.
So, what sort of guides does one expect to find in such a place? Conducting visitors through the museum are ladies and gentlemen with old-world graciousness, speech, accentuated with humour, black dresses, black hats, black waistcoats and cloaks, and white shirts, that would do justice to a pantomime, or at least a Sherlock Holmes film. Information is provided on the background of instruments, when and where these were built, who built these, their working techniques, and the role these once played in people's daily existence. All in immaculate condition, the instruments are actually played for you, and if you like a particular tune, they'll play it over again.
Pride of place goes to 'Phonoliszt Violina', a combination of a piano and six violins, which is described as the eighth wonder of the world. There's also 'Puppet Orcestrcan' (1888), a large cabinet with puppets and musical instruments. Subtly displayed are the combination of technology and music, and the understanding of how these odd-shaped instruments make music. Somewhere behind all this, carefully camouflaged, keeping the old machines 'singing' is high-tech at work.
Maybe it wasn't part of the original script, but the museum attempts to fulfil several goals simultaneously. It is an attempt to present visually and acoustically, the complete history of the development of mechanical music. It also has a cultural role in the research and presentation of mechanical musical instruments in the fields of science and technology, as well as that of music. Amid all this, the importance and essence of entertainment hasn't been forgotten. These instruments were originally designed to entertain people and that's what they continue to do. In the in-house boutique-cum-shop, one can buy souvenirs from picture postcards to instrument models and books highlighting the tradition of music downthe ages.
Remember all those grandold music systems so lovingly kept in people's homes a couple of generations ago? Wonder where they all went? Well, the Music Museum might have a tune or two to play on this.
Fact File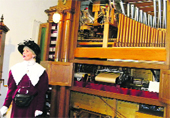 Where: Rudesheim is an hour by train from Frankfurt, and trains run on the hour. By road it is about a 90-minute journey. A 10-minute leisurely walk from the station brings one to the museum.
When: The Music Museum is open daily. Entrance tickets can be bought at the premises or by pre-booking. One can also visit it as part of an organised city tour. The museum is open from March to December only and the 45-minute guided tour includes a musical demonstration of some of the instruments.
What: The museum isn't very large and ideally, one needs about an hour to tour the premises and enjoy all the displays. One can ask for a guided tour. Information literature is available.