M A I N N E W S
CBI lookout notice for Vectra boss
Tatra Deal Ravi Rishi likely to be summoned again, all airports & border checkpoints on alert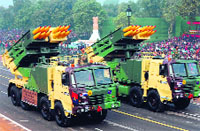 Prithvi and Agni missiles are launched from Tatra trucks
New Delhi, April 1
The CBI has issued a "lookout notice" to prevent NRI businessman Ravi Rishi, owner of Britain-based Vectra group, from leaving the country, a CBI official said on Sunday. The probe agency has alerted all airports and border checkpoints, officials said.
The Vectra group has been accused of alleged irregularities in the supply of Tatra trucks to the Army. Army Chief General VK Singh has alleged that he was offered Rs 14 crore in bribe to clear a file related to the purchase of the trucks. CBI sleuths had raided Tatra offices in Bangalore and New Delhi on Friday.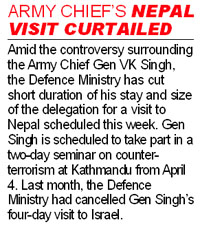 Rishi was not available for his comments and his company, when contacted, refused to react to the development, saying it were cooperating with the CBI in the case.
Rishi (57), named as an accused in the agency's FIR, has been questioned twice so far by the CBI and was likely to be summoned again. The Vectra boss has termed the allegations against him as unfortunate, saying the trucks were sold through public sector undertaking Bharat Earth Movers Limited. He also said the charges levelled with regard to Tatra trucks by the Army Chief were baseless.
Gen Singh has named retired Lt Gen Tejinder Singh in his complaint to the CBI as the person who offered him the Rs 14-crore bribe to clear a tranche of nearly 600 "sub-standard" trucks.
Tejinder Singh has refuted the allegations and has filed a defamation case against the Army Chief and some other senior officers.
CBI officials will be seeking more details from the Army Chief before they decide to register a case in connection with the bribery charge. The sources said the Army Chief was expected to provide more material about the alleged bribe offer soon. — Agencies