M A I N N E W S
Justice Das to be Punjab & Haryana HC Chief Justice
Saurabh Malik/TNS
Chandigarh, April 1
Justice Bimala Prasad Das of the Orissa High Court would be the new Chief Justice of the Punjab and Haryana High Court.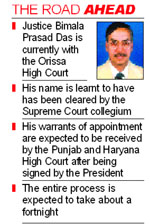 Information available from Delhi suggests that his name has been cleared by the Supreme Court collegium and his warrants of appointment are expected to be received by the Punjab and Haryana High Court after being signed by the President. The entire process is expected to take about a fortnight.
He replaces Justice Ranjan Gogoi, whose name has been cleared by the collegium for elevation as a Judge of the Apex Court. It is believed that some transfers from the Punjab and Haryana High Court are also on the cards.
Justice Das comes at a time when the High Court is reeling under scarcity of judges and is coping with the problem of pending cases. Chief Justice Gogoi has already initiated stringent measures to bring down the pendency of cases - including expeditious disposal of PILs. As of now, approximately 2 lakh cases are pending adjudication. The High Court has 42 judges against the sanctioned strength of 68 judges. Born on November 15, 1950, at Ramgarh in Cuttack town, Justice Das did his schooling at Christ Collegiate School, Cuttack, before graduating from Ravenshaw College in 1970.
He did his postgraduation in political science from Utkal University
in 1972 before doing LLB at Madhusudan Law College, Cuttack.
Justice Das joined the Orissa High Court Bar in 1974 and started independent practice in 1979. Besides conducting constitutional, taxation, civil, criminal, revenue, labour and environmental matters in the High Court and the subordinate courts, he was advocate for different institutions, corporations and companies of repute.
Justice Das was also the senior counsel of the State Pollution Control Board and has dealt with important environmental matters. Besides, he was also a member of the Orissa State Bar Council from May 11, 1996, to May 14, 1997.