M A I N N E W S
Supporters claim Suu Kyi's victory
Yangon, April 1
Supporters of Myanmar's Opposition icon Aung San Suu Kyi today erupted in euphoric cheers after her party said she won a parliamentary seat in a landmark election, setting the stage for her to take public office for the first time.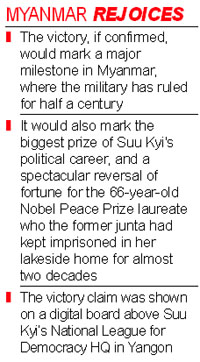 The victory, if confirmed, would mark a major milestone in the Southeast Asian nation, where the military has ruled almost exclusively for a half-century and where a new reform-minded government is seeking legitimacy and a lifting of Western sanctions.
It would also mark the biggest prize of Suu Kyi's political career, and a spectacular reversal of fortune for the 66-year-old Nobel Peace Prize laureate who the former junta had kept imprisoned in her lakeside home for the better part of two decades.
The victory claim was displayed on a digital signboard above the opposition National League for Democracy's headquarters in Myanmar's main city, Yangon, where more than 1,000 supporters began wildly shouting after coming to know about the news.
"We won! We won!" her supporters chanted while clapping, dancing, waving red party flags and gesturing with thumbs-up and victory signs.
Earlier, the party had claimed that Suu Kyi was ahead with 65 per cent of the vote in 82 of her constituency's 129 polling stations. The party had staff and volunteers spread throughout the vast rice-farming district, who were calling in preliminary results by phone to their headquarters in Yangon.
The results must be confirmed by the official electoral commission, however, which has yet to release any outcome and may not make an official declaration for days. The victory claim came despite allegations by her National League for Democracy party that "rampant irregularities" had taken place on voting day.
Party spokesman Nyan Win said that by midday alone the party had filed more than 50 complaints to the Election Commission.
He said most alleged violations concerned waxed ballot papers that made it difficult to mark votes.
There were also ballot cards that lacked the Election Commission's seal, which would render them invalid. Today's by-election was called to fill just 45 vacant seats in Myanmar's 664-seat national Parliament and will not change the balance of power in a new government that is nominally civilian but still heavily controlled by retired generals.
Suu Kyi and other Opposition candidates would have almost no say even if they win all the seats they are contesting. But her candidacy has resurrected hope among Myanmar's downtrodden masses, who have grown up for generations under strict military rule. If Suu Kyi takes office as expected, it would symbolise a giant leap toward national reconciliation. — AP