How not to mismanage constipation
Dr R. Vatsyayan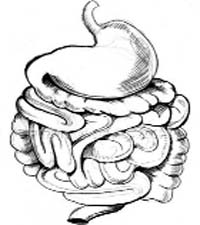 Good and healthy digestion consists of two vital factors: appropriate assimilation of the dietary nutrients and regular elimination of the waste product from the body. Transportation of stool in the body again takes place in two phases — forward motion activity of the colon and expulsion of feces from the rectum. Constipation in caused when any of these aspects is interfered with, resulting in the failure of eliminating stools regularly and satisfactorily.
There are various reasons leading to constipation. According to ayurvedic perceptions, the body charter of a particular individual and his overall lifestyle, including the dietary pattern, form the basis for constipation.
While unsatisfactory stool is the inherent symptom of the 'vata' prakriti individuals, there are many dietary reasons such as the intake of food which is dry and is residue-free, astringent, heavy and slow to digest which ultimately messes up regular and proper evacuation .
Lifestyle-related factors consist of a vast range of aberrations starting from adopting irregular daily routine and keeping late night engagements, lack of exercise and passing through phases of anxiety and depression. Many times constipation also results as a sequel to the indiscreet use of laxatives, leading to the impairment of natural movements of the intestines.
Medical practitioners around the world come across a number of patients who suffer from constipation both in real and unreal terms. Though constipation often robes a person of feeling fresh and easy and frequently leads to complaints of gas, distension, loss of appetite, headache and piles, it is one of the diseases which is, by and large, over-treated by physicians and the patient himself. In many cases, symptoms of IBS are confused with those of constipation, and patients never come out of the vicious circle of taking laxatives, passing loose stools and then again landing up in a state of rebound constipation.
The management of constipation should primarily be aimed at correcting the diet and lifestyle pattern of the patient rather than putting him on laxatives. Ayurveda advises everybody to get up at dawn and first of all drink a glass of water which is kept overnight in a copper vessel.
Since it is of little importance whether a person passes his stool before or after morning walk, all able-bodied persons should go out for at least 30 minutes of walk everyday, setting a proper daily schedule. Regular exercise relaxes the tense nerves and improves digestion. It is seen that regular walkers are less likely to be constipated.
The consumption of bulk and roughage-producing food which is at the same time easily digestible is the first dietary improvement a patient of constipation should adopt.
Wholegrain 'atta', leafy vegetables, unpolished lentils and moderate use of lubricants like milk and butter facilitate proper formation and passing out of the stools. Kitchen spices should be used in a balanced way so that these should only help proper digestion and not cause acidity.
Sufficient intake of water during the day also helps to maintain suppleness of the body and fruits like mango, melon, papaya, guava and grapes facilitate proper bowel movement. Dinner, especially for the patients of constipation, should be lighter than the lunch.
Heavy and fried food items like those made of 'maida' such as bread and 'naan' and junk and fast-food are slow to digest. Similarly, fruits like apple, pomegranate and unripe banana and grains like polished rice also cause constipation to a majority of patients.
Regularity of daily routine and having meals at the appointed hour help to adjust the body clock. Sleeping when stomach is heavy and filled impairs the digestion and a gap of two hours between the last meals and bedtime is ideal for the food to cross the stomach intestine barrier.
Since most of the laxatives are habit-forming, they should be used only occasionally. Persons who suffer from constipation due to faulty lifestyle and improper diet start showing signs of improvement once they make suitable changes.
Chronic cases respond slowly and instead of getting restive, they are advised to carefully devise a diet plan for its cure. Finally, it is self care and less of medicines which can give the patients of constipation the joy of satisfactory evacuation.
The writer is a Ludhiana-based senior Ayurvedic physician and Guru at the Rashtriya Ayurveda Vidyapeeth. E mail – ayu@live.in