All eyes on Zardari visit, PM likely to raise Saeed issue
Delegation to include Pak Deputy High Commissioner expelled by India
Ashok Tuteja/TNS
New Delhi, April 7
The wheel has come full circle. Pakistan Foreign Secretary Jalil Abbas Jilani, expelled by India in 2003 when he was Deputy High Commissioner in New Delhi for allegedly funding Kashmiri separatists, will be among the privileged guests accompanying Pakistan President Asif Ali Zardari on his-day long visit to India tomorrow.
Jilani is a cousin of Pakistan Prime Minister Yousuf Raza Gilani. He took charge as Pakistan's Foreign Secretary last month from Salman Bashir, tipped to become the new High Commissioner to India.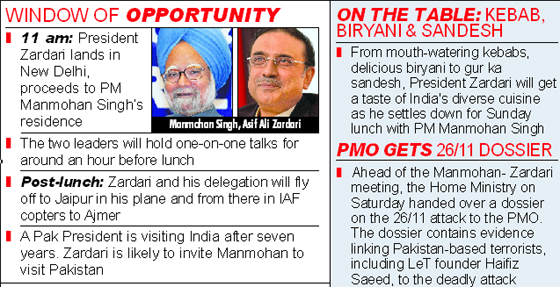 In February 2003, when relations between India and Pakistan were under considerable strain in the wake of the December 2011 terrorist attack on the Parliament, Jilani was asked by the Vajpayee government to leave the country for allegedly acting in breach of his diplomatic status. In a tit-for-tat action, Pakistan had expelled India's Charge d'Affaires Sudhir Vyas.
Apart from Jilani, Zardari's 40-member delegation will include his 23-year-old son Bilawal, Interior Minister Rehman Malik, Pakistan Senate former chairman Farooq H Naek, and President's spokesperson Farhatullah Babar.
President Zardari arrives in New Delhi at 11 am tomorrow for what is described as a private visit to offer prayers at the shrine of Khwaja Moinuddin Chishti in Ajmer, but expectations have been raised on both sides of a more substantive outcome from his talks with Prime Minister Manmohan Singh before the two leaders sit for lunch.
Besides the guests from Pakistan, the lunch is likely to be attended from the Indian side by Congress president Sonia Gandhi, Leader of the Opposition in Lok Sabha Sushma Swaraj, AICC general secretary Rahul Gandhi, External Affairs Minister SM Krishna, Home Minister P Chidambaram and Parliamentary Affairs Minister PK Bansal, also the minister-in-waiting for Zardari. Some MPs have also been invited.
The visit has received a cautious welcome from diplomatic observers who say it reflected some improvement in ties since the 2008 Mumbai attack, planned and executed by Pakistan-based terrorists.
The two leaders are expected to hold one-on-one talks without aides for around an hour before proceeding for lunch. There is unlikely to be any joint statement at the end of the lunch. There is no any media interaction either. After lunch, Zardari and his delegation will fly off to Jaipur in his plane and from there in IAF choppers to Ajmer.
Since the visit comes close on the heels of the US announcing a bounty of $10 million on Jamaat-ud-Dawa (JuD) chief Hafiz Saeed, the PM is likely to press Pakistan to act against the 26/11 mastermind without further delay.
However, Zardari today sought to play down the issue of Hafiz Saeed, saying he did not think it would be the focus of his meeting with Manmohan Singh. "My stance on Saeed is not different from that of my government. My visit to India is of a religious nature and I do not think Manmohan Singh will make me sit (and discuss) this issue," Zardari told reporters in a lighter vein at the Governor's House in Lahore.
In Islamabad, Foreign Office spokesman Abdul Basit said Zardari will invite Singh to visit Pakistan by the end of this year during their meeting in New Delhi. The two leaders may also direct their aides to expedite the signing of a simplified visa agreement between the two countries.
Though he leads a weak government in Pakistan, Zardari has for long been a votary of good neighbourly relations with India. Days before the November 2008 massacre in Mumbai, he had promised a "no-first strike" against India while addressing the audience at a leadership summit in New Delhi via satellite link from Islamabad.
This will be after a gap of nearly three years that Manmohan Singh will be meeting Zardari. The two had last met in June 2009 in Russian.
Fresh from the UPA's electoral triumph, Manmohan Singh had bluntly told Zardari that his mandate was to tell the latter that the territory of Pakistan should not be misused for terrorist activities against India. The snub was too much to handle for Islamabad. Zardari was immediately replaced by Prime Minister Gilani as the main interlocutor for talks.