Developing excellence
The 21st century demands new business organisations and new set of people who are more versatile and comfortable with themselves as engineering and management professionals
D. S. Cheema
DEGREE programmes in engineering and technology, as also in management disciplines, have remained the prime attraction for students in our country. In spite of unique strengths in these two disciplines, a large part of our graduates in these disciplines remain unemployed. Therefore, the need to take urgent steps to revitalise education in these two disciplines cannot be over emphasised.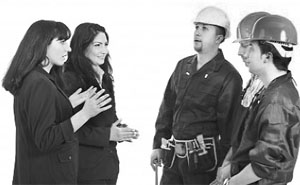 Indian educational institutions cannot remain isolated from global happenings.
Whenever one considers the problem of excellence in engineering and management education in India, two names emerge as the benchmark of excellence—IITs and IIMs. It is difficult to think beyond these two institutions in these fields. Yet, eyebrows raised by some eminent educationist and entrepreneurs on the quality of these great systems in recent past has placed a question mark on the relevance of what is taught, and hence, its usefulness to meet the unique challenges India Inc faces.
Software icon N. R. Narayna Murthy's observation about the quality of IIT pass-out engineers is equally applicable to the quality of IIM pass-out managers, of course, without putting the entire blame on the coaching route entry to these institutions. There is no doubt that contribution of some of the alumni of these institutions to the modern world has been phenomenal. This is also a fact that some of the top positions in highly ranked management and engineering institutions of the world are occupied by those who were trained in these institutions. Since there are no perfect organisations, even the best must take the healthy criticism in their own stride. Unfortunately, whenever the IITs and IIMs are criticised, an unhealthy debate is started, with the directors of these institutions and some eminent ex-students fuming and defending the systems by putting forward all kinds of arguments, some very valid but some clearly absurd. The dust and din settles down in due course of time and the problem stays without any effort by any one to find a solution. We must stop treating these institutions as holy cows, if the system has to improve. It must be understood that it is not necessarily only because some great achievers studied in a particular institution that they achieved such distinction; there are many other factors responsible for their unique feat.
Everyone understands that business today is not what it used to be a decade ago. The 21st century demands new business organisations and new set of people who are more versatile and comfortable with themselves as engineering and management professionals. Today's business organisations have to mange talent, knowledge, technology and entirely a "different breed" of human beings. In an increasingly competitive world, it is an idea that opens new doors, a technology that helps find a solution or a deep insight that provides all that is needed to succeed in any field. Thus, the challenges are different and unique in nature and their implementation to find practical solutions continue to be a daunting task for any engineer or manager. Obviously, the engineers and managers of the 21st century have to be in synch with such developments. Are our mangers equipped to handle real-life business problems and stiff competition from our neighbours like China and Japan? Are our engineers creative enough to think out of the box and make world demand what they can conceive, manufacture and deliver? No guesses are required to answer these questions.
Change in the mindset of the government, UGC, AICTE and other agencies are essential. In fact, a paradigm shift in the vision of these organisations is the requirement. The need to introduce new thoughts in the curriculum of our institutions of excellence and keeping it updated almost on real-time basis is the first step that must be taken right earnestly. India and its teaching/learning institutions cannot remain isolated from the global happenings. Hence, all teaching and learning has to be set up in the backdrop of a global perspective. Classroom teaching in the field of management with the help of outdated case studies cannot help. In fact, classroom teaching should only be a very small part of the total learning duration to grasp certain fundamentals. The role and objectives of the faculty (perennially in short supply) in such institutions need to be looked into very carefully. Faculty shortage is a formidable challenge and deserves a long-term perspective to tackle it. The real role of the faculty is to develop the spirit of inquiry, the habit of self-analysis and self-learning amongst the students. Once that is achieved, all students of different disciplines should be given enough space to explore through guided self-learning, so that these students become leaders in their respective fields in due course of time.
Education in any field must be innovative and learner friendly, especially in the fields of management and engineering. In the present system, a fast learner, as also a slow learner, has to go through a specific period of course duration—two years in case of a degree in management and five years for a degree in engineering. In fact, different timeframe is required by each student, as all who come through the same entrance examination do not learn the same way. The concept of fast and rapid education (FARE) and slow and recurring education (SARE) takes into account the learning ability of students. Fast and rapid as well as slow and recurring refer to time duration a student takes to learn and the impact of teaching on the student. Since all students are unique, they will take different time to learn the same course. Hence, there is need to identify the students and give them the duration to learn that they need.
Approach to the need of research & development (R&D) in educational institutions must change drastically. Some feel that research by teachers can become a diversion from his basic role of teaching. Nothing can be farther from this. In fact, research must be integrated into teaching. An idea, which has been suggested by many eminent educationists for the past many years but has not seen the light of the day, is the creation of Learning Education and Research Nodes (LEARNs) all across the country. These designated centres can become the nucleus of excellence in a selected field and provide opportunity for other education institutions to excel. These models can be further developed with experience. The above-mentioned suggestions can be quite useful, and deserve consideration.