M'rashtra in dock over 'Naxal camp' in Pune
Mumbai, April 11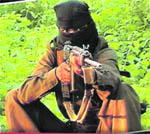 The Maharashtra government came in for criticism in the state assembly today following media reports of a Naxalite training camp being held in the suburbs of Pune nearly two years ago. After opposition parties raised the issue in the assembly Speaker Dilip Walse-Patil asked the government to investigate the reports.
Freaky weather
Fresh snow in Manali
The entire upper Manali region experienced fresh snowfall on Wednesday, while lower parts were lashed by rain. Tourists visiting Manali were pleasantly surprised to see a white blanket of snow covering the upper areas on the Manali-Rohtang Pass road. Reports said many areas in upper Shimla were severely affected by hail, affecting the apple crop.
Yuvraj confident of getting back to the field soon
New Delhi, April 11


Yuvraj Singh is back. Though not exactly bouncing, he is confident of getting back on the cricket field sooner than later. But his immediate priority would be to get his mind and body fit, and in sync. He said getting back to playing cricket will take some time, and a lot of efforts.
Yuvraj Singh at a press conference in Gurgaon on Wednesday. A Tribune photograph
AFSPA amendments under review: PC
April 11, 2012
23 guilty for post-Godhra riots
April 10, 2012
Stop terror against India, PM tells Zardari
April 9, 2012

All eyes on Zardari visit, PM likely to raise Saeed issue
April 8, 2012
Ahead of Zardari visit, Pak, India spar over Saeed's 26/11 role
April 7, 2012
Maoists extend deadline to release hostages till April 7
April 6, 2012
PM trashes 'coup fears'
April 5, 2012
Act against 26/11 plotter Saeed, India tells Pak
April 4, 2012
Defence acquisitions to be fast-tracked
April 3, 2012
CBI lookout notice for Vectra boss
April 2, 2012
Army Chief names retd Lt Gen in his bribery complaint to CBI
April 1, 2012