The Ring Thing
Flashing a bejewelled phone is a fad that just doesn't seem to die. Here's a look at some of the high-end luxury models, coming from the stable of the world's top-notch handset-makers
Anandita Gupta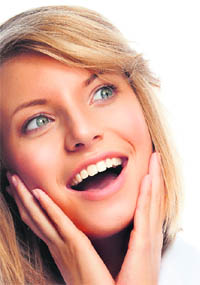 A decade back, just owning a cell phone counted as a status symbol in India. Today, of course, there are more mobiles than toilets in India and cell phones have changed the way we live and communicate. Not only have these devices become as ubiquitous as our wristwatches and pens, they are turning into high-tech gizmos. Since 1995, when mobiles first made an appearance in India, these phones have shrunk in size and embraced a convergence of cutting-edge technology (wonderful imaging capabilities, outstanding music features and a vivid display with high pixel resolution). However, the New-Age, luxury-phones connoisseur wants his phone to catapult him into a higher league. Just like the iPod case from Prada, for the consumers wants their cell phones to stand a class apart — oozing style, power and prestige. Which is why, cell phones today are really going beyond pure tech and entering the realm of personal accessories, almost becoming a fashion item.
From Vertu to Motorola and Nokia, handset makers are busy dishing out limited-edition, bling cell phones that rock (pun very much intended)! Encrusted with jewels, precious stones and Swarovski crystals, these phones are on the most sought-after-items-lists of the elite set. Though most of these phones are not technological wonders, they definitely score one for form over function. So if you're really feeling the spirit, you could plunk down the credit card for the $3,10,000 (Rs 1.55 crore) diamond-encrusted Signature Cobra from Vertu.
No company has gone as far with bling cell phones as Vertu, a British-based manufacturer and retailer of luxury mobile phones and a Nokia subsidiary. Vertu has created a niche for luxury handsets that exude an aura of charm and sophistication. Toted by the likes of Gwyneth Paltrow and Madonna, some Vertu phones are made of white or platinum gold and pimped out with sapphires and other jewels. Each phone is crafted from hundreds of components, made from stainless steel, ceramics, carbon fiber, finest grade leather (some with alligator skin). The screens of all handsets are made of ultra-thin sapphire crystal that takes 15 days to create. Precious pieces may include 18k yellow, white, rose gold or platinum, along with diamonds. Every key is individually ground and cut from sapphire. All leather is sourced from Northern Europe. The high fidelity sound system sets a new benchmark for audio performance on a mobile phone.
Last year, the luxury phonemaker teamed up with Italian carmaker Ferrari to produce a black-finished titanium handset, limited to 2,011 pieces. Called the special edition Ascent Ti, the phone is inspired by the lines of Ferrari's super cars. Crafted for strength, the handset is forged from high-performance titanium and hand-stitched leather found in the sports cars. It also integrates a 2.0-inch sapphire-crystal display and ear pillow, with a splash of red. Additional features include 3.0-megapixel auto-focus camera with flash and 4-gigabytes of memory. The standard Ascent Ti model starts at $7,770 (Rs 3, 88, 500). Vertu's new Signature Cobra, however, is perhaps the most expensive cell phone in the bling phones market. Designed by upscale French jeweller Boucheron, the Cobra has a pear-cut diamond (two carats), a round white diamond (one carat) and no fewer than 439 rubies.
In 2012, the chic mobile phones manufacturer has added a piece of beauty, Constellation Candy, to its already existing line. Available in summery, bold shades of mint green, raspberry and tangerine, the Candy offers touch screen facility. Natural gem stones worth 0.34 carats have been embedded around the pillow on the front of the phone. The careful picks of rubies for the raspberry and orange sapphires for the tangerine phones make them stand out.
It boasts of features like 8 mega pixel camera, flawless 3.5 HD multi-touch sapphire crystal screen, a ruby surround on the shutter key, high fidelity sound system and more. Additionally, they have also added two new concierge services with the introduction of this model. The lifestyle services include a VIP personalised styling at Stella McCartney and Global Fashion Weeks VIP access. While everything looks rosy, the price for this handset is tagged at £6,500 (Rs 3.25 lakh).
In addition to handset makers, watchmaker TAG Heuer has launched its Fuchsia MERIDIIST bling phone, featuring a QVGA sapphire crystal main display, a secondary OLED screen, and a 2MP camera. Michael Gallelli, director of product marketing for T-Mobile, says that the limited-edition phones also drive the sales of flagship phones. "Even if people don't buy the new editions, it draws them to the brand. Special edition phones create a halo around the flagship product," observes Gallelli.
Fashion brands like Giorgio Armani, Dolce & Gabbana, Versace and Swarovski have all jumped into the bandwagon. For many of these companies, mobile devices represent a new opportunity to expand their brand and add new revenue streams into their balance sheets. After all, introducing their limited edition lines of Bling phones is the latest pin code to luxury and cult status.
iPhone Princess Plus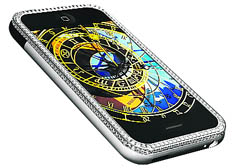 Peter Aloisson has also embellished the iPhone. Called the Princess Plus, it is encrusted with over 300 diamonds — of which many are princess-cut diamonds. In fact, it is from these diamonds that the phone gets its name. But then, you really need to be royalty to be able to afford this phone. The diamonds, weighing around 17.75 carats, are set in 18k white gold, layered along with the rim. Its first proud owner is a Russian businessman, who had pre-ordered it.
Price $1,75,000
(Rs 87.5 lakh approx)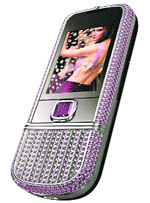 Nokia 8800 Arte
The limited edition Nokia 8800 Arte comes with pink diamonds, exclusively crafted by the celebrated Australian jeweller-designer Peter Aloisson. It is studded with 680 pink and white diamonds, weighing over 21 carats. For the nitty-gritty, it is a tri-band GSM/GPRS device, with 3.1-megapixel camera, music player and a 208x262 resolution screen, Web and email capabilities, 3G connectivity and Bluetooth 2.0, making it one of the most dazzling fashion phones in the world. And, it is one of the most expensive ones as well. The phone is a stylish, quality product, aiming to distinguish its owner from the crowd, demonstrating a higher-class.
Price $1,34,000
(Rs 67 lakh approx)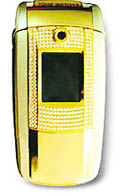 Samsung SPH-E3200
If Sony Ericsson is into exorbitantly priced fancy phones, Samsung too is taking strides in the high-price lane. The Korean giant hired the services of top designers and engineers to develop the Samsung SPH-E3200. The precious gold set mobile phone has 240-diamonds. This phone may not be a match in prices to Vishphone and bejeweled iPhone, yet it is among the most in-demand mobiles among the swish set.
Price $54,000
(Rs 27 lakh approx)
Urge to Splurge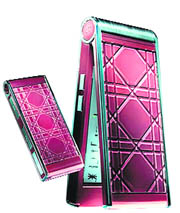 Christian Dior too has unleashed the 'mobile beast' on women. The boutique edition has an interesting tagline which goes, "Once a lady sets her eyes on this, she would not be able to resist the urge to splurge." The mobile features a touch-screen display, a camera and novel mini-phone extender called "My Dior" that can be clipped to the outside of a bag or worn as an actual pendant for easy access and allows the user to answer or make calls, while the main phone is hidden away inside the bag.
Price $3,500 to $5,000
(Rs 1.75 lakh-~2.50 lakh)
Bejewelled iPhone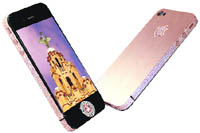 This iPhone can easily be dubbed as the mother of all pricey, rock-encrusted gizmos. The 4-Diamond Rose, created by one of the world's best-known product designers Stuart Hughes of Liverpool, has interchangeable 7.4-Carat and 8-Carat single-cut diamonds that can be fitted on the home button. It sports a handmade platinum bezel, which has 500 diamonds. The rear section is made of gold and the Apple logo is made of 53 diamonds. All of which makes it one of the most outstanding phones. Which is why, it can only adorn the pockets of some of the richest people in the world.
Price $ 8 million
(Rs 40 crore approx)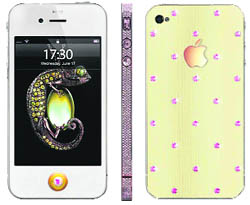 iPhone Pink Diamond
The Italian jewellery studio Sun & Moon, in conjunction with the Russian gunsmiths Bon-Cadeau, has brought out the iPhone Pink Diamond. The phone has become an instant hit with those who can afford such material pleasures in life. Made of white wood, the iPhone is embedded with high class diamonds of a rare pink colour. It has a big princess-cut diamond on the front. The phone's frame uses special technology, with a scattering of 850 diamonds, weighing almost 4.33 carats, which hide the metal base under the shine of the diamonds. Little wonder then that the Pink Diamond is being called the most romantic and tantalising iPhone ever.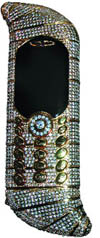 Price $12,000
(Rs 6 lakh approx)
GoldVish Le Million Piece Unique
If price is the only consideration, then GoldVish Le Million Piece Unique is surely a winner. This handcrafted cell phone is made of 18-carat white gold, mounted with 120-carat top-grade diamonds. But the phone is not just a piece of jewellery. It comes with quad-band technology, Bluetooth, 2GB of memory, a digital camera, worldwide FM radio, USB connectivity, EDGE, an MP3 player. The first GoldVish luxe mobile was snapped up by a Russian billionaire for his wife.
Price $1.3 million
(Rs 6.5 crore approx)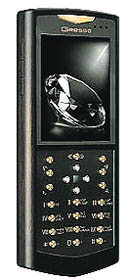 Gresso's Royal White Diamond Handset
In the Samsung price range, you can also go in for the Russian mobile manufacturer's Gresso's Royal White Diamond handset. Its hand-assembled body panels are made out of 200-year-old African Blackwood, keyboards with base plate made of titanium. The steel battery cover has a magnetic lock, plus leather and gold decoration. The phone's keys are made out of 18K gold and as a signature feature, all numbers on the keypad are laser-cut diamonds. The handset is available in limited edition of 200 pieces only. All of its 23 gold keys are crowned with a total of 2.53 carat white diamonds. So, if you have moolah to blow, you've called up the right number.
Price $43,000
(Rs 21.5 lakh approx)
Motorola's V220 Special Edition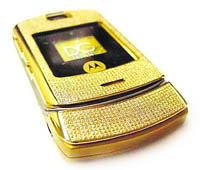 This luxury phone Motorola Special V220 Special Edition is usually flaunted by filmstars and other ultra rich people. Like the Diamond Crypto Smartphone, this too has been crafted by Austrian designer Peter Aloisson and is encrusted with 1,200 diamonds. Plus the keypad is made of 18 carat gold. It measures 85.5 x 44 x 24 mm and weighs around 100 grams. It is definitely one very flashy phone and also a conversation starter at any social do.
Price $51,800
(Rs 25, 90,000 approx)
Diamond Crypto Smartphone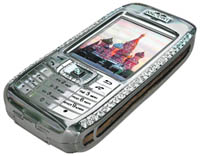 This is the mother of all bling phones. The Diamond Crypto Smartphone is one of the most expensive mobile phones in the world. Belonging to the Moscow-based firm JSC Ancort, this special edition has been designed by Austrian luxury accessories-maker Peter Aloisson. It is adorned with 50 diamonds, 10 of which are the rare blue ones. Apart from this, it also features a few sections made in rose gold. But the real value of the phone is its powerful encryption technology that provides the ultimate security and protects the user's identity.
Price $1.3 million
(Rs 6.5 crore approx)
Sony Ericsson's Black Diamond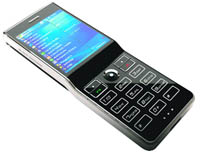 Even though the name suggests so, the Sony Ericsson Black Diamond smart phone scores with its state-of-the-art design, if not for its diamonds. Yet, it is among the most expensive phones in the world. The extremely limited edition (there are just six of them) 4-megapixel Quad-Band phone is stunning, with its casing in a layer of polycarbonate with a mirror finish. The new OLED technology illuminates the borderless screen, highlighting the ultra-thin profile and glossy finish. The phone is powered by Windows Mobile 5.0 with a 2-inch displa and 400MHz XScale. It has an Intel 400MHz processor running Windows Mobile 5 and a touch-sensitive screen. It also includes an internal memory of 128mb and comes with a 2-Gb SD card for external storage.
Price $3,00,000
(Rs 1.5 crore approx)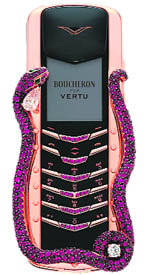 Vertu's Signature Cobra
The Vertu Signature Cobra has been designed by French jeweller Boucheron. It features—believe it or not—one pear-cut diamond, one round white diamond, two emerald eyes and 439 rubies. Costing a whopping sum, the brilliant phone is studded with 18 carat gold and involves ultra high quality ceramic technology. The most striking feature is the cobra on the mobile body. But if you want it, better hurry as it is coming in a limited edition of eight. Though, going by the curiosity it has evinced among billionaires, the company may have to make a few more.
Price $3,10,000
(Rs 1.55 crore approx)