PUNJAB

HARYANA

JAMMU & KASHMIR

HIMACHAL

REGIONAL BRIEFS

NATION

OPINIONS

LETTERS

BUSINESS

SPORTS

WORLD


M A I N N E W S
Unseasonal rain flattens wheat crop


Harvesting & procurement delayed


Met predicts more rain in coming days
Jangveer Singh/TNS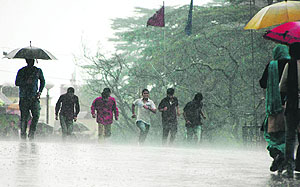 ...for tourists, it's time for fun: Tourists run for cover as heavy rain lashes Shimla on Saturday. Tribune photo: Amit Kanwar

Chandigarh, April 14
The continuing wet spell has put the wheat crop in Punjab and Haryana in jeopardy.
Unseasonal showers accompanied by high-velocity winds and hailstorm have flattened the crop in some areas of the two states. The growers are worried, as they will have to grapple with the delay in harvesting and procurement. With the weatherman predicting more rains and thundershowers in the next 48 hours, their miseries are only likely to get compounded.
Only a couple of days ago, the Punjab Agriculture Department said only lodging (flattening) of the wheat crop had occurred at some places and the crop was safe. The department now feels the crop is likely to suffer damage in Patiala, Fatehgarh Sahib and Mohali districts.


Shimla: The unusually low temperature on account of heavy rain and hailstorm has caused extensive damage to the apple crop in the state. "The middle belt, which is the main apple producing area, has been the worst hit as the blossoms were in full bloom and the hailstorm has reduced chances of fruit-setting to a great extent," said Dr SP Bhardwaj, a crop expert. "Stone fruits like apricot, peach and plum have only sustained physical damage as the blossom period was over," he added.
Manali: Upper areas of the Manali region received a fresh spell of snowfall. It was festive time for hundreds of tourists, who had arrived in Manali for a week-end break. They were seen making a beeline for Gulaba, 17 km from here on the Manali-Rohtang Pass road, to see the snow. The 13,050-ft-high Rohtang Pass, the gateway to Lahaul-Spiti district and another tourist hotspot, also experienced fresh snowfall
Farmers will also find it difficult to sell their produce immediately. This is because the rain and cold weather will result in an increase in the grain's moisture content and procurement agencies will wait for this to go down before making purchases. This could also result in a glut with simultaneous arrivals once the weather clears.
Secretary, Food and Civil Supplies DS Grewal said procurement was likely to get further delayed, as there were scant arrivals of wheat in the mandis. He said except for Patiala, which has witnessed 10,000 tonnes of wheat arriving in various mandis in the district, the arrivals were marginal in other districts.
He said in Mohali 687 tonne wheat had arrived in the mandis followed by Fatehgarh Sahib (542), Sangrur (514) and Ludhiana (405 tonne). Grewal said only 19,000 tonnes of wheat had been purchased till now. Last year, the government procurement agencies had purchased 83,000 tonnes of wheat by this date.
Farmers in Patiala, Fatehgarh Sahib, Ropar and Mohali districts, besides parts of Ludhiana and Nawanshahr, would also have to manually harvest their flattened crop.
Besides increasing input costs, there is an issue of finding labour for this task at this juncture.
Meanwhile, the Metrological department here disclosed that Amritsar received 9 mm of rain.
There were lights showers in Patiala, Mohali, Fatehgarh Sahib and Patiala districts.
In Haryana, Rohtak, Hisar and Ambala reported light rain.