Happy times are here again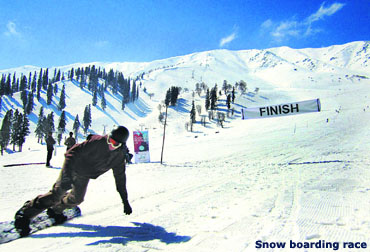 Yana Banerjee-Bey celebrates the buzz that marks the return of peace and sporting activity in the Valley. She finds the revival of tourism and the upbeat mood a welcome change from the sense of gloom marked by bunkers and sandbags that loomed large during her last visit in 1996
It is said that the grass of Gulmarg's golf course, at 2,730metres above sea level, the world's highest, owes its famous emerald sheen to the blanket of snow in winter. The green huts of the golf club, amid rolling grassy slopes, are framed in a photograph overhead in Gulmarg's Lala restaurant as we sit hunched in our parkas, slurping soupy noodles.
When fear was in the air
Cruising down a crowded street, lined with shops and thickly sprinkled with pedestrians, two-wheelers and four-wheelers, the motorcyclist braked and took a U-turn. Perched on the pillion, my suitcase across my knees, I enquired – with truly disinterested curiosity, somewhat bored on the ride from the airport by the nondescript urban sprawl of suburban Srinagar – what the matter was. "We'll take another route, the militants could throw a grenade here," was the matter-of-fact reply.
Latika's uncompromising zeal
Nonika Singh
Latika Katt's works are defined by minute detailing as well as an overwhelming presence of nature. Surviving in this field, hitherto considered exclusively a male preserve, is no cakewalk, according to the sculptor. Latika Katt, one of India's leading sculptors is a classic example of how one can be a non-conformist yet traditionalist at the same time. Four decades ago, she stormed the male bastion of sculpture and shook the art world by winning a competition to create Nehru's sculpture that adorns Jawahar Bhawan, New Delhi.
Few pegs make people enticing
Scientists may have the answer to why the opposite sex seems more enticing after a few pegs — they found that alcohol clouded women's judgment. Researchers at London's Roehampton University asked more than 100 men and women to rate pairs of faces. Some did the tests while drinking a strong vodka and tonic. Others were given a similar-tasting non-alcoholic drink or orange squash.
Egg on face
Python in surgery to remove golf balls he mistook to be eggs
A costal carpet python is to be operated upon to remove the two golf balls that he swallowed after mistaking them for chicken eggs. A resident from Kyogle in northern New South Wales had put the balls in his chicken coop to encourage his hens to lay.
Good food can also be inexpensive
Pamela Philipose
There is a need to focus on locally available foods, their nutritive value and cooking practices. We must look to our farms, not our pharmacies, to solve our nutrition-related problems, according to eminent scientists
Kids can now look up facts on smartphones
Children should no longer be expected to learn facts in the classroom as they can now rely on smartphones as a "substantial" knowledge bank, it has been recently claimed. According to teachers, lessons should put a greater emphasis on broad skills such as independent research, interpreting evidence and critical thinking rather than learning dates, facts and figures by rote.
Adding life to years
Older adults who experienced any level of psychological distress were more than four times more likely to experience functional limitation than those who did not, researchers from Australia have found. Led by Gregory Kolt, PhD, of the University of Western Sydney, School of Science and Health, researchers analysed data from nearly 100,000 Australian men and women, aged 65 and older, who participated in the 45 and Up Study.
Of Beatles and football
Nivedita Choudhuri
The port city of Liverpool is one of Britain's shrines of nostalgia tourism and combines two unusual icons — a famous rock band and a soccer club
The UNESCO World Heritage list has described Liverpool as "the supreme example of a commercial port at a time of Britain's greatest global influence." The city trumpets its sea power with the monumental waterfront "Three Graces"— the Royal Liver Building, the Cunard Building, and the Port of Liverpool Building. The legendary Liver Birds, a chimerical blend of eagle and cormorant, still cast a watchful eye over the port and the city from atop the Royal Liver Building.
Gunning for Olympic glory
M.S. Unnikrishnan
India will field a strong contingent of 11 shooters at the 2012 London Olympics. They are gearing up to train their guns, to hit more than one medal on the big stage
Abhinav Bindra had set a benchmark when he shot a gold in the 10-metre air rifle at the 2008 Beijing Games, to become the first Indian to strike an individual gold in the Olympics. Shooting got a shot in the arm at the 2004 Athens Olympics when Rajyavardhan Singh Rathore, trapped a silver. Ever since, the country has been pinning high hopes on the shooters to do well in the international arena.
Channel surfer
When history morphs into mythology
Liberties are often taken while depicting historical facts on television to promote a certain ideology
Randeep Wadehra
Electronic media is the god of 21st century — omnipresent, omniscient and omnipotent as far as dealing with people's mindscapes is concerned. Chronicling events was never a strong tradition in India till the dawn of modern era.