Taliban launch coordinated attacks on Kabul, 3 other cities
n Explosions rock Afghan capital n Parliament, NATO & embassies targeted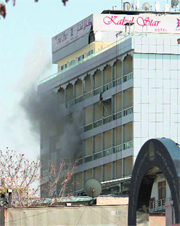 Smoke billows out of a hotel after a rocket strike. — AP
Kabul, April 15
Heavily-armed Taliban suicide bombers today unleashed a wave of coordinated attacks in Afghanistan with several explosions and gunfire rocking the diplomatic area and Parliament in Kabul and three other cities. The attack is bound to intensify worry in the run-up to the planned withdrawal of foreign combat troops by the end of 2014.
The Taliban claimed responsibility for around a dozen attacks by gunmen in central Kabul that stunned Afghan authorities. The Taliban said in a statement that "tens of fighters", armed with heavy and light weapons, and some wearing suicide-bomb vests, were involved. Kabul Police said that three suicide bombers were killed and two were still resisting on the outskirts of the capital.
Militants attacked the five-star Kabul Star Hotel near the Presidential Palace and the Iranian Embassy in Wazir Akhbar Khan area of the Capital and some tried to enter the Afghan Parliament firing rockets, but were engaged by security forces and driven back, officials said.
Windows of the hotel were blown out and smoke billowed from the building. According to the eyewitness, suicide bombers had taken over the newly-built hotel.
An unknown number of Taliban men armed with light and heavy weapons targeted Afghan governmental and international offices in three different areas of Kabul, police said.
A number of Taliban militants took positions at a newly-built building at the Shahr-e-Naw neighborhood of Kabul. They battled with Afghan forces for several hours after the militants began assaulting Western embassies. The building is located close to the Presidential Palace, embassies of America, Turkey, Iran, Germany, UK, NATO's International Security Assistance Force (ISAF) Headquarters and other diplomatic offices.
"I am on the spot and hearing gunfire being traded between suicide bombers and Afghan forces. Until now I heard several explosions," a PTI correspondent reported from the scene of the attack.
In a text message to reporters, Taliban spokesman Zabihullah Mujahed said: "Today, afternoon at 1 pm suicide bombings are happening by our Mujahideen at the ISAF Headquarters, Parliament building, and other diplomatic offices in Kabul, and our enemies got many casualties."
A few others Taliban militants armed with heavy weapons positioned at a newly-built building are targeting the Afghan Parliament in Kabul's Darul Aman area. The battle is ongoing between Afghan and Taliban militant forces, Afghan private TV, Tolo TV, said today.
Another group of militants is targeting an ISAF base, Turkish military base, and a training camp of the Afghan National Army in Pule Charkhi area of Kabul. They are targeting them from a building that they have taken over.
Outside Kabul, two suicide bombers blew themselves up at the gates to Jalalabad airport in eastern city of Nangarhar province, wounding several people, the police said. Four bombers tried to enter the airport and two detonated their explosives when they were stopped at the gate, officials said. Two others were wounded and arrested.
In the eastern city of Jalalabad, a Reuters witness said that Taliban attacked a foreign force base near a school. One Taliban insurgent was killed, another blew himself up and a third was captured. A blast also went off near the airport in Jalalabad.
In Logar province, Taliban militants attacked a police compound, PRT compound and provincial Intelligence Department.
In Paktia province in the east, blasts and machinegun rounds obliterated the front of a three-story pink building occupied by insurgents who used it to attack a provincial police headquarters. The assault in Kabul appeared to repeat the tactics of an attack last September when insurgents entered construction sites to use them as positions for rocket and gun attacks. — Agencies
Taliban's 'spring offensive'
"These attacks are the beginning of the spring offensive and we had planned them for months," Afghan Taliban spokesman Zabihullah Mujahid said and warned of more similar attacks. The assaults were in retaliation for the burning of the Koran at a NATO base, the killing of 17 Afghan civilians as well as for videos showing US Marines urinating on dead Taliban, he said.

Govt: All Indians in Afghanistan safe
Ashok Tuteja/TNS
New Delhi, Apr 15
The developments in Afghanistan, particularly today's multiple suicide attacks by the Taliban, are likely to figure prominently during intensive dialogues India and the US are set to hold on key issues during the next week.
India has time and again expressed reservations about the US plan to withdraw forces from Afghanistan by the end of 2014 since the situation in the embattled nation is far from normal. India is also not convinced about the West's attempts to negotiate with the Taliban to find a solution to the prolonged crisis in the war-torn nation.
Today's incidents have come as a grim reminder of the threat from the Taliban once the NATO forces pull out. The apprehension in New Delhi is that Taliban militants would step up their attacks in the coming days as part of their annual spring offensive, heralding the so-called "fighting season".
Indian envoy to Afghanistan Gautam Mukhopadhyay briefed External Affairs Minister SM Krishna on the situation in the embattled nation. All Indians in Afghanistan are safe and the Indian Embassy is unharmed but it is on a high alert, officials sources said.
In a brief statement, the External Affairs Ministry said: ''There have been reports of attacks in Kabul and other provinces of Afghanistan. Some of these attacks have taken place close to the diplomatic enclave in Kabul where many Embassies are located. We are in constant touch with our Embassy in Kabul. All Indian citizens are reported to be safe.''
Meanwhile, after a gap of six years, India and the US will hold their politico-military dialogue here tomorrow. The talks will be led by Javed Ashraf, Joint Secretary (Americas) in the External Affairs Ministry and US Assistant Secretary of State for Political Military Affairs Andrew Shapiro. Delegations on both sides will have defence representatives.
Apart from Afghanistan, India and the US will discuss defence trade, counter-piracy, and regional political-military issues, as well as the recovery and repatriation of US service members lost during the Second World War, official sources said. In recent years, India and the US have significantly broadened their defence cooperation, as demonstrated by their robust engagement in bilateral dialogue military exercises and personnel exchanges, as well as nearly nine billion dollars in defence trade since 2008.
On Tuesday, the two countries will hold the East Asia Dialogue. The developments in Myanmar are also expected also to come up.
Home Secretary RK Singh and US Deputy Secretary for Homeland Security Jane Lute will hold a review meeting of homeland security dialogue on April 19-20 to cover a wide range of issues relating to homeland security. The main homeland security dialogue is led by Home Minister P Chidambaram and US Secretary of Homeland Security Janet Napalitano.