Widening 'class' inequity
While we boast of human rights, distributive justice, gender equality and good governance, can we afford to evolve an elitist 'class' in our schools, colleges and universities?
Rajesh Gill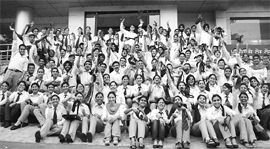 A 'class' has to have the flavour of representativeness.
EDUCATION in recent times has merely been restricted to the completion of syllabi and awarding of degrees. With the mushrooming of private elitist schools, colleges and universities all over the country, education is a commodity that can be purchased with money.
With a heightened consciousness about the brands, people are ready to dispense with any amount of money in order to ensure that their wards get into the most prestigious institutions, irrespective of the quality of education offered by them. The number of self-financed courses within the public-funded universities, too, has multiplied, where every seat is sold for a huge amount. These have tremendous implications for society, which also happens to include the poor who cannot afford to send their wards to these institutions.
One very significant consequence is the altogether different structure of 'classroom culture', where one finds children only from the rich, upper class, affluent, educated and elitist families, of an absolutely homogeneous composition. This may be contrasted with the traditional government schools where a 'class' of students would consist of children from all strata of society, different caste, income, occupational and religious groups, making a very mixed kind of lived experience. I recall my own experience at a government school where I completed my matriculation. Throughout my schooling, I had been interacting with classmates who came from diverse status groups, viz., bureaucrats, principals, teachers, domestic maids, rickshaw-pullers, sweepers, and so on. Most of my friends in school and college belonged to very poor families, who would every day be confronted with a new problem, of financial or some other nature. This made me extremely sensitive towards others. I have realised that no single situation can possibly be equally comfortable for all of us sharing similar spaces.
Today, when my students plan to organise tours or cultural functions in the university, they start with lofty ideas of celebrations, with a huge financial input. But being a public institution, I am happy that we have all kinds of students, very rich and very poor; and I appreciate when my students immediately read my mind and promise to organise the events according to the lowest common denominator, so that everybody can participate equally. I wonder about a 'class' which is comprised of all rich, affluent and probably spoilt children of high-profile parents, with absolutely no possibilities of encounters with young students coming from marginalised and poor sections. How can such students develop sensitivity towards not-so-fortunate ones, for whom life is far from a perpetual celebration? A classroom to me is the most productive educative experience, where the young children get sensitised to the fact that there are other faces of life, too; that there are other children who do not have wardrobes as big as theirs; that there are children who come to the 'class' without a penny in their pockets; that there are children who have no stories to share about their homes, parents, trips abroad and so on.
A 'class' has to have the flavour of representativeness if by education we mean serious business. Ironically, it is these elitist 'class' students who later assume the roles of government officials, bureaucrats, policy makers and teachers, often supposed to be carrying out the state-run programmes for the welfare of the poor, marginalised and deprived.
Is education only the completion of syllabi? What about the lived-in experiences which are more deep seated, penetrating and enduring than the lessons which can be mugged up and vomited out in examinations? In a society like ours, where a huge majority of population comprises of lower-middle and middle-class people, how can the educational spaces be overpopulated by the stinking rich class, occupying a small miniscule portion of our population? In the process, children of middle-class parents too get completely swept by the charms of the rich spoilt brats (both genders), trivialising the lessons of education. This situation to a large extent would explain why our students in schools, colleges and universities are so disrespectful towards teachers (with many incidents of violence against their own teachers); insensitive towards their institutions, with a very destructive attitude towards the public property within educational institutions; below mark and very incompetent in terms of knowledge of their own subject and general awareness.
In fact, the classroom is the microcosm of the larger society that we wish to project; and the new 'class', elitist in character, blinds our young children towards the huge population that surrounds them. While we boast of human rights, distributive justice, gender equality and good governance, can we afford to evolve such a 'classroom' in our schools, colleges and universities? The sooner we set our house in order, the better!
The writer is Chairperson, Departments of Sociology and Women's Studies, Panjab University, Chandigarh