M A I N N E W S
Pak airliner crashes, all 127 on board dead
Boeing 737 runs into bad weather near Islamabad
Afzal Khan in Islamabad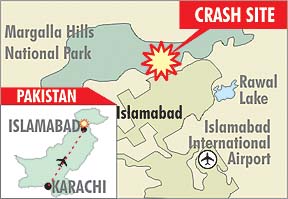 A Boeing 737 aircraft of private Bhoja Air carrying 127 passengers and crew coming from Karachi crashed near the Islamabad airport on Friday evening leaving no survivor.
The cause of the crash was not immediately known, but civil aviation officials said the accident took place amid heavy downpour. The plane (flight B4-213) left Karachi at 5.35 pm and was due to land at the Islamabad airport at 6.50 pm.
The flight had 118 passengers, including six infants, and nine crew members.
Aviation officials said the pilot of the plane had last contacted control tower at 6.40 pm and was given the clearance, but the contact was immediately lost. Eyewitnesses said the plane had caught fire before crashing on the ground. rescue workers at the crash site said there was no chance of finding survivors. Rescue workers at the crash site said there was no chance of finding survivors. "I saw a fireball coming down and crashing with a blast," retired colonel Khalid said. The site of the accident was near Hussainabad village, about 3 km from the Islamabad airport. Some of whose houses were also damaged in the incident.
A violent windstorm was lashing parts of the Capital around the same time, said an aviation official. Lightning might have caused the plane to catch fire, he added.
Rescue teams were rushed to the site. An army team also joined the operations later on. However, the rescue operations were hampered due to a heavy downpour. Villagers who rushed to the spot, found parts of bodies, plane wreckage and luggage of passengers strewn all around over an area of about 1 sq km.
Bhoja Air, which was re-launched on March 6 after a gap of 12 years, operates domestic economy flights for Karachi, Lahore, Islamabad, Peshawar and Multan. Some reports cast doubts on fitness of the ill-fated plane and claimed owners had used political influence to launch the service. No official of the airline was available for comment. Its staff at the Islamabad airport closed the office and disappeared shortly after the crash.