M A I N N E W S
Special to The Tribune
Slowdown in Europe: The worst is yet to come,
says IMF report
Shyam Bhatia in London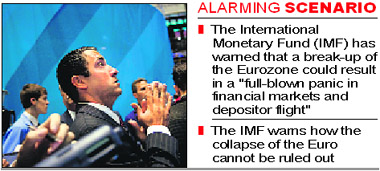 Newly released data from Europe reveals worrying trends about the economic downturn and its impact on Western economies.
India may not be directly or immediately affected by whether Greece defaults on its loans and how Spain, Italy and Ireland plan to service their debts in the coming months, but all four European countries are members of the Eurozone and fears for their financial stability have led to worries about survival of the single currency and the future of the European market that absorbs so much of India's and the rest of Asia's exports.
Late last year, a leading American banker was quoted as saying, "We think Europe is sliding into recession, and therefore, exports (from Asia) are tumbling. That's going to increasingly hit growth prospects for Asia in the coming months."
Great depression?
In its latest report, the International Monetary Fund (IMF) has warned that a break-up of the Eurozone could result in a "full-blown panic in financial markets and depositor flight" and an economic slump to match the Great Depression.
In its World Economic Outlook report, the IMF warns how the collapse of the Euro cannot be ruled out, adding, "The potential consequences of a disorderly default and exit by a euro area member are unpredictable.. If such an event occurs, it is possible that other euro area economies perceived to have similar risk characteristics would come under severe pressure as well, with full-blown panic in financial markets and depositor flight from several banking systems."
The world has been teetering on the edge of depression since 2008, but the human cost of the economic downturn is only just starting to be calculated.
Suicide cases
Last October, respected British medical journal The Lancet published a report by a group of Greek experts examining the impact of the economic crisis on their country.
Led by Associate Professor of Psychiatry Marina Economou, the team's report states, "Greece has entered a long period of economic crisis with adverse effects on various aspects of daily life, including the mental health of its citizens. Within this context, the Greek Ministry of Health reported that the annual suicide rate has increased by 40 per cent.
The team's own findings concluded there was a 36 per cent increase in the number of those reported to have attempted suicide between 2009 and 2011 and concluded, "There is an urgent need for intensive screening, follow-up and treatment of people with suicidal ideation, especially now that the recession has led to increases in both suicide attempts and suicides. Despite the turmoil, Greece is struggling to maintain a social welfare state; however, gaps in primary health care render the situation hard to address."
The Greek team mirrored the findings of a Europe-wide survey by UK-based experts led by Dr David Stuckler of Cambridge University, entitled 'Effects of the 2008 recession on health: A first look at European data.' The UK team examined data from 10 EU countries, six in the pre-2004 EU (Austria, Finland, Greece, Ireland, the Netherlands and the UK) and four in the post-2004 EU (Czech Republic, Hungary, Lithuania and Romania). Their findings showed job loss was linked to a clear upward trend in suicide rates.