The new creamy layer
Ice cream has turned into a big-time gourmet delicacy. The country's top chefs and high-end international brands are making this frozen dessert truly a luxury experience
Anandita Gupta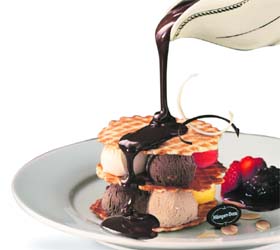 Paradise gourmet ice cream by Häagen-Dazs @ Rs 1,300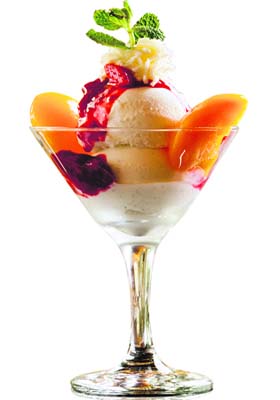 CREAM OF THE CROP: Fancy frozen concoctions by top chefs cost between Rs 450-999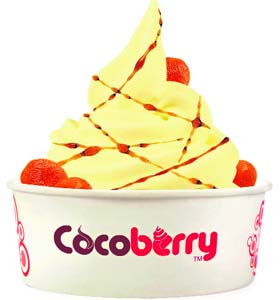 Scream for an ice cream when you are feeling hot and sweaty and you'll never go wrong! Nothing beats the heat more than a delicious scoop of your favourite ice cream. As temperatures sour, these chilled desserts look scoopaluscious! Frothy, fluffy scoops of melt-in-the mouth ice cream, swirly softies with crunchy cones, tangy lick-lollies (with the Indian cousin barf ka gola), the humble faluda kulfi, and of course, the lovable choco bar, have been perennial favourites. However, with a rise in disposable incomes, consumers are increasingly valuing the finer nuances associated with this frozen delight. Apart from quality itself, the ice cream eating experienc is becoming important. Young Indians now seek an exclusive and exotic ice cream-eating experience.
Which is why, Michelin-starred chefs are busy making fancy concoctions. Vineet Bhatia's rose-petal, marigold ice cream, appears as an accompaniment to the main courses at his restaurants. At The Park, Kolkata, executive chef Kaushik Saha uses ingredients like black pepper, rasmalai, chillis and vegetable pickles to whip up ice creams.
Looking at the appetite of a growing section of consumers seeking a luxury experience, a host of companies are hopping on the gourmet ice cream bandwagon. Fruity sorbets, Italian gelatos, frozen yoghurts and even jazzed-up versions of our own kulfi, are stepping up to the palate.
With the buyers spoilt for choice, we enter the chill-out zone to taste these delights.
Bye bye grab-a-scoop shops
Baskin Robbins was among the first few premium ice creams (pegged at Rs 30 a scoop) to enter the Indian market in 1993. However, Indians with a sweet tooth can now dig into a tub of expensive ecstasy. The world-famous gourmet ice cream H`E4agen-Dazs, with its myriad flavours, has been launched in India (New Delhi and Mumbai) in 2009. Available across 900 boutique shops in more than 50 countries; this brand is luxurious — costing roughly Rs 195 per scoop! "Since its inception in 1961, H`E4agen-Dazs has continually offered an exceptional dessert experience— a 'H`E4agen-Dazs Moment,'. Call it the Louis Vuitton kind of experience. It's meant for discerning consumers, who seek exotic, exclusive and sophisticated options," smiles Arindam Haldar, director, General Mills, the food conglomerate behind the brand.
The use of ingredients from around the world — be it dark chocolate from Belgium or Macadamia nuts from the world's best regions — make this ice cream special. H`E4agen-Dazs has a rigorous quality testing Gold Standard Protocol and says no to artificial flavours and colours. Its trump card, however, are the customised Haagen-Dazs lounges that offer a fine-dining ambience. You can sit back, relax and savour a signature dessert, which costs you anywhere between Rs 600 to Rs 1,400.
Interestingly though, the words Haagen-Dazs have no meaning whatsoever. The name was coined by the company because the words sounded good. The ice cream's menu features flavours Belgian Chocolate, Apricot, Macadamia Nut, Dulce de Leche, Green Tea, Cr`E8me Brulee and Chocolat Fondant. It offers signature creations like 'Seventh Heaven' —a delectable offering of seven choicest flavours and 'Mystique'— a concoction of Belgian chocolate and raspberry sorbet.
Another international ice cream maker, London Dairy, is wooing Indians with international flavours like Butter Pecan, Tiramisu, Bravo Biscottino and California Raisins (a 500 ml London Dairy tub costs around Rs 250 and a litre around Rs 475).
Desi flavours
In their quest for winning flavours, ice cream manufacturers are serving up scoops of exotic, Indianised flavours. Amul is offering fare as varied as tubs of Morroccan Dry Fruit. Vadilal's gourmet tubs are its high-end offering, with flavours like Belgian Chocolate and Java Chips. Mother Dairy has launched savoury Gol Gappa candy sticks and Paan kulfis. But the real show stealers are Mumbai-based Natural Ice creams, offering an array of flavours— Watermelon, Chikoo, Kala-Jamun, Sitaphal, even Saunf—with chunks of the seasonal fruits embedded in its tubs. Their Kaaju Kishmish and Anjeer are hotsellers.
Calcutta-based Fruity Freeze has an assortment of ice creams in flavours like Aam Panna, Rabdi Malai, Nimbu Paani, Jalebi and Rajbhog. Delhi-based Gelato Vinto has a range of local flavours including Chikoo, Coconut and Cardamom. Fresh & Naturelle's Pabrai's Nolen Gur ice cream is served with chunks of jaggery in it. They also have Chandan and Rose sugarfree ice creams.
Hello health
With the cr`E8me de la cr`E8me savouring gourmet ice creams, urbanites are gravitating towards frozen yogurts. According to a Technopak report, the Indian yogurt market was estimated at $135 million in 2011 and expanding at a 25-30 per cent annually.
The pioneer in introducing the frozen yogurt fad, of course, is 39-year-old GS Bhalla, who launched Cocoberry in 2009. Churned in a soft-serve machine, this dessert comes with berry-infused flavours that pair wonderfully with droolworthy garnishes. "While cocoa is an anti-depressant, berries signify exotic, antioxidant-rich toppings," smiles Bhalla, an MBA from Harvard Business School.
The brand primarily sells frozen yogurt in 100 ml, 300 ml and 500 ml containers that retail at prices from Rs 32 to Rs 239. It offers an assortment of yogurt cones, sundaes, parfaits and smoothies, crammed with fresh exotic fruits, skimmed milk, an array of fruit purees and healthy toppings. Cocoberry`A0boasts of over 1.1 million Facebook fans, which is the world's largest fan-base of any frozen yogurt brand!
Indians are enjoying power smoothies, gourmet waffles and pro biotic parfaits as breakfast options. Recently, US-based yogurt and smoothie brand Red Mango set shop in Delhi. It boasts of being the first 100 per cent natural, low fat and gluten-free frozen yogurt. "Our tag line, 'Rethink Lunch!' aims at offering yogurts as a healthy meal. We've also started a self-vending machine, where customers can pay 89 paisa per gm," says Rahul Kumar, CEO, Red Mangoes, India.
Red Mango yogurts use the finest ingredients like Vanilla imported from Madagascar and strawberries from Sonoma in California. Of the 200 cups that Red Mango sells daily, Blueberry Yogurt moves very fast.
South Korean yoghurt chain Yogurberry is also offering smoothies, parfaits, fruit-bowls, waffles, fruit salads and pro-biotic beverages. Among yogurts, its Punchy Pomegranate is particularly good. Ameer Husain, business head of Yogurberry, India, says "We're soon launching Yogurberry in caf`E9 formats that are ideal for meal consumption."
Hugely popular frozen yogurt flavours include strawberry, blueberry, mango, green apple, pineapple and even chocolate. Toppings — collectively there are 100 garnishes to choose from — go from fresh fruits to the trademark Oreo cookies. Weight-watchers can skip fattening jujubes and chocolate sprinkles and opt for freshly cut fruits, cereals and dried fruits.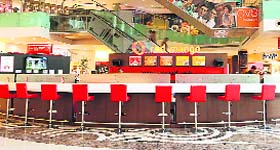 For Indians, ice creams evoke the fondest of summer memories. Whether it was the usual strawberry-and -vanilla ice cream, or choco bar by Kwality, (later Walls) and Amul, lick lollies by Vadilal, Verka and Cream Bell, colourful Tutti-Frutti and Cassata slices by Mother Dairy or softies by the local vendor, we never seemed to have our fill. The scene perked up, with family-run empires (Natural Icecreams, Nirula's, Basant's and Giani's) spoiling Indians for choice. No wonder, India's branded ice cream market stands at Rs 1,500 crore. Which is quite impressive, as compared to the carbonated drinks (Rs 1,300 crore) or even chocolates and confectionery (Rs 4,500 crore).