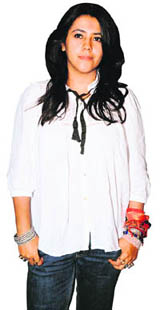 A brand called Ekta
From the queen of soaps to a producer of cutting-edge Bollywood entertainers, the temperamental Balaji Telefilms boss has come a long way indeed
Saibal Chatterjee
Ekta Kapoor has reason to be upbeat. Today, she is more than just a television czarina. Her production company, Balaji Telefilms, which was in danger of running aground about three years ago amid a severe financial crisis, is now not only back in the pink of health, it is also breaking fresh ground and winning new friends. The feisty 36-year-old lady's metamorphosis may be a work in progress — Kapoor is still evolving as a woman and a professional — but she and her production company have certainly come a long way from the days when her K-brand of never-ending serials dominated the Balaji menu.
Why do bats tuck in their wings?
By flexing their wings inward to their bodies on the upstroke, bats use only 65 per cent of the inertial energy they would expend if they kept their wings fully outstretched, according to a new research. The study suggests that they use their flexibility to compensate for that mass. Unlike insects, bats have heavy, muscular wings with hand-like bendable joints. Whether people are building a flying machine or nature is evolving one, there is pressure to optimise efficiency.
Switch off the screen, honey!
TV, cellphone, laptop...one of these is on through the day in front of every person today. Is the 'screen' the newest threat to a happy marriage?
Vimla Patil
Who would have imagined that the super-gifts of technology — which have transformed the world's business and financial as well as social scenarios — could put tremendous negative pressure on the man-woman relationship? "Unfortunately, this is so," says Mridul Choksi, a senior counsellor, "A significant number of couples come to me for advice on how to 'remove' the 'screen' from obstructing their relationship." The "screen", be it of the computer, the phone or the television, has acquired an ugly avatar and is literally hiding one partner from the other or family members from each other.
Gateway Cochin
Cochin has a lot more on offer besides its rich Portuguese, Dutch and British heritage
Lalit Mohan
Cochin or Kochi, if you like, is the gateway to central Kerala, but has enough of history to justify a short stay here before proceeding further. In 1503, the Portuguese built what is the oldest European church in India in Cochin. Initially, it was just a wooden structure dedicated to St Bartholomew. It was rebuilt in 1516 using some bricks and mortar and this time it honoured St Anthony. When Vasco da Gama died in 1524 he was buried here, but 14 years later they dug his body out and took it back to Portugal. The gravestone still marks the place where he was interred.
An ace up his sleeve
Yuki Bhambri is being seen by many as India's future tennis hope
Subodh Samuel
When he was a kid one of the places he looked forward to visiting was Chandigarh. He would accompany his tennis player sisters Ankita and Sanaa to the city whenever they went there to play the ITF circuit. "What he loved was boating at the Sukhna Lake," reminisces sister Ankita.
Fatty acids can fight cancer spread
Omega-3 agents have anti-metastatic actions that can block the path of cancer tumours
Omega-3 agents could potentially block the path of primary cancer tumours, preventing more advanced cancers, according to researchers.
I completely believe in love
Shahid Kapoor will once again team up with Priyanka Chopra in Kunal Kohli's romantic drama Teri Meri Kahaani. The actor will be seen in three different roles as the film is set over three different time periods
Sreya Basu
Your last release (Mausam) was a love story and your next release (Teri Meri Kahaani) will also be of the same genre. How much faith do you have in love?
I completely believe in love and this is the second love story that I am doing back-to-back . So obviously, I have a lot of faith in love. I think love is the most beautiful thing in the world. It makes the world go round.
Decaying legacy
The highest film-producing country does not have a single complete print of its first silent or talkie feature. In the centennial year of Indian cinema, film heritage preservation remains a distant dream
Rahul Sahgal
2113 AD. At the bicentennial celebrations of Indian cinema, a proud poster publicises — "Special retrospective: screening of a two-hour montage of all the surviving clips from the films of Yash Chopra — a 20th century film director". Far-fetched as the plot of a twilight zone episode may seem, but given our abysmal national history of film heritage preservation, it could well be a potential reality.