A brand called Ekta
From the queen of soaps to a producer of cutting-edge Bollywood entertainers, the temperamental Balaji Telefilms boss has come a long way indeed
Saibal Chatterjee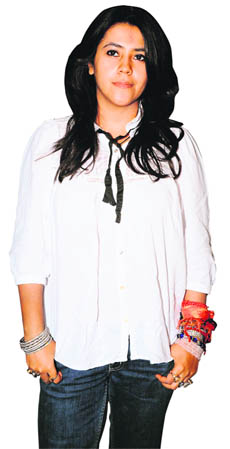 Ekta Kapoor has reason to be upbeat. Today, she is more than just a television czarina. Her production company, Balaji Telefilms, which was in danger of running aground about three years ago amid a severe financial crisis, is now not only back in the pink of health, it is also breaking fresh ground and winning new friends.
The feisty 36-year-old lady's metamorphosis may be a work in progress — Kapoor is still evolving as a woman and a professional — but she and her production company have certainly come a long way from the days when her K-brand of never-ending serials dominated the Balaji menu.
The reinvention of Ekta Kapoor has been anything but easy. Her story has witnessed more than its share of dramatic setbacks and downturns. The strong-willed girl who built her career on a series of mawkish saas-bahu soap operas has transformed into a shrewd and successful producer of boundary-breaking Bollywood films.
Unique niche
Even as successful serials continue to flow out of the Balaji assembly line, Ekta has carved a unique niche for herself in the Mumbai movie industry by throwing her weight behind a slew of unconventional big screen entertainers that have rewritten the rules of the game a fair bit.
"The strategy is to focus on quality and meet the expectations of the audience," says the woman who has, of late, produced or acquired talked-about films such as Love Sex Aur Dhoka, Once Upon a Time in Mumbaai, Shor in the City, Ragini MMS and The Dirty Picture.
These edgy films are a far cry from Ekta's family-oriented soap operas that were targeted at a middle class viewership willing to be seduced by the power of narrative predictability. These movie titles have sought to push the envelope in terms of both style and substance while staying within the commercial parameters of mainstream Hindi cinema. The balance has worked wonders for the bottomline of Balaji Motion Pictures.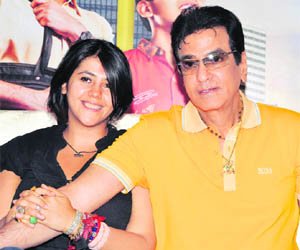 Ekta Kapoor with dad Jeetendra
Managerial role
Ekta Kapoor is the joint managing director of Balaji Telefilms, which was set up in the mid-1990s by her mother, Shobha Kapoor. The company is widely credited with fuelling the satellite television boom with its string of top-rated shows.
She was, for many years, the creative head of the super-successful content factory. But in recent times, she has gradually slipped into a more managerial role in order to control the company's fortunes better.
Balaji Motion Pictures and its alternative cinema arm, Alt Entertainment, have both made their presence felt with aggression and intent. The latter was the banner under which Ekta Kapoor produced Dibakar Banerjee's Love Sex Aur Dhoka, India's first digital film to be accorded a conventional commercial release. It was the biggest sleeper hit of 2010.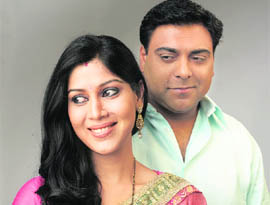 Ram Kapoor and Sakshi Tanwar, the actors of Bade Achche Lagte Hain
It isn't that Ekta has altered her approach to the entertainment business. She is still clear in her mind that she isn't here to please the critics — "If they like my films, so be it," she says. She keeps an eye firmly on what the audience wants. "The viewer matters more than anyone else," she says.
The difference between soap queen Ekta Kapoor and film producer Ekta Kapoor springs from the inherent dissimilarities between the two delivery platforms. Television, she believes, is more mass-oriented than cinema because it goes into a wide diversity of homes whereas films can be made for specific target audiences.
The big screen has given Kapoor far greater scope for creative adventure than television ever could, a fact that is reflected in the kind of films that she backs. In the bargain, she is acquiring quite a reputation for being a good judge of quality.
TUNED INTO Market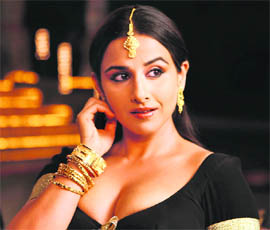 Ekta struck gold with The Dirty Picture
As Siddharth M. Jain, co-producer of Ragini MMS, says, "The profile of our film changed when Balaji came on board. It pumped in several crores for the promotion of Ragini MMS. Ekta saw the project's potential as soon as we pitched it to her."
The Dirty Picture, Kapoor's biggest success story to date, has proved that particular prowess of hers with greater emphasis than ever before. In the domain of small, unconventional films, she has emerged as a force to reckon with.
The Milan Luthria-directed entertainer not only catapulted Vidya Balan to the rare club of actresses capable of carrying a woman-centric film on her shoulders, it also proved that a superhit can be made without the support of a big Bollywood star.
Incidentally, Vidya Balan had made her debut in the Balaji sitcom Hum Paanch (the company's first major success on television) before moving on to greater things in her life and profession.
Nidimodru and Krishna DK's Shor in the City was a low-budget film that earned both critical acclaim and money, strengthening Kapoor's faith in projects that dared to be different. Since the mid-career crisis that threatened to derail her, Ekta has made moves that have, without exception, yielded dividends.
SOAP OPERA Queen
Of course, Ekta is no stranger to success. There was a time when Balaji was the undisputed market leader in the television content space. At one point, at the height of her success story, she made 38 of the 50 top shows across Indian channels.
Serials like Kyunki…Saas Bhi Kabhi Bahu Thi, Kahani Ghar Ghar Kii and Kasauti Zindagi Kay, among many others, attracted TRPs of the kind that was unheard of and earned loyal and lasting viewership. But many cultural analysts berated her for perpetuating stone-age social values through her mediocre shows, but Ekta carried on regardless, propelled by the sustained support of India's general television audience.
When she was flying high, Ekta was known to be exceedingly arrogant. She was a woman who threw tantrums all the time and rode roughshod over employees and associates. She was a leader who brooked no debate. The autocratic style of functioning was tolerated because of the continuing success that she enjoyed but it also left a bitter aftertaste.
But all that is now a thing of the past. The new, improved Balaji boss is a more mellowed person, willing to listen to the views of others. The change has helped the company tide over the problems that it faced in 2009.
Troubles erupted when her sole customer, Star Plus, India's most watched Hindi general entertainment channel, discontinued her top-rated show Kyunki… Saas Bhi Kabhi Bahu Thi as its viewership points were on the wane. The move came at a time when the industry was grappling with a serious economic downturn and production houses were being forced to squeeze their budgets. But Ekta wasn't accustomed to constraints, and she wasnsufficiently equipped to tackle the hard times that lay ahead.
NEW AVATAR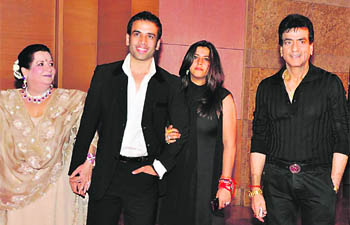 The Kapoor family:

From left: Shobha, Tusshar, Ekta and Jeetendra
As more of her shows went off air and her exclusive and lucrative contract with Star Plus came to an end, Balaji was in the doldrums and its stocks plummeted rapidly. Initially, Ekta wasn't able to see the writing on the wall: Audience tastes were changing and her melodramatic soap operas had outlived their utility.
Worse, being the inveterate maverick that she is, she tended to indulge in financial profligacy. Per-episode budgets spiralled beyond control — from well under Rs 50,000 in the 1990s to 18 lakh in 2007. But matters have since been reined in and her current serials — Pavitra Rishta, Bade Achhe Lagte Hain, Parichay and Kya Hua Tera Vada, among others — cost much less to produce.
Until the meltdown happened, Balaji Telefilms functioned haphazardly and unprofessionally, driven largely by the whims and fancies of one person. The knocks of recent years have forced a rethink and Kapoor is no longer as impulsive as she once was.
The transformation is paying off handsomely. As she prepares for the release of Kya Super Kool Hai Hum, a sequel to 2005's Kya Kool Hai Hum, a risqué adult comedy starring Riteish Deshmukh and Tusshar Kapoor. In an interview, Deshmukh has promised that the new film would be outright down and dirty, much more so than the original. Kapoor clearly knows what works!
Make no mistake, Kya Super Kool Hai Hum will not be another Delhi Belly, but Kapoor has enough interesting projects in the pipeline to stay put in the hunt for the next big breakthrough. For one, she has tied up with producer-writer-director Anurag Kashyap to produce Lootera, starring Ranveer Singh and Sonakshi Sinha. The film is helmed by Vikramaditya Motwane, the maker of the critically acclaimed Udaan.
Ekta Kapoor is already in full flight. Observers believe that the next phase of her career would be the most exciting of all as she diversifies into new territories and makes new conquests. The lady is a full-fledged brand and its value is undeniably on the upswing.