M A I N N E W S
AP houses one of world's largest uranium reserves!
Suresh Dharur
Tribune News Service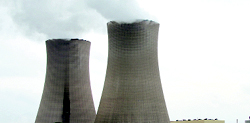 Hyderabad, April 22
The arid and backward Rayalaseema region of Andhra Pradesh may well be sitting over one of the world's largest uranium reserves.
The uranium reserves in and around Tummalapalle village in Kadapa district were initially estimated at 15,000 tonne, but continuous exploration has shown promise of further reserves. Last year, the Uranium Corporation of India Limited (UCIL), in its fresh estimate, said the uranium reserves in the district can go up to 1.5 lakh tonne, a 10-fold increase from the original estimate.
"Tummalapalle could become one of the world's largest uranium deposits and the new facility would provide a major fillip to the country's nuclear programmes," Atomic Energy Commission chairman Dr Srikumar Banerjee said.
He was speaking to reporters after commissioning UCIL's biggest uranium ore mine and processing plant at Tummalapalle, marking a major milestone in the country's quest for nuclear energy. Banerjee said the mine was of a much bigger magnitude and it required the construction of a second processing plant that would be taken up shortly.
The Rs 1,106-crore Tummalapalle plant is expected to meet the fuel needs of 25 per cent of the country's nuclear plants. The Department of Atomic Energy secretary said India now had the capability to develop own uranium ore mines instead of depending on imports. The nuclear power generation in the country would reach 60,000 MW by 2050.
The newly commissioned plant has a capacity of mining and processing 3,000-tonne Uranium a day. The second phase of the plant will produce another 1,500 tonne per day.
Local villagers, opposition parties and environmentalists are opposing the plant on the ground that it would play havoc with public health and environment.
However, Banerjee sought to allay such fears by saying that all necessary safety measures had been put in place and that the local people would get employment opportunities in the plant. At present, the UCIL operates six underground mines, one open cast mine and two processing plants, all in Jharkhand.
"This has the potential of making it one of the
most significant uranium reserves in the world," the official said.
The Thummalapalle mine is by far the most modern underground mine in the country with high level of automation. A processing plant has been constructed next to the mine that will use alkali pressure leaching process to produce sodium di-uranate from the ore.
The Fuel-rich district
n The uranium reserves in and around Tummalapalle village in Kadapa district were initially estimated at 15,000 tonne
n The Uranium Corporation of India Limited , in its fresh estimate, said the reserves can go up to 1.5 lakh tonne, a 10-fold increase from the original estimate