Malaria control must be priority
Dr Jagdish Chander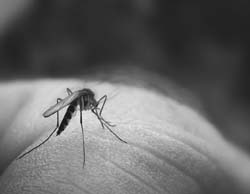 Malaria and tuberculosis are the diseases of antiquity, commonly found in developing tropical and subtropical countries, with very high morbidity and mortality. Preventive and therapeutic measures have been taken according to the prevailing knowledge about these maladies century after century. As per an estimate, 216 million cases of malaria and 655,000 deaths were reported worldwide in 2010, a decrease of 17 per cent in malaria incidence and 25 per cent reduction in global malaria mortality since 2000.
According to the WHO also, about half the world's population is at risk from malaria. Despite the fact of its being a preventable and treatable disease, it still claims the life of one child every minute, with more than 90 per cent of all malaria deaths occurring in the African continent. India's share in South Asia is 83 per cent of the total cases reported in this region. At present it is one of the major killers.
In India, deaths due to malaria could be more than 40 times higher than what is presently estimated. Recent research published in the Lancet shows that malaria kills 1.2 million people worldwide each year - twice as high as the figure in the World Malaria Report, 2011. An Indian study estimates that "4800 malaria deaths in children younger than five years and 42,000 malaria deaths in those aged five years or older" for the year 2010 as against "19,000 malaria deaths in children younger than five years and 87,000 malaria deaths in those aged five years or older in 2002." This means that malaria killed an estimated 46,800 Indians in 2010. However, the National Vector-Borne Disease Control Programme estimates that 1,023 people died of malaria infection in 2010. Therefore, due to the discrepancy in the figures at the national and international levels, it became a very debatable issue.
A large number of cases of malaria were treated in Chandigarh in 2010 and 2011, and these patients came from the surrounding districts of Haryana and Punjab. Sometimes malaria may be confused with viral fever and typhoid, but the latest outbreaks of the fatal disease shows that the patients died due to multi-organ failure, an unusual feature of this disease. Some of them were advancing towards renal failure and had to be put on dialysis as well. A substantial number of these cases were caused by Plasmodium falciparum. In such circumstances, an early diagnosis can lead to timely therapeutic intervention, which can prevent mortality in complicated malaria cases.
The Roll Back Malaria is basically a global partnership initiated by the WHO, UNDP, UNICEF and the World Bank in 1998. It seeks to work with governments, other development agencies, NGOs and private sector companies to reduce the human and socio-economic costs of malaria. It was promoting four main strategies to pursue its goal of halving the world's burden of malaria by 2010. The strategies are evidence-based, outcome-focused and cost-effective: (a) Prompt access to treatment; (b) Insecticide-treated mosquito nets (ITNs); (c) Prevention and control of malaria in pregnant women (d) Malaria epidemic and emergency response.
Globally, Africa has about 90 per cent burden of the fatal cases of malaria. Therefore, realising the gravity of the situation in April 2000, delegations from 44 African nations met in the largest ever summit of Heads of State focused on a single health issue in Abuja (Nigeria) and committed their countries to cutting malaria-related deaths to half during the next decade - by 2010. These African leaders, endorsing this Roll Back Malaria (RBM) goal for 2010 in the Abuja Declaration, also set interim targets and drew up a plan of action for expanding access to and use of effective interventions.
One year later, in 2001, the first Africa Malaria Day re-affirmed their commitment across the continent with public events and health educational programs. Therefore, keeping in view the progress made by these programmes, April 25 was designated as World Malaria Day in 2007 by the 60th session of the World Health Assembly, the decision-making body of the WHO, reiterating the Abuja Declaration. The day was essentially established to globally provide education and understanding of malaria and disseminate information on malaria-control strategies, including community-based activities for malaria prevention and treatment in endemic areas.
The theme for World Malaria Day-2012 is "Sustain Gains, Save Lives: Invest in Malaria" - this marks a decisive juncture in the history of malaria control. Whether the malaria map will keep shrinking, as it has in the past decade, or be reclaimed by the malaria parasites, depends, to a great extent, on the resources that will be invested in control efforts in the coming years. In addition, the CDC conducts multidisciplinary strategic and applied research globally to increase knowledge about malaria and develop safe and effective interventions that can lead to the elimination and eventual eradication of malaria. As a WHO Collaborating Center for Prevention and Control of Malaria, CDC works closely with the WHO, which has just released new malaria surveillance manuals and launched the T3 (Test, Treat, and Track) Initiative, urging increased investment in national capacity for diagnostic testing, diagnosis-based treatment and the surveillance of malaria.
Investments in malaria control have created unprecedented momentum and led to remarkable results in the past. In Africa, malaria deaths have been cut by one-third within the last decade; outside Africa, 35 out of the 53 countries, affected by malaria, have reduced cases by 50 per cent in the same time period.
In countries where access to malaria control interventions has improved most significantly, overall child mortality rates have fallen by approximately 20 per cent. Therefore, sustaining malaria control efforts is an investment in development. This continued investment in malaria control now would propel malaria-endemic countries towards near-zero deaths by 2015 and achieving the Millennium Development Goals, especially those relating to improving child survival and maternal health, eradicating extreme poverty and expanding access to education.
However, these gains may be reversed unless malaria control becomes a priority for global, regional and national decision-makers. Despite the current economic scenario, development aid needs to continue flowing to national malaria control programmes to ensure widespread population access to life-saving and cost-effective interventions.
The writer is Professor & Head, Department of Microbiology, Government Medical College Hospital, Chandigarh.