M A I N N E W S
Normal monsoon forecast comes with many riders
Vibha Sharma
Tribune News Service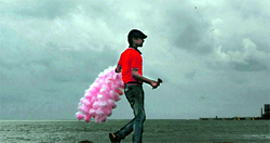 ALMOST HERE: Clouds gather over Kochi.

New Delhi, April 26
The government today issued the first forecast for the all-important southwest Monsoon that brings rain for most of India. While India Meteorological Department's (IMD) prediction, for now, is of a "normal" monsoon rainfall, there are several riders such as the possibility of emergence of weak El Nino conditions (warming of the equatorial central Pacific Ocean) towards the later part of the season. Earth Sciences Minister Vilasrao Deshmukh said the seasonal rainfall for the country is likely to be "normal."

He said there was 47 per cent probability of a normal monsoon as against 24 per cent probability of below normal rains this season.

"Quantitatively, the monsoon season rainfall is likely to be 99 per cent of the long period average (LPA) with a model error of five per cent," Deshmukh said.

Forecasters said the probability of seasonal rains to be below normal, 90 to 96 per cent of the LPA, is also higher than the climatologically value. The likelihood of rainfall to be deficient (below 90 per cent of the LPA) or

excess (above 110 per cent of the LPA) is relative, low-less than 10%. Qualitatively, the 2012 monsoon is expected to be 99% of the LPA with a model error of ± 5%. For the record, LPA of the season rainfall over the country as a whole for the reference period 1951-2000 is 89 cm. 

Keeping in mind the political sensitivity that the monsoon has for the country, two government representatives, Deshmukh and minister of state Ashwini Kumar, assured farmers and others not to worry. "Production, including that of rice, pulses and coarse seeds will get a boost," Kumar assured. 

Assuring normal rains and production, Earth Sciences Secretary Shailesh Nayak said a lot depended upon the distribution of rainfall. However, reading between the lines, two facts emerge: one that the probability of "normal" rains at 47 % is lower than around 51%, issued last year, and two, the likelihood of "below normal rains" at 24% is higher than that of 20% during 2011. 

An analysis of five predictors for the long-range forecast indicates 24% probability for a below normal rainfall, Deshmukh also agreed. 

At present, of five parameters, South Indian Ocean Sea Surface Temperature (SST) is favourable while North Atlantic SST isn't for the Indian monsoon. The remaining three — East Asia Mean Sea Level Pressure, NW Europe Land Surface Air Temperature and Equatorial Pacific Warm Water Volume — are neutral.

Besides, an important factor of changing El Nino conditions is playing on the mind of forecasters. India's chief monsoon forecaster D Sivananda Pai said there was a possibility of El Nino weather conditions developing in the central equatorial Pacific Ocean, a situation usually associated with weak rainfall.

An extremely pleasant April may also prove to be a counter, even though IMD chief LS Rathore said similar conditions during May were also observed during 2008, the year that saw good rainfall. 

Monsoon accounts for annual rain in 75% of the geographical area and 78% of the gross cropped area in the country. It is crucial for India as more than 60% of the country's agriculture depends on good rainfall for a good harvest.