M A I N N E W S
33 days later, Maoists free Odisha MLA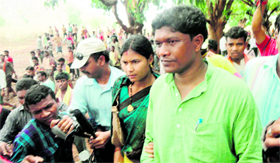 BJD MLA Jhina Hikaka and his wife Kaushalya Majhi after his release on Thursday. — AFP
Bhubaneswar, April 26
BJD MLA Jhina Hikaka today walked to freedom, escorted by a group of tribals, after 33 days in Maoist captivity in Odisha's Koraput district.
The 37-year-old Laxmipur MLA was freed at Balipeta in the Maoist hotbed of Narayanpatna in the district where a Maoist people's court had decided to release him.
Clad in a green kurta-pyjama, the tribal leader was handed over by the tribals to his wife, Kaushalya Majhi, and a lawyer who fights cases for the ultras and their frontal organisations, Nihar Ranjan Patnaik.
"I was treated quite well and not tortured," Hikaka said, shaking hands with the lawyer. Looking cheerful after his gruelling ordeal, Hikaka said, "I am free now. I am in good health."
The legislator said he ate the same food as the Maoists, who moved him from one place to another at least thrice during captivity. The MLA had reportedly told the 'praja' court on April 23 and 24 that he would resign as MLA, snap all ties with BJD and live as an ordinary citizen and work for the people.
His relieved wife, Kaushalya said, "I am thankful to the tribals and the media for their support. I was very anxious to see my husband." The release of Hikaka, who had been abducted in the early hours of March 24 in Koraput district, was officially confirmed here by Home Secretary U N Behera. "The MLA has been freed by the Maoists," he said.
Chief Minister Naveen Patnaik said, "We are extremely happy and glad that Hikaka is free and reunited with his family members who were in a state of distress."
A medical team, which was present at Balipeta, examined the legislator, before he proceeded to Koraput en-route to his home at Laxmipur, where his mother, two sons and other family members were waiting.
According to the Maoist Andhra-Odisha Border Special Zonal Committee (AOBSZC) that had held him hostage, the tribal MLA had given a written undertaking that he would resign from the state Assembly and from the BJD and work for the people.
The tribals, who escorted Hikaka, also played an audio tape in which the MLA purportedly told the 'praja' court that he had failed as a people's representative after being elected three years ago and that he would quit as a legislator after being released.
Hikaka was, however, non-committal on quitting as MLA and the party and said, "You will know about it in due course." Categorically asked whether he would put in his papers, Hikaka said a 'praja' court was not a platform to resign. — PTI
Talks begin for Menon's release
Raipur/New Delhi: Mediators of the Chhattisgarh Government and the Maoists on Thursday met for the first time to find a solution to end the six-day-old hostage crisis involving abducted Sukma District Collector Alex Paul Menon. Ahead of the meeting, a special emissary who had handed over medicines to Menon, an asthma patient, said his condition was stable.