CENTRESPREAD
HOME THEATRE
Get the Big Picture
Subodh Samuel & Shobita Shivshankar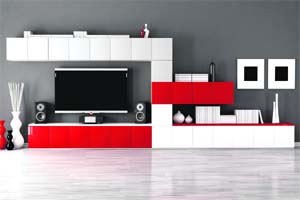 TIRED of standing in the queue to watch your favourite movie? Now all you have to do is to get yourself a home theatre and give those 'houseful' signs a miss. Just sit into the special screening room in your own home, select a movie of your choice, pop some corn, open a can of beer/cola/juice and make yourself comfortable in the cool confines of your personal mini-theatre.
That, in a way, explains why the home theatre was voted the 'Gadget of the Year' in 2011. It remains one of the most tantalising products in the Indian entertainment market. Many consumers are fooled into believing that a home theatre is a gigantic television, complete with a surround sound system. In reality, the term home theatre refers only to the audio equipment and the platform the audio plays on.
A home theatre system usually includes five (or more) speakers, amplifiers and a sub-woofer, along with movie or a movie-playing platform like a DVD, VCD or a Blu-ray player. Brands like Bose, Onkyo LG, Samsung, Philips and others design home theatres to replicate the surround effects of a movie theatre. A television screen is generally not a part of the package, though companies are now introducing deals that include one, especially for the Indian market.
Most popular
The conventional home theatre system with 5.1 channel digital sound (five speakers and one sub-woofer) is still the most popular in India, although the sound bar is also gaining ground. However, do make sure that there is ample space in the room for the system. If there are no space constraints, you could upgrade to the 7.1 or 9.1 systems, which are cutting-edge in this technology. Wall-mounting the system is an option for a pleasing look.
For those with less space to work with, a 2.1 channel digital sound (two speakers and one sub-woofer) will work well. In homes where there is almost no space for speakers or wall-mounting, a sound bar may work the best as this single horizontal unit comes with a sub-woofer and an inbuilt DVD/VCD player.
Smart buy
Buying a home theatre system is going to cost you substantially. A smart buy for those who own an iPod or an iPhone is a system with an integrated iPod dock. If you buy an iPod dock separately, the cost of the home theatre system shoots up by Rs 5,000.
Most people, who invest in a home theatre system, dedicate a room specifically for home entertainment. Try and figure out a rectangular room with as less natural light and sound from outside as possible — for privacy as well as an excellent sound experience. If it is just movies that you are interested in watching, a screen and a projector would serve you well. However, if gaming features on your to-do list, then a giant screen (a 70-inch, at least) will be a good choice.
Once you have decided on the right home theatre system, make sure the speakers are mounted on the side and rear walls of the home cinema to get the best sound out of the system. Speakers already have specifically engineered enclosures to enhance their performance. So don't enclose them in cabinets or shelves. Doing so can actually degrade the sound quality.
Cinema-like ambience
Remember, without a properly accessorised room, even the best of home theatres can seem to lose audio and video quality. So, throw in LED lighting to set the right mood and create a cinema-like environment.
Carpet the floor or throw in some rugs, put up movie posters. Add book shelves by the walls to absorb harsh, muddy sounds. You can even get experts to install acoustic-friendly fabric or sound control panels on the walls to help control reflective sound waves. Some speakers also create faux surround sound effects by bouncing sound off the walls. Add to this some upholstered sofas or La-Z-Boy recliners, or if you have big bucks to spare, bring in professionals to install plush theatre seating (make sure, there is enough leg space). Get a microwave for some instant popcorn. Finally, just put on your favourite movie and you have a complete cinematic experience in the comfort of your own home.
Bose Lifestyle 48 DVD Entertainment System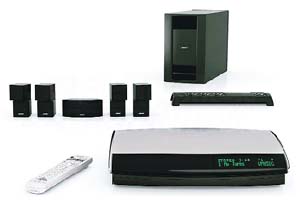 This is the grand emperor of all home theatres. The Bose Lifestyle 48 DVD Entertainment System is a High-Definition Multimedia Interface (HDMI) compatible and includes the trademark Jewel Cube speakers and a DVD and CD player. One of the unique features of the speakers is that it evaluates the dimensions of the room and adjust the sounds of the acoustics automatically. It stores up to 340 hours of music and as an audio, it can be connected to 14 rooms with Bose-link technology. The intelligent playback mode will identify your preferences and create a listening experience dedicated to your tastes. It is designed to complement flat-panel TV screens and is compatible with a wide range of formats, including DVD video, CD, VCD, MP3 files and MPEG-2.
Price Rs 2, 98,013
RCA RT2910 Home Theatre System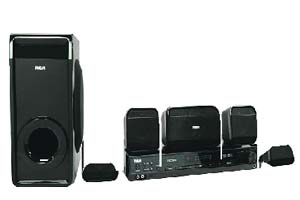 Many may call it a basic home theatre. But the RCA RT2910 Home Theatre System features 1000 watt of total power to fill your home with resounding sound. It includes an AV receiver, four identical compact speakers, a centre channel speaker and a sub-woofer. Also featured are three HDMI inputs, a co-axil and an optical digital audio input. It has a line-in for connection to iPod and other portable audio products. It has a surround sound system, with Dolby Pro Logic and Dolby digital decoders. The sound is smooth and the bass clean, which makes movie watching an exciting experience. This 100-watt system is wonderful buy for those on a budget.
Price $199 (Rs 10,000 approx)
Philips Immersive Sound Home Theatre HTS5591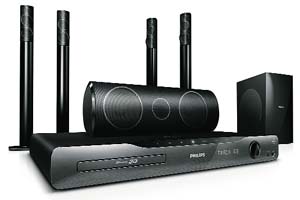 This relatively inexpensive system is guaranteed to pump up your home entertainment. The Philips Immersive Sound Home Theatre HTS5591 is a great listening and viewing experience. Its dynamic three-directional angled speakers offer powerful surround sound with the system's double-bass technology, lending real depth to the tonal quality. The speakers not just deliver sound towards the front but also to the sides, creating a wider sweet spot so you can enjoy more immersive and cinematic surround sound. Its DVD video can be upscaled via HDMI, which is as close to the 3-D experience as one can get. It can play all popular entertainment content, including 3-D Blu-ray for a truly immersive movie experience.
Price Rs 35,990
Panasonic SC-BT100 Blu-ray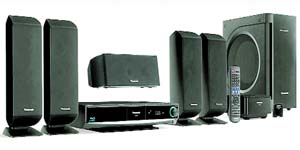 One of the top systems in its class, the Panasonic SC-BT100 Blu-ray will take your favourite music and movies to the next level. It comes with a full-HD high-quality picture, premium sound and integrated universal dock for iPod. It has a Blu-ray drive, bamboo fibre speaker diaphragms and its wireless technology delivers signals to the two speakers that can be placed anywhere in the room. Its digital video processor reproduces crisp, natural colours that are exactly the same as the original. It has a 5.1 channel surround sound of Dolby, which is expandable to advanced 7.1 channel surround sound. It gives an overall excellent performance with hi-definition picture quality and a great sound system.
Price Rs 49,000 (approx)
Onkyo HT-S9100THX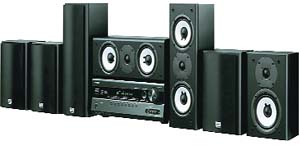 This is one authoritative home theatre that packs a punch. The Onkyo HT-S9100THX is an extremely versatile system in the market. Whatever input you choose — whether gaming, movies, broadcasts, or music — the system draws on a reservoir of precise amplification power to create a breathtaking home entertainment experience. The system includes a dedicated A/V receiver, a 12-inch powered, front-firing subwoofer, front speakers, a central channel and two pairs of surround back speakers. This allows the system to deliver panoply of surround sounds, including the Dolby and Master Audio. Go for it if you have the moolah to spare.
Price Rs 50,550
LG HT953TV Home Theatre System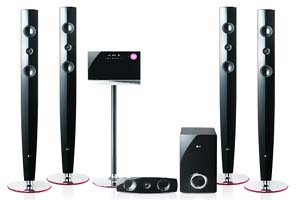 An amazingly stylish, slim and light LG HT953TV Home Theatre System that features high-end sound, especially tuned by audio company Mark Levinson, which gives it a hi-fi sound quality with 1,000-watt output. It has a pro-digital amplifier with a sensitive, touch-button, red LED and glossy parabola-designed speakers. It also features surround sound of Dolby digital technology. It comes with a HDMI cable to connect with your high-definition televisions. It also has iPod docks so that you can listen to your favourite music by connecting your iPod to it. It has a built-in DVD player with 10.1 virtual sound for an overall excellent performance.
Price Rs 59,390
Harman Kardon HK HS 250BQ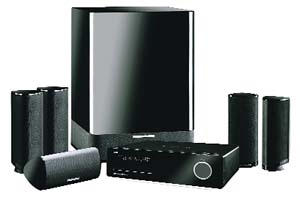 As far as entertainment gizmos go, this American company packs a punch. The Harman Kardon HK HS 250BQ is a power-packed home theatre, which is certified to handle full, high-definition video processing and has the Dolby and Master audio. It has features that include sound correction and speaker calibration. Whatever input you choose — whether gaming, movies, broadcasts, or music — it draws on a reservoir of precise amplification power to create a breathtaking home entertainment experience. With video upscaling, audio equalisation, acoustic-treatment technology and integrated control with leading display brands, this is a fail-safe solution for most home environments.
Price Rs 54,990
Sony DDW5500 Home Theatre System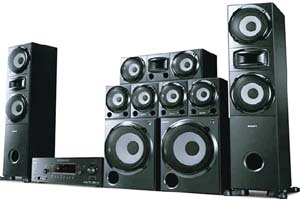 It is truly a Sony. The Sony HT DDW5500 is a 6.2 channel home theatre component system with two high-performance sub-woofers, offering more balanced bass distribution, and allowing listeners to experience all the power, detail and emotion of their favourite music and movies. It has Digital Cinema Auto Calibration (DCAC), which automatically calibrates audio performance according to the shape, size and construction of the room. The home theatre comes with a digital media port for songs, pictures and videos stored on a variety of devices like the iPod, Sony walkman, MP3 player, Sony Ericsson walkman phones, bluetooth and wi-fi portable music. All you have to do is to plug in and play this high performance device for your listening and viewing pleasure.
Price Rs 44,990