increasing employability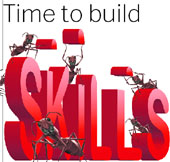 India is among the fastest growing economies of the world. The 11th Five Year Plan clearly states, "The thrust of the plan will be on creating a pool of skilled manpower in appropriate number with adequate skills, in line with the requirements of the ultimate users of manpower such as the industry, trade and service sector." In the 2012-2013 Union Budget, the government has doubled its allocation of funds for skill development to Rs 1,000 crore, raising the corpus of the National Skills Development Fund to Rs 2,500 crore.
Career Hotline
Try instructional design
Q. I've done MSc mathematics and BEd. After working as a teacher in a school for a year, I joined the back office of a company in Chandigarh on a salary of Rs 8,000. My parents and relatives, however, advise me to make a career in teaching as it is more suitable according to my education. They say it's a noble and good profession for girls and the hours are also not long. But I don't have any interest in teaching. Instead, I'd like to work in companies in Delhi, Gurgaon, Noida, Chandigarh etc.
Engineering twinning programme
Manipal University has invited applications for its International Centre for Applied Sciences' (ICAS) twinning programme. This programme is a collaborative arrangement with 26 international universities. Under this credit-transfer programme, students complete two years of the programme in Manipal University, India and the next two in a partner university in USA/UK/Australia/Canada. ICAS students are assured of an international engineering degree from a university of their choice. This programme provides a wide array of specialisations that are not available in Indian universities.


CareerCature
SANDEEP JOSHI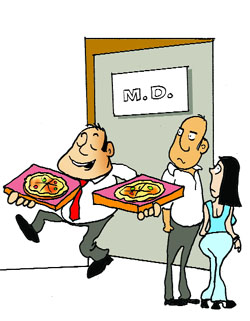 In lieu of target bonus and LTC the boss has promised to give us a family pizza each month.
Cool Counsel
Salary dilemma
Q. I have just completed my studies with distinction, and am trying to find a good job. But I am getting job offers with very low salary. My parents have spent a lot on me and had even taken education loan and now they look to me for support. I have high aspirations but feel I have no choice but to accept a job with very less salary. When I read about freshers getting hefty packages, I really get depressed and lose all confidence. Do you feel that it is a good decision to accept a job with low salary or I should reject this offer and wait for a job with handsome salary package? — Sahil dhillon
scholarship roundup
Huawei Maitree
Leading global information and communications technology (ICT) solutions provider Huawei has announced 'Maitree Scholarship Programme 2012' as a part of its education-based CSR initiative in India. Open to aspiring Indian students who have already secured admission to institutions of higher education in China, the Maitree Scholarships aim to build a platform for exchange of ideas between the two nations, fostering a closer understanding of each others' culture and society.
career compass: sports medicine
Be a game for challenges
Sports medicine is a field that brings about a marriage of contrasts. It has come a long way as a discipline offering valuable service in understanding, predicting and influencing human behaviour in physical activity and sports.
course cruising
Dairy gains
The College of Dairy Science and Technology under the aegis of Guru Angad Dev Veterinary and Animal Sciences University (GADVASU), Ludhiana offers a four-year programme in Bachelor of Technology in Dairy Technology.
field in focus: real estate
Hot property
Is the Indian real estate sector the right place to make a serious career in now? Compared to more developed countries, the Indian real estate sector still lacks sophistication and transparency. However, it continues to be in the limelight of domestic and international investments. This has naturally brought along the need for better, more capable human resources.
training poultry farmers
Birds of profit
Diminishing returns from agriculture and high costs involved in farming have made thousands of rural youths migrate to big cities in search of jobs. Increasing unemployment has been a major concern for the government as well as society making self-employment opportunities in rural areas and diversification in the traditional farming trends the need of the hour. Steps in this regard enable rural youths to become self-reliant and also generate employment for others.
smart strategy: dealing with a missed promotion
It pays to stay positive
Getting passed over for a promotion can be a disheartening experience irrespective of the level or designation. Although it is not as serious as being laid off, yet it can throw your career off track. There are many factors that are considered when employees are evaluated for the next higher position. As a result it is futile to blame the organisation, supervisor or even yourself for the debacle.
hiring trends: flexible jobs
Set perfect terms
Hiring is a complex process that is constantly changing. Many organisations are now turning to professional recruiters for their expertise in hiring the right talent. Outsourcing their HR also lets them focus on their core functions. The recent global financial crisis has also led to many companies resorting to the concept of hiring employees on contractual basis; which today are provided by professional temporary/flexi staffing companies.
Happiness @ work
Gems of ancient wisdom
Pay attention to work, not words
Sweet talkers say one thing and do another. Persons in positions of power should take their words with a pinch of salt. Emperor Akbar and his son Jahangir had seen that Shah Jahan was better than his brothers in every way. By his military skills, he outstripped his siblings in power and rank. Jahangir conferred the title of Shah Sultan on him making him the first Timurid prince to do so in his father's lifetime.