M A I N N E W S
PATHRIBAL ENCOUNTER

SC asks Army to take call on trial procedure
Says Centre's sanction must for criminal trial

R Sedhuraman
Legal Correspondent
New Delhi, May 1
The Supreme Court today ruled that the Central Government's permission was required to proceed with the criminal prosecution and trial of five Army personnel on charges of killing five persons in a fake encounter in Pathribal in Anantnag district of Jammu and Kashmir on March 25, 2000.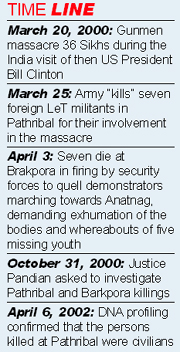 However, no permission from the Centre was needed in case the Army decided to subject the accused to court martial proceedings, a Bench of Justices BS Chauhan and Swatanter Kumar held.
The Pathribal encounter took place five days after the killing of 36 Sikhs by terrorists in Chattisinghpora village on March 20, 2000. The area was covered under the Armed Forces J&K (Special Powers) Act (AFSPA), 1990. The Army personnel named as accused in the case are Colonel Ajay Saxena (A1), Major Brajendra Pratap Singh (A2), Major Sourabh Sharma (A3), Subedar Idrees Khan (A4) and Major Amit Saxena (A5).
In the 55-page judgment, the court directed the competent authority in the Army to take a decision within eight weeks from today as to whether the trial would be by the criminal court or by a court martial and convey it to the Chief Judicial Magistrate-cum-Special Magistrate (CBI) at Srinagar.
If the Army decided to court martial the accused, the proceedings should "commence immediately and concluded expeditiously", strictly in accordance with law, the Bench said. In case the option was to try the Army personnel in the criminal court, the CBI should make an application to the Central Government for grant of sanction within four weeks from the receipt of necessary communication. The government should take a final decision on the plea within three months.
"In case sanction is granted by the Central Government, the criminal court shall proceed with the trial and conclude the same expeditiously," the apex court ruled.
The SC clarified that the competent Army authority should exercise its discretion to opt as to whether the trial would be by a court martial or criminal court after filing of the chargesheet and not after cognisance of the offence was taken by the court.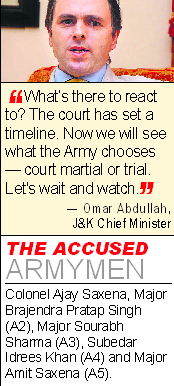 "Facts of this case require sanction of the Central Government to proceed with the criminal prosecution/trial" the Bench held. At the same time, the Army Act, 1950 "does not provide for sanction of the Central government," the SC clarified, while rejecting the contentions of the Army and the Defence Ministry to the contrary.
Dealing with Section 197 of the CrPC, under which sanction was required for prosecuting public servants, the court said it was aimed at protecting them against the institution of possibly vexatious criminal proceedings for offences alleged to have been committed by them.
The court said taking a decision on the plea for sanction would be "dependent on the facts of each case and cannot be a subject matter of any hypothesis, the reason being, such cases relate to initiation of criminal prosecution against a public official who has done or has purported to do something in exercise of the powers conferred under a statutory provision. The facts of each case are, therefore, necessary to constitute the ingredients of an official act."The apex court also clarified that if an act was not traceable to any lawful discharge of duty that "by itself would not be sufficient to conclude that the duty was performed in bad faith. It is for this reason that the immunity clause is contained in statutory provisions conferring powers on law-enforcing authorities. This is to protect them on the presumption that acts performed in good faith are free from malice or ill will."
Further, there should be material to attribute or impute an unreasonable motive behind an act to take away the immunity clause. "It is for this reason that when the authority empowered to grant sanction is proceeding to exercise its discretion, it has to take into account the material facts of the incident complained of before passing an order of granting sanction or else official duty would always be in peril even if performed genuinely."