M A I N N E W S
Sharad punctures Sushma's trial balloon on Presidential candidate
Mulayam, Left parties inclined to support Hamid Ansari
Faraz Ahmad/TNS
New Delhi, May 1
Within 24 hours of Leader of Opposition Sushma Swaraj floating the name of former President A.P.J Abdul Kalam as a combined Opposition Presidential candidate, NDA convener Sharad Yadav has punctured the balloon, distancing from Sushma's proposal.
Simultaneously, the support for Mohammad Hamid Ansari's presidential candidature seemed to be growing now with the Left, his original backer, stating that it had no objection to Ansari and the Samajwadi Party indicating its willingness to drop Kalam, whom it originally supported and back "any Muslim", including Ansari.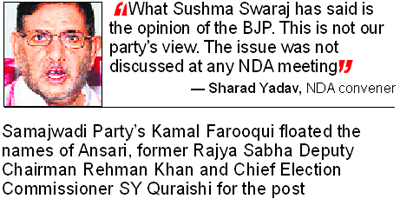 In a swift damage control mode, the BJP sought to play down Sharad's pique at Sushma's initiative and fielded two of its spokespersons Rajiv Pratap Rudy and Syed Shahnawaz Husain together to deny any differences within the NDA.
Later Sharad, who had spoken on TV camera earlier, too tried underplaying the face off and told The Tribune, "I have said in the morning, what I had to say. I won't add anything more to this," refusing to retract from his earlier position that he or any other member of the NDA had not been consulted on Kalam.
Yadav said, "What Sushma Swaraj has said is the opinion of the BJP. This is not our party's view. The issue was not discussed in any NDA meeting."
Asked whether the JD-U agreed with Sushma's rejection of any wider consensus, (She had ruled out supporting Pranab Mukherjee's candidature), Yadav said, "Ours is a different party and theirs is another. Neither have we discussed this issue with the BJP nor have they done it with us."
He also recalled how Punjab Deputy Chief Minister Sukhbir Singh Badal too has stated that "no formal meeting" of the NDA has taken place so far and without that it was premature to start talking about names insisting specifically that no NDA partner had consented to Kalam.
Later Rudy said "There is no rift between the BJP and the JD-U. It is mere speculation," he said. The party also seemed embarrassed with Sushma's categorical dismissal of Ansari lacking the stature.
Shahnawaz claimed that Sushma had merely said that "Someone from the world of music or arts or such other field with the necessary stature could be considered by the BJP."
But Rudy refused to answer specifically about the prospect of Akali Dal chief Prakash Singh Badal being fielded for the Vice President's post.
Meanwhile after RJD chief Lalu Prasad, Left too seemed amenable to Ansari, even as the SP, which had originally floated Kalam's name, seemed to be reconciling to "Any Muslim for President," even Ansari.
A Left leader said they were waiting for parties to throw up names before deciding who would be the best. He recalled that they had proposed Ansari's name for Vice President in 2006 and were not averse to his elevation to Rashtrapati Bhawan.
Kamal Farooqui of the SP reformulated his party's choice saying that the party could settle for any Muslim face, including Ansari and even Chief Election Commissioner S.Y. Quraishi.