M A I N N E W S
Relief for 2 minor boys facing rape charges
Balwant Garg/TNS
Faridkot, May 1
Perhaps for the first time in Punjab, a district and sessions judge on Tuesday asked the Juvenile Justice Board (JJB) in Moga to rectify its order slapping rape charges against a minor boy. In another case, the judge also called a doctor to ascertain the age of a second boy facing similar charges.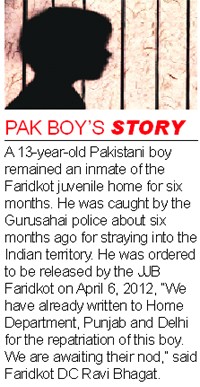 Sunny (name changed) of Latala village of Ludhiana was arrested on April 26. Sandeep (name changed), 13, has been at the juvenile home for about six months.
The JJB in Moga awarded Sandeep a two-year sentence for the offence and imposed a fine of Rs 20,000. The boy told the visiting judge, Fateh Deep Singh, that his family was unable to pay the fine due to poverty.
Under Juvenile Justice (Care and Protection of Children) Act, the JJB may impose a fine if a child is above 14 years of age and earns. Taking a serious note of this legal lapse, the judge raised the matter with JJB Moga and asked it to rectify the order dated January 11, 2012 under which the boy was slapped with a fine.
The juvenile home in Faridkot caters for six districts, — Ludhiana, Moga, Ferozepur, Muktsar, Bathinda and Faridkot. It has at least 26 children who are facing various criminal charges.
In the case of Sunny, the sessions judge called a doctor to examine the boy's age. Dr Manjit Bhalla after examining the boy expressed doubts over the sexual offence. The judge then decided to write to JJB Ludhiana to re-investigate the rape charge against the boy.
The juvenile board is headed by a judicial magistrate and has at least two members.
During their interaction with the judge, the children inmates complained about the absence of a barber. The cook, a permanent government employee, at the juvenile home has engaged a young boy to prepare food for the inmates, the children said.