Holiday dressing up
As the well-heeled Indians turn resort-savvy jet-setters, cruise wear becomes the latest trend in haute dressing
Surekha Kadapa-Bose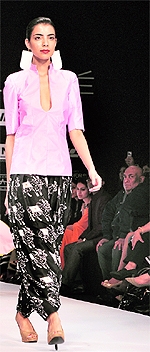 Casual resort wear by Masaba Gupta at this season's Lakme Fashion Week

Resort wear is no longer a fashion statement, restricted to summer and vacation destinations. The style has spilled over into everyday fashion, both nationally and internationally. Everyone from Gucci, Prada, Armani, Alexander McQueen and Versace to Anita Dongre, Deepika Govind, Archana Kochhar, Rohit Bal and Sabyasachi Mukherjee is busy putting forward their individual, resort wear collections.
After all, resorts these days are not just places to swim, eat and drink. They offer many activities and adventure sports and have become places where one can relax, party, celebrate, hold meetings (official or otherwise), network and enjoy. Hence, every fashion house is working overtime to put in its finest resort-wear collections.
Says Mumbai-based designer Pria Kataaria Puri, "Resort wear has become the forte of Indian designers. It constitutes exotic tunics, dresses, kaftans and blouses that can be worn from day into night, both casually as well as formally. It is basically about silhouettes that are more easy and relaxed, yet glamorous and simple."
Also called cruise wear, resort wear was first created for international jet-setters. However, these clothes have now become a part of the wardrobes of common people, especially Indians, who have become travel savvy.
Informs Bangalore-based designer Deepika Govind, "Resort wear has to be of high quality, with crease-free and easy-to-drape fabric. You aren't going to launder your clothes in a resort instead of enjoying the break! Day wear can, of course, be comfort cottons. And evening wear has to be dramatic silks, stunning in terms of colour. At dinner time, you need dramatic silhouettes in jewel tones."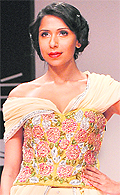 A draped saree with an embroidered top by Bhairavi Jaikishan

Chips in Suman Agarwal, Master Image Consultant with the Federation of Image Professionals International, UK, "Resort wear is not always about choosing the right pieces of clothing to create a fashion statement. It should make us feel appropriate in our chosen environment, besides being comfortable and attractive."
Remember late Elizabeth Taylor, or Julia Roberts, Angelina Jolie, wearing diaphanous kaftans on a swimsuit? These actresses looked endearingly comfortable and beautiful, walking into a hotel with a drink in their hands. Well, that is what the resort wear is all about! Kaftans are the hottest trend in resort wear this season. Go for fabrics that are tropical, light and easy.
The maxi dress is another permanent wardrobe staple. Kaftans and maxi dresses in bright hues and soft fabrics like silk, chiffons, georgettes and hand-block-printed cottons are top priorities with resort wear.

Archana Kochhar's creation showcased at the recent Bangalore Fashion Week

As New Delhi-based designer Sakshee Pradhan puts it, "Resort wear is all about multi-tasking wear. You can't carry your entire wardrobe to a resort. So, opt for sheer clothing. And prefer layered attire."
According to Mumbai-based designer Archana Kochhar, "With tremendous economic progress of Indians, people have become more luxury conscious."
Earlier, Indian tourists didn't bother about their attire while on a holiday. However, they are now making a style statement, as far as luxury attire in resorts goes. Adds Puri, "Currently, the trend is to wear vibrant bright colours, free-flowing and draped silhouettes in exotic prints. Tunics, dresses, kaftans, minis, maxis, rompers, jumpsuits and shorts are hot trends this summer. If your outfit has bling, teaming it with simple and elegant accessories is in vogue.''
Proper footwear adds appeal to resort wear. Avoid high heels, stilettos or high wedges. Go in for dainty, flat slippers, especially transparent ones. Bags need to be big to carry your sun screen lotions, moisturisers, sunglasses, mobiles and other paraphernalia. It is a good idea to opt for jute, cane or embroidered cloth bags.
Easy Rider
Short breaks are meant for maximum enjoyment in a short time and that is where resorts come in. Whatever activities you want to indulge in — swimming in the pool, indoor and outdoor games, paragliding, scuba diving, horse riding, bungee jumping, partying with DJs or a romantic dance under the moonlit sky — you can have all of them in the resort.
These days, resorts are also the hubs for making a fashion statement. Image consultant Suman Agarwal offers some tips for vacation resort wear. She advises, "Keep your clothing simple and versatile. Ask yourself if you would like to use this clothing elsewhere too? Will you be comfortable in these pieces? Will you get enough variety? Are you dressing for yourself or someone else? Would these clothes work for the occasion, roles and goals?"
Carry swimwear for relaxed times, jumpsuits for fun-filled evenings, sun dresses or comfortable cupped shorts with cotton or lycra tops for afternoon relaxation or for playing games as well as spa and a sheath dress (silk gown) for social evenings.
And if you are a saree person, opt for a pre-pleated jersey knit saree. You can slip this on your pants, using the shirt top as a blouse!

The New swing set
Golf is as much about showing off to your buddies at the first tee, as about flaunting your handicap. To put you on top of your game, here's a low-down on golf's latest equipment — everything from packaged sets for beginners to top-of-the-line putters and drivers apart from high-end shoes, bags and apparel
Anandita Gupta
Golf in India is on an upswing. From less than one lakh players just a few years back, the game now boasts of more than a million players. Golf enthusiasts in India continue to grow in numbers, and new courses are added almost every year. With golf courses like Gulmarg (at an altitude of 2,700 metres, it is the world's highest course) and the Royal Springs, Srinagar (set against the dramatic backdrop of Zabarwan mountains, it sits a short distance from the legendary Chashme Shahi Gardens), our country is a scenic tourist destination for playing golf. In fact, India (the first country outside the UK to take up golf) has golf resorts, tours and driving ranges coming up in mountains, plains, deserts and beach resorts. The fact that players like Jeev Milkha Singh have been successful in golf outside India, attests to the game's increasing popularity. With golf now a part of 2016 Olympics, there is an aspiration among many to represent the country. Furthermore, the interest of young corporate professionals in golf has triggered the growth of this elitist sport in our country.
High-end equipment
Indeed, in more ways than one, the expensive sport has lately become a designer business. In the psychological gamesmanship that is so crucial in golf, showing up with top-notch gear is important. The new-age Indian golfer loves to flaunt his golfing equipment by big manufacturers like Callaway, TaylorMade and Titleist. This fashion-conscious player spends Rs 1 lakh to Rs 2 lakh on just the equipment, to make a statement. "Earlier, golf had a basic standard in India but now, premium courses and equipment have a fair demand. As youngsters are entering the game, they are conscious of wearing bright colours, smart apparel and accessories. This consciousness is also a result of more expats playing on the course and the game's popularity on TV. Golfers have begun to buy equipment and accessories in India instead of importing it," reasons Jesse Grewal, one of the country's top golf coaches.
"Golf is a game you dress up for, unlike, say, boxing, where you literally dress down for an encounter. So, from equipment to apparel makers and even realty developers, everybody is eyeing the golfer's wallet," says Rahul Khanna, the distributor for Cleveland, India. Which is why the market for golf and related equipment, worth about Rs 100 crore, has been growing at 25-30 per cent a year over the past five years.
International brands
With a growing list of aficionados, international golf gear makers and luxury brands are now flocking to India. The latest to tee off is Oakley, besides Callaway Golf Company, which entered India in January 2010. Callaway has roped in ace golfer Jeev Milkha Singh as its brand ambassador. "We are bringing our entire line to the country," says Vivek Mehta, country head, Callaway Golf India. That includes Callaway golf equipment and sister brands, Odyssey and Top-Flite. The $1-billion US golf equipment maker has more than 3,000 patents for golf equipment. It prides itself for its Big Bertha (golf drivers) and fusion products — fusing different metals in the golf clubhead. Occasionally, the company comes out with special editions, like the Damascus Grand Putter, only 20 of which were made, each retailing for $2,000 (Rs 1 lakh).
Callaway joins TaylorMade, Titleist, Cleveland Golf (now distributes Japan's leading brand Srixon as well), Cobra, Ping, FootJoy and Nike Golf for a slice of the Indian golf market. Many of these marketers are focusing on the growth of the game in India. "We have initiated programmes like the Callaway Golf Junior Tour, supporting junior programmes, besides creating premium experiential corporate events. All these have elevated the standard of the game in India," smiles Mehta.
Most of these brands are offering everything from golf balls, putters, irons and drivers to golf glasses, T-shirts, shoes, caps and golf simulators. "Companies like High Definition Golf from Canada are selling simulators in India via local golf distributors," informs Anil Kashyap of Delhi Golf House. A simulator can set back an enthusiastic golfer by Rs 25 lakh, though it could help get the swing right. Small price indeed, for the kick all the practice could give if it translates into a birdie, eagle or a hole-in-one on the course!
So, go ahead and splurge on your golf equipment. As the adage goes, you may not be able to play like a pro, but you can certainly look like one!
And well, just be sure to keep an eye on the ball and your credit card bill.
Golf equipment for beginners
Pauline JM Singh
| | | | |
| --- | --- | --- | --- |
| Top-flite (ladies) graphite shafts price Rs 13,000 | Top-flite (men) steel shafts price Rs 17,000 | Wilson (ladies) graphite shafts price Rs 23,000 | Wilson (men) graphite shafts price Rs 23,000 |
For beginners, who have no wish to invest a large amount of money at the outset, the best value for money would be to go in for packaged sets. These generally have all that you need to get you from a beginner to an 18 handicapper. Some of the suggested sets are:
Top-Flite (marketed by Callaway) @ Rs 17,000 approx. It consists of a driver, 2 hybrids, fairway wood, 5 irons, a putter and a bag. (Steel shafts).
Top-Flite (ladies) @ Rs 13,000. It consists of a driver, hybrid, fairway wood, 3 irons, a putter and a bag. (Graphite shafts).
Wilson @ Rs 19,000. It consists of a driver, hybrid, fairway wood, 7 irons, putter and a bag. (Steel shafts).
Wilson (men) @ Rs 23,000. It consists of a driver, hybrid, fairway wood, 7 irons, putter and a bag. (Graphite shafts).
Wilson (ladies) @ Rs 23,000. It consists of a driver, hybrid, fairway wood, 7 irons, putter and a bag. (Graphite shafts).
Callaway Warbird @ Rs 60,000. It consists of a driver, 2 hybrids, 2 fairway woods, 7 irons, a putter and bag.
| | |
| --- | --- |
| Taylormade xd price Rs 300 for three balls | Pinnacle price Rs 225 for three balls |
For better players, there is an array of equipment from companies like Ping, Titleist, Callaway and TaylorMade. There is not much difference in prices or quality but it is more, a matter of personal preference.
Complete sets of the major brands cost anything from Rs 85,000 upwards.
Golf balls for beginners start at less than Rs 100 a ball.
TaylorMade XD balls cost Rs 300 for 3 balls.
Pinnacle balls cost Rs 225 for 3 balls.
TaylorMade Burner costs Rs 370 for 3 balls.
Titleist DT Solo costs Rs 405 for 3 balls.
TaylorMade RBZ balls cost Rs 470 for 3 balls.
| | |
| --- | --- |
| Titleist dt solo price Rs 405 for three balls | Hex BlackTour-12-Ball Pack Callaway's most highly engineered tour ball ever. price Rs 3,000 |
The writer is an Accredited Advanced Clubmaker (AAC), from Golfsmith, USA. Based in Chandigarh, she owns a pro shop.

Faith Cart Bag
Leave your partner speechless before your first swing with this over-the-top cart bag. Tailored for slender women golfers, the Faith by Ping is a stylish and high-performing polyester cart bag. Its 14-way mesh-covered, dual-coloured top improves club organisation and has individual dividers and an injection-moulded putter tube with soft-touch coating. Among the eight pockets, is an easily accessed beverage pocket, a velour-lined valuables pocket with an exterior slip pocket for scorecard, two large apparel pockets and two secondary pockets. For the ease of carrying and loading into trunks, the Faith offers a moulded handle on the spine and a cart strap. The three fashion colours are coordinated to match the Faith women's equipment line.
Price Rs 11,900
Razr Fit Driver

Golf fans can get ready to flash their best drive on the greens with this adjustable driver. Callaway Razr Fit comes with simple adjustability, without compromising on performance. Its crown comprises Forged Composite™, an advanced carbon composite material. It is lighter, stronger, more precise than titanium (the material used in most drivers). The driver incorporates a proprietary innovation in aerodynamic shaping (Streamlined Surface Technology), which addresses the complex variations in aerodynamic flow during a driver's entire downswing — from transition through impact and increases ball speed at impact.
Price Rs 21,990
Rocketballz Iron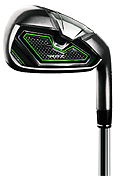 The TaylorMade Rocketballz Iron is progressive and dynamic and designed to deliver a further, higher, straighter ball flight. The key to the iron's distance performance is its large, thin clubface that flexes like a trampoline, thanks to a strong, stiff perimeter and a thin inner edge. The flexion in the clubface is further benefitted by TaylorMade's inverted cone technology, which expands the part of the face that is designed to produce higher ball speeds, thereby promoting distance for shots hit off-center. Its re-engineered face structure with toe-bar, located at the upper-toe area, controls face-flexion to direct shots straightforward for improved accuracy. The new vibration and sound control system, especially designed for these thin-faced iron, promotes exceptional feel and sound.
Price Rs 39,900 for steel, Rs 45,900 for graphite
G20 Hybrid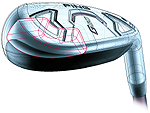 The Ping G20 Hybrid features an offset hosel design that produces shots with high launch, low spin, resulting in a straight, boring trajectory. A slightly shorter heel-to-toe length ensures that the Ping G20 Hybrid is playable from all lies and provides a softer crown shape and flatter lie angle for an improved appearance at address. When the ball is sitting down, additional camber and bounce create exceptional ground impact to ensure a smooth transition through the grass. The Ping G20 Hybrid provides forgiveness and distance through a large, internal weight inside the 17-4 stainless-steel head. Available in five lofts from 17 to 31 degrees, the G20 is easily blended into any set of irons and comes with a TFC 169F graphite shaft in standard or a tour version for a slightly lower ball flight.
Price Rs 10,900
Razr Golf Shoes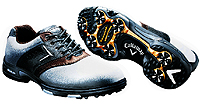 The Razr Golf Shoes have the perfect combination of advanced technology and progressive style, engineered with tour-level stability, traction and control. The footwear by the house of Callaway has contemporary styling, with superior, lightweight performance, ensuring total comfort and a great fit. It flaunts foam insoles that combine the inherent benefits of strength, breathability, moisture transport and anti-microbial function. The shoe uses a patented temperature-balancing material that absorbs body heat on hot days and releases the heat back into the shoe for warmth during the cold playing conditions.
Price Rs 12,990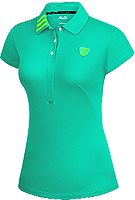 Climacool Solid Polo
The contemporary, feminine polo by Adidas (for women) is fabricated with scientific micro fibres that increase oxygen absorption of skin to give you more energy. Aptly named Climacool, the polo enhances breathability and cooling by wicking moisture on contact. It uses anti-microbial technology to keep you odour-free. Available in peppy colours like hot pink, sea green, royal blue and cherry, the shirt scores well with most women.
Price Rs 3,500
Moxie G Junior Set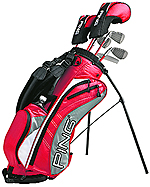 The Ping Moxie G Junior Set is suited for younger players, aged from eight to nine, and are fit and properly equipped. It allows them to play their best and develop an early love for the game. Since juniors, like adults, come in various sizes, Ping offers three different Moxie sets, targeted at different age ranges. The Moxie G set includes a 16° titanium driver, 23° stainless-steel fairway wood, 7 iron, 9 iron, SW, Anser putter and a lightweight dual-strap carry bag. The Ping Moxie G Set has everything that an aspiring junior golfer needs to develop his or her set of skills. High-lofted heads and flexible graphite shafts help them to get their shots airborne more easily and hit the ball further.
Price Rs 12,500

Choosing your clubs
Gurbaaz Mann
Choosing the right golf set has become a lot more complicated than it was in the earlier days. There are too many choices and too much information available, which tends to confuse the buyer. When I started playing golf some 30 years back, golf sets were difficult to get. Even golf balls were a scarce commodity. We adapted our swings to the clubs available and made do with half sets. Basically, a set of irons was split into half. One person took the odd-numbered clubs 3, 5,7 and 9 iron, while the other took the even-numbered ones. Now, with the import of equipment becoming easier and some of the major companies like Callaway and Taylormade setting up offices in India, getting the latest equipment is easy.
Basic club fitting helps a player find a golf club, which will suit his swing rather than buy a club and adapt their swing to the club. We also have a choice on the clubs one requires. For example, if a person cannot hit long irons, it is possible to buy a set of irons from 5 onwards and put in some rescues to replace the long irons.

Here are a few things to keep in mind while selecting golf clubs
Height of the golfer
Most clubs are made for a person of a height of approximately 5 feet 10 inches. Any person taller than that may require longer and more upright clubs. For shorter people, the clubs would be flatter and shorter.
Shafts
The shaft choices are between graphite and steel. To help slow swingers attain good clubhead speed, we recommend a graphite shaft, as it is lighter. For harder hitters, steel is recommended. Both steel and graphite are available in different flexes - L (ladies), A (senior men), R (regular), S (stiff) and X (extra stiff). If you are a beginner or an average hitter of the ball, a regular shaft would be the best option.
Type of clubhead design
The type of clubhead design — blade or perimeter weighted or cavity back is crucial. A blade is made of softer steel and is forged from a solid piece of steel. The centre of gravity is in the middle of the club, and the club twists when the ball is hit off centre, which makes the clubs 'unforgiving' on bad shots. In a perimeter weighted club, the weight is distributed all around the club, expanding the sweet spot, and making off-center shots go straight and long. In the process of manufacturing these clubs, steel is poured in a mould called casting and harder steel is used. These clubs give a higher ball flight, as these have more weight at the sole of the club. Good players prefer blades for their softer feel and lower ball flights. They also help them hit shaped shots like fades and draws with more control. For a beginner or weekend player, a perimeter weighted club would be recommended.
Shaft and the loft
While choosing a driver, one has to select the right shaft and the loft. Both depend on the player's swing speed and many golfers end up with shafts too stiff and too little lofts on the club-head. For slow swingers, one requires a regular or A Flex (senior men) shaft and a loft of 10 degrees or more.
Full sets
The rest of the set would depend on our requirement. We can have a maximum of 14 clubs in a set. If we have a set of irons from 4 iron to pitching wedge, we would have 7 clubs. Add a driver and putter to this. We could now add 5 more clubs, choosing between fairway woods 3, 5 or 7 rescues from 17 to 28 degrees and wedges gap, sand or lob. The better quality clubs can be bought separately and therefore, one can buy a set of irons of one make, while driver, woods, wedges and putter can be of different makes. Cheaper sets are available as full sets and can be an option, depending on your budget.
Demo clubs
The best way to buy a club is to actually hit a ball with it. Therefore, pro shops with demo clubs, available with an option to try these clubs, are a good place to make a choice. Dynamic fitting, which is actually hitting balls to see the way it flies, is better than static fitting, which is measuring your height etc. and assuming swing speed on apparent fitness and strength. Buy good, well-fitted equipment and it will make learning golf a pleasure.
The writer is a golf pro, presently playing on the Asian and Indian golf circuit.

PACESETTER Vijay Bedi
Call of the Wild
This third-generation wildlife filmmaker has won accolades for sensitising the masses towards nature
Anandita Gupta
An exceptional love for animal life runs in his family. No wonder, Vijay Bedi, the youngest generation of the famous Bedi brothers' family, took to wildlife photography and filmmaking at the young age of 16. It is his all-consuming passion with wildlife, in fact, that made Vijay bag the prestigious Green Oscar three times, becoming the youngest Asian to win this award. He has also won the Best South Asia Film Award in Singapore in 2007, for the film Cherub of the Mist. The 53-minute movie on the endangered red panda, follows the life and love of two zoo-bred pandas.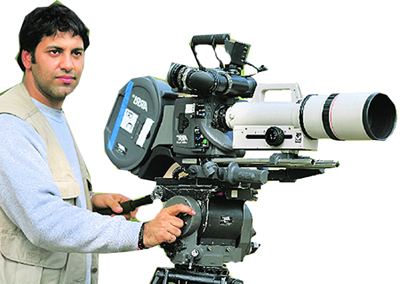 "The idea to do a film on the red panda struck me after the Central Zoo Authority of India set two of them free. Named Sweety and Minnie, these pandas were sent to their natural habitat in the Himalayas, in a first-ever experiment of its kind," recalls Vijay. He adds that tracking these animals was difficult, "It sometimes took six hours to track them everyday! At that altitude, there are no roads, so you have to make your way," laughs Vijay. Now, that the film has received 11 international recognitions, Bedi feels that his efforts have paid off.
His documentary, The Policing of the Langur, was adjudged the best in the new comer's category at the Wild Screen Film Festival in 2004. New Delhi's growing monkey population inspired Vijay to make this documentary.
Bedi has inherited the mantle from his world-renowned conservationist and filmmaker father, Naresh Bedi, the first-ever Indian to have won the Green Oscar in 1984 for his film Ganges Ghariyal (crocodiles of the holy Ganga).
"Me and my twin brother Ajay grew up spotting snakes and deer in our backyard. We accompanied our father on his wildlife trips during holidays. This made us understand animal behaviour, which is crucial in wildlife photography," shares the young filmmaker.
Formally trained under their late grandfather, working with senior Bedis has given the young Bedi professional exposure. Having graduated from the commerce faculty of the University of Delhi, Vijay went on to obtain formal education in filmmaking from the Aurobindo Institute of Mass Communication in New Delhi, mastering skills in the fields of direction, cinematography, sound recording, editing & graphics. He attended several workshops in Bristol, UK, to keep pace with international advances in filmmaking.
Wildlife filmmaking, believes Bedi, is an effective medium in exposing environmental issues and encouraging people to care. Filming the endangered species, however, is not easy, "One needs sophisticated equipment to tackle field craft obstacles and the unpredictable subject!"says Vijay, who encourages people to save the near-extinct species through his documentaries.