'art & soul
B. N. Goswamy
A restless but calming mind
The simple, unassuming Ramkinkar Baij created monumental works and made a mark on the entire field of sculpture in India
Phire chol matir taaney" was the line of a Bengali song that used to rise - softly, one hears - to Ramkinkar's lips again and again: "It is time to go back and feel the Earth". And that is what Ramkinkar Baij - remarkable sculptor and human being (born 1906; died 1980), who has been celebrated in publication after publication, and in many a recent show - kept on doing in his art and life. Bankura was his janmabhoomi, as they say, but it was Santiniketan that became his karmabhoomi. Appropriately so, one imagines, because that is the place, Rabindranath Tagore's creation, which drew some of the most gifted men and women of India to itself in those somewhat heady days.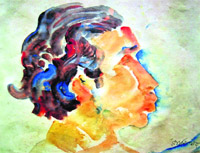 There may not be many, at least among those that take any interest in the arts, who are not aware of Ramkinkar's oeuvre: at least of the famous Santhal Family in Santiniketan itself, the enormous yaksha-yakshi statues that flank the gates of the Reserve Bank of India in New Delhi, the Saraswati relief in the Modern School, also in Delhi, the Gandhi image in Assam, the standing Tagore figure at the Balaton Lake in Hungary. Again, there may not be many who do not know the impact this simple, unassuming man made on the entire field of sculpture in India: creating monumental works himself, igniting minds as he taught, mentoring some of the best known names active now in this field.
But few today know what the man was like even if bare facts about his life and work have been documented repeatedly. For getting close to the man, and to savour the delights of his company, however, one might have to turn to what is virtually a diary written by one of his students, Somendra Bandyopadhyay. Translated from the original Bengali into English and published under the title, My Days with Ramkinkar Baij, the book gets the reader up, close and almost personal to this maverick figure even as one gets to see, as put together by a former pupil, Radhakrishnan, a very large number of his works - sculptures apart, his paintings and drawings - that figure in the account. Ramkinkar comes alive in these pages.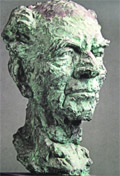 All kinds of figures one encounters in the book - almost naturally, the dominant figures of the Tagores, Rabindranath and Abanindranath; Nandalal Bose, the Mastermoshai; colleagues such as Benodebehari Mukhopadhyay; students like Satyajit Ray, Jaya Appasamy and Dinkar Kowshik and Sharbari Roychowdhry; visiting art historians like Stella Kramrisch. Recorded here are also countless discussions in which Ramkinkar speaks of the western artists whose work he was well aware of and admired - van Gogh, Rodin, Epstein, Henry Moore, among them - and the work in the Indian tradition that he got to know intimately through his travels in the country.
It is all a wonderful mosaic of people and events. But what draws me to the account, more than anything else, is the humanity of the man and his gentle ways that come through. Equally, the way he appears so deeply bonded to the truth of the Earth.
Consider this passage in which one comes upon that wandering minstrel, the baul, Lalon Sain, whom Ramkinkar appears to have known; whom, in fact, he once drew. The bauls - men of god who roam the countryside in Bengal, singing - are not an uncommon sight and many, including Rabindranath, were moved by them and their songs, and brought them into their writings.One day, Somendra Bandyopadhyay writes, 'Kinkarda' sat, listening to a Lalon song:
"Everyone asks what is Lalon's caste in this world
Lalon says: In this life, I couldn't see what caste looks like.
Circumcision makes one Musalmaan,
But what's the decree for women then?
On seeing the sacred thread I can recognise Brahmans
But how do I recognize their wives?
Some wear garlands; some adorn their necks with rosaries
Does that change castes?
At the time of coming and going from this world
Who bears the marks of caste?"
As he sat, taking in the words and the cadence of the song, Ramkinkar went absolutely quiet, apparently mulling things in his mind: eyebrows drawn together, lips pursed, eyes closed. "The cigarette in his hand kept diminishing, ash dropping on to the bedsheet, fingers of the hand at the point of getting scorched."
When the floods came to Nannur, Ramkinkar was deeply affected, hearing accounts from eyewitnesses: paddy fields vanishing under sand and mud, carcasses of humans and cattle floating everywhere, the air heavy with the stench of decomposing bodies. When someone describes to him the sight of the dead bodies of a mother and son trapped in mire, suddenly from Kinkarda's throat a choking sound emanates, and tears stream down his cheeks. The moment everyone looks at him, Bandyopadhyay writes, "he becomes embarrassed and bends down to wipe his face with his vest." This man whom no one could teach since, according to Mastermoshai, he had arrived in Santiniketan as a "paka bansh" - fully ripened and mature bamboo - was capable of melting like this.
The account is, however, not all sentiment and agitation of the heart. There are earnest discussions, including those about the merits, even the necessity, of learning by copying, about Mastermoshai's unique, if simple methods of teaching, the complexities of portraiture and the joy/pain of discovering one's own mistakes.
But strewn all over the account are also great moments of hilarity: laughter fills the air, the quality of bidis becomes the subject of a virtual dissertation, fun floats. But what lies underneath everything in the final analysis is lyricism and the ache of loneliness. Like Bandyopadhyay who was by his side for so long, one can almost hear Kinkarda hum to himself from time to time: "bone jodi phutlo kusum, nei kaeno shei pakhi?" When the flowers are blooming in the garden, why is that bird not here?