tete-a-tete
Woman who made folk rock
Nonika Singh

There is no one word that can describe Ila Arun. Certainly, she is a special voice. Sure enough, she has made raunchy acceptable. The woman who decades ago reinvented folk and tradition and breathed life into songs like Choli Ke Peechey and, more recently, Raing Raing is much more than just a singer-performer. Ila, who was in Chandigarh to stage her play Mareechika, smiles and says, "Actually few people know that I am an actor."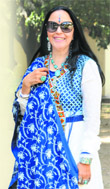 Of course, those who saw her stellar role in the play based on Norwegian playwright Henrik Ibsen's Lady From the Sea and remember her performances in movies like Jodha Akbar, East Is East and China Gate have few doubts about her histrionic ability. Running a theatre group Surnai for decades her love for singing and acting have gone hand in hand, Bollywood, however, was not her chosen destination, it came her way perchance. Though directors like Ashutosh Gowarikar and Subhash Ghai have been able to tap her acting potential, she does feel that Bollywood has not exploited her talent fully.
Wistfully, she remembers roles like that of Shabana Azmi in Godmother, which she would have given her right arm to slip into. She chuckles, "Shabana is a dear friend and I eye all her roles." Jokes apart, roles of substance like that of Bandit Queen (minus the nude scene), is what she is looking at. After her consummate performance as the conniving foster mother in Jodhaa Akbar, she was flooded with offers. But she has no intentions of becoming another Lalita Pawar.
Be it films or theatre, versatility is what she prizes. Incidentally, theatre happened to her way back in the 1980s. In fact, she has been trained under the redoubtable Ebrahim Alkazi, former Director of National School of Drama where she had enrolled for a short course.
When she refused to take up a fulltime course and chose marriage instead, Alkazi thundered and told this sibling of six sisters and two brothers pointblank: "You will do nothing and end up becoming a mother of seven daughters." Today, Ila is the mother of an only daughter Ishita and is more than happy at the way life has treated her. More recently, she is performing with her son-in-law Dhruv Ghanekar as together they have formed a band Rani and the Rowdy Rajas. Rowdy, raunchy, bindaas, the singer of irrepressible songs like Nigodi Kaisi Jawani Hai has no problems with these words almost affixed to her name as a pseudonym.
Of course, she has her own Lakshmanrekha, a maryada, which she will adhere to but, "a performer," she quips, "has to shed all inhibitions." So she may be a shy sensitive person in her private life, as a performer she becomes the character like the gaali-spewing bar owner in the play Jameela Bai Kalali. Not to miss her bosom-heaving ghaagra-twirling brazen act in her videos. Growing up in Rajasthan exposed her to the vibrancy and openness of Indian folk traditions early on in life. Today, as she employs folk traditions of her home state in several of her plays, she feels, "Folk has to be transformed for it can't hold audiences in its pure authentic form alone. For it may have its inherent strength and vigour yet let's face it, it gets monotonous too."
So years ago she decided to give it flesh and made it hep and happening as well as traverse new frontiers. She reveals that her peppy number Raing Raing from Oscar-winning Slumdog Millionaire is actually an offshoot of a folk song. Working with gifted composer AR Rahman, who gave her full freedom, was a dream come true. As she looks back at a life full of many achievements, that among other things also includes her performance in The House of Bilquis Bibi, an adaptation of the famous The House of Bernarda Alba, she almost whispers, "Touch wood."
So all her dreams have been realised? Hmm… except one to act opposite her heartthrob Big B. Uninhibited and unstoppable, one can't dare expect Ila to take a bow. So even in times when piracy has dealt a blow to music industry, she will continue to swirl her way into the hearts of her fans.
Rooting for style
Singer actor Ila Arun stands out for her impeccable dress sense too. An Indian proud of her roots, she literally wears her love for Indian tradition and crafts on her person. Attired in a tasteful traditional ensemble, she says, "I wear what I can carry off." Of course, when it comes to fashion too, she would rather be a trendsetter than a follower.