He made nonsense popular
Edward Lear is as great a Victorian as Charles Dickens and it is the bicentennial year of both but Lear remains in the shadows though his lyrics continue to regale even today
Nivedita Ganguli
THE iconic British novelist Charles Dickens was born on February 7, 1812, in Portsmouth. To mark the occasion, bicentennial celebrations were held across the globe. In comparison, the bicentennial celebrations of nonsense writer Lear (1812-1888) are a subdued affair.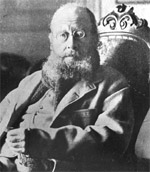 Zoological illustrator, landscape painter, cartoonist, travel writer, drawing master to Queen Victoria, diarist and nonsense poet of genius, Lear has never ceased to fascinate.
Like some luckless character from one of his wildly absurd poems, the great Edward Lear was his hard-up parents' 20th child. Born in the London suburb of Upper Holloway on May 12, 1812, he was raised by an elder sister who was two decades older than him. He was one of 21 children; with so many mouths to feed, it is perhaps not surprising that his family suffered financial hardship during his childhood and that his father was at one time a defaulter on the Stock Exchange. Lear was obliged to earn his own living by the time he was 14.
Lear was a melancholic boy who suffered his first epileptic fit when still young. He continued to have these terrifying seizures throughout his life, as well as being prone to periods of severe depression.
He first trained as a zoological draughtsman and later as a landscape painter. He excelled at the representation of unusual and ungainly birds and animals: Parrots and pelicans, kangaroos and tortoises. Among the works in this field to which he contributed are his own Illustrations of the Family of Psittacidae, or Parrots (1830-32) and Thomas Bell's Monograph of the Testudinata (1836-42), later reissued as Tortoises, Terrapins and Turtles.
Lear was not only a clever draughtsman, however; he had a talent for making up funny poems, songs and stories. Throughout his life, his genius for sheer fun – for what he liked to describe as "nonsense" – endeared him to children. Before long, Lear's nonsense was much in demand among adults as well.
The first edition of A Book of Nonsense was published in 1846. In the same year, Lear gave the young Queen Victoria 12 drawing lessons. He accidentally caused mayhem by not observing proper court protocol.
Lear is known mainly for his limericks and for that absurd epic, The Owl and the Pussycat. Lear did not invent the limerick form, but he was certainly responsible for its popularity. The poems in A Book of Nonsense are probably the best-known limericks in the English language. The name "limerick" may be derived from a late Victorian and Edwardian game, in which each of a group of people was expected to perform a funny poem or song. Each contribution was greeted with the chorus "Come up, come up, come all the way up, come all the way up to Limerick."
The eponymous owl and pussycat of Lear's famous poem, having gone to sea with the admirably hard-headed provisions of honey and cash, end up wedded and dancing on a distant, moonlit shore without a care in the world. The poem was written in December 1867 for three-year-old Janet Symonds, the daughter of essayist and biographer John Addington Symonds. Lear was spending the winter at Cannes on the French Riviera with Symonds and his family. The weather was cold and the Symonds' little girl was ill. Lear wrote his poem in an attempt to amuse the child and cheer everybody up.
Sample a nonsense rhyme by Lear: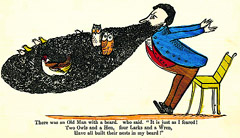 There was an Old Man with a beard,
Who said, "It is just as I feared!
Two Owls and a Hen,
Four Larks and a Wren,
Have all built their nests in my beard!"
Or, take this one:
There was a Young Lady whose chin,
Resembled the point of a pin;
So she had it made sharp,
And purchased a harp,
And played several tunes with her chin.
And, how about this one:
There was an old lady from Hull,
who was chased by a virulent bull,
but she seized on a spade, and called out,
"Who's afraid?" which distracted that virulent bull.
Lear died alone in his villa in San Remo, Italy, overlooking the Mediterranean, on January 29, 1888. He influenced many writers in his lifetime. In India, poet and illustrator of nonsense literature, Sukumar Ray (1887-1923), the father of legendary filmmaker Satyajit Ray, carried forward the legacy of Lear.
While much Victorian children's literature seems quaint and dated today, Lear's limericks, with their unpredictability, remain as vital and startling as the latest animated cartoons on television.