The minister and the muse
IN what can be a double-edged sword, Kapil Sibalís political role is the reason for the focus on his poetic self. This can lead to either adulation or unsparing scrutiny that ignores the fact that he is merely dabbling in it to nurture his creative self and is not a pro.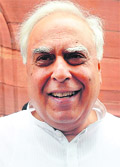 His first collection, I Witness dealt with his past experiences, the present book of poetry is more rooted in the here and now. He seeks to nourish the creative side despite being caught up in the humdrum of politics.
As he says in The Artistís Soul, ďThe painterís/ and the writerís/ soul/ is stirred/ miles away from/ the mundane.Ē
The book is divided into two sections, Within and Without. While the former dwells on the personal and emotional. It is the desire to articulate a variety of emotions be it passion, love, loss of a friend and the creative impulse that spurs Sibalís poetic journey. The section Without centres around the external world of politics, people, economy and the environment. So the poems talk of Ajmal Kasab, the global meltdown of 2009 and the 26/11 terrorist attack on Mumbai, eloquently titled The End of Tolerance.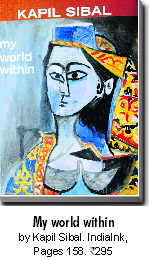 What really is heartening is the sincerity in the poem Allow me to run, which dwells on how a cruel and exacting education system snuffs out the sheer joy of living for a child. (Since the reader knows that Sibal has made widespread changes in the system as HRD Minister, the sentiment does not seem simulated). Marauders, which bemoans the ecological vandalism that man is indulging in by recklessly plundering nature, is a wake-up call for all who are reckless with the environment.
The rhyme scheme is the same but the tone is varied. The voice rings true in all poems that either touch politics, the poetís dominant role. Riding Dangerously (Recipe for the opportunist), wherein he advises: Having chosen/ a bumpy ride/ do not despair/ if cast aside, is evocative.
One appreciates the versatility of the lawyer-turned-minister-turned-poet but wishes he would diversify in the last role. Just three words in a line can have a sameness that jars. For his next book, one wishes he composes poems on his cellphone not only while travelling but as a labour of love. By striving to experiment in different kinds of poetry, Sibal can be more reader-friendly for lovers of poetry. ó AN