Globoscope
Ervell E. Menezes
Juvenile plot
The below-the-belt comedy and trite screenplay of 21 Jump Street makes the film rather avoidable
WHY a moderately successful TV show, known more for launching Johnny Depp than anything else, should be made into a film over two decades later is anybody's guess. But strange are the ways of Hollywood and its assembly-line productions worldwide. And so, it is with 21 Jump Street, a rather juvenile, avoidable, below-the-belt American humour comedy.
Not that it doesn't raise some spontaneous giggles but Jonah Hill, who made an impressive debut in Moneyball, doesn't build on that reputation as Murton Schmidt but he could develop on his comic persona. Schmidt's major problem is he chokes when he has to ask a girl out on a date.
His brawny partner Greg Jenks, played by the handsome Channing Tatum, provides the right balance as he tries to help him out of his predicament.
The two are former school buddies and happen to meet again in the police academy under Captain Dickson (Ice Cube), a foul-mouthed officer, who spares them no relief from his flowing stream of epithets, often starting with the word "mother." Some of the daring, even gross genitalia scenes, seem to have surprisingly got past the Censors. That the duo is assigned 21 Jump Street and the task of breaking a drug syndicate in schools is anything but child's play to these blundering cops. Drug leader Domingo (De Ray Davis) and his burly gang of bikers are a force to reckon with, even for regular cops.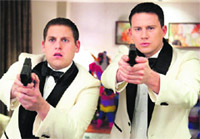 But in a story with jet black and snow white characters, it is credibility that goes out of the window. The plot, too, is trite and wouldn't pass kindergarten level. Happily, the fare is only 106 minutes long but it seems infinitely longer. Hill, who also co-wrote the script, is a natural comic and he can well develop that persona in these days of paucity of talent. Women are mere bimbos in this avoidable potboiler. See it only if you have nothing better to do.
Jonah Hill (left) and Channing Tatum in 21 Jump Street