Rhinos in trouble
David Randall & Jonathan Owen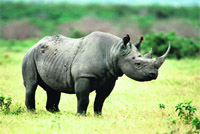 Rhinos are being killed in such unprecedented numbers that there are realistic fears they could be wiped from the face of the planet within a generation. If this happens, it will be the first major extinction of an animal in the wild since the worldwide conservation movement began.
The bare statistics are horrifying. In South Africa, more rhinos are being slaughtered for their horns in a single week than were killed in a whole year a decade ago. And the death toll is fast accelerating. In 2007, a mere 13 were killed. Last year, it was 448, and this year, by April 19, it was 181. That is equivalent to 600 a year in a country which is home to 93 per cent of all white rhinos. One expert thinks that at this rate the species could be wiped out by 2025. Others think it could take longer.
According to Patrick Bergin, chief executive of African Wildlife Foundation, "If the poaching of rhino continues at the current rates, we could see their extinction within our lifetime. The situation is absolutely at a crisis-level. This attrition is being driven by the astonishing street value for rhino horn, which fetches (pounds sterling) 40,000 a kilo, more even than gold. Chinese medicine and jewellery are the main markets, but, in recent years, widespread rumours in Vietnam that rhino horn can cure cancer has seen demand there rocket. As a result, the Javan rhino became extinct in that country in November.
Richard Emslie, scientific officer for the African rhino group at the International Union for the Conservation of Nature, said, "We are facing a horrific situation at the moment where some of the poachers are using veterinary drugs, drugging the rhinos and, then, hacking off the horns and part of the face at the same time, so they get the whole lot, while the animal is still alive."
"The people now trading in rhino horn used to be trading in drugs and arms and human trafficking, and probably still are, but they've found this new valuable resource that is less well protected."
Ben Janse van Rensburg, head of enforcement for the Convention on International Trade in Endangered Species of Wild Fauna and Flora (Cites), the international treaty that governs trade in plants and animals, said, "The biggest challenge is that in the past few years there has been a big shift from ordinary poachers to organised crime groups. They are really, really well resourced and they have significant networks globally. You're dealing with serious transnational organised crime." And their targets are Africas white and black rhino, a total population estimated by some to be as high as 25,000, but by others to be as low as 11,000. — The Independent