LIFE
In sync with spirituality
An ancient mysticism mixed with savvy tourism, makes Rishikesh a place where opposites co-exist
Aradhika Sharma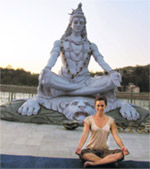 ONCE you've been to Rishikesh, it summons you back again and again. It's a magic city that weaves you into its fold, never really letting you go. The gorgeous Ganga, the narrow, winding, buzzing street across Ram Jhoola where most of the major ashrams are situated, small restaurants and shopping kiosks selling religious gee-gaws, all create different energies in the ancient city.
Ganga: The Mother
It is here that you can actually believe that the holy Ganga comes out of the hair of Shiva. Ganga is clear and cold and dearly venerated by the locals and the visitors. You can experience her in all her moods — playful, ferocious, tranquil and terrifying. The locals usually warn the visitors: "Don't make fun of the Ganga. She can get annoyed and carry you away!'
Enterprise river
The truth is that Ganga is the main enterprise of Rishikesh. White water rafting is a big hit. Every year in the high season, there is almost a traffic-jam of rafts on the rapids. There are camps on all the white beaches of the river. Tents pitched up in orderly rows by the tour operators and adventure companies that offer you an organised stay, beach games, bonfires and the experience of rafting.
There are opportunities to go bungee jumping, kayaking, cliff jumping, rock-climbing and rappelling here. Scores of these camps have sprung up and one does wonder if the people, who take the enthusiastic rafters out, were trained to do so! Still, one hasn't heard of any major mishap having occurred. Jai Ganga ma, for that!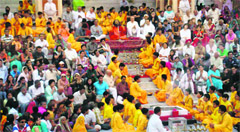 Ram and Laxman Jhoola
These are two suspension bridges that will get you across the river. Ram Jhoola is much nicer and safer than Laxman Jhoola. The restaurants are better and the streets are cleaner. In the clear waters of the river, one can see huge catfish feeding on the atta golis that one can buy for Rs 5 and throw down to them. The catfish swim along the boats, secure in the fact that they won't be caught and eaten. Once you cross over, you come into a long, winding road that has fascinating shops, cafes and sprawling ashrams on either side. You can buy your kurtas and gamchas, ashram paraphernalia, some ayurvedic medicines and souvenirs.
Aarti at Parmarth ashram
Ganga aarti at Parmarth ashram is mystical and magical. It is held just before sundown. Disciples gather on the steps of the ashram, leading down to the Ganga. it is held near a huge Shiva statue, constructed on a platform facing the ashram, inside the river. It's an experience that combines the spiritual with the sensuous. The perfume of the burning incense and the smoke from the havana; the soothing chanting and the bhajans and aarti sung by the disciples, The huge Shiva statue grows more mystical in the falling dusk. Hundreds of people of varied nationalities gather here and they are all joined together in the experience — rapt and enchanted. Other ashrams have aartis too, but this is the most dramatic.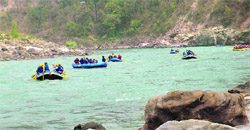 Picture-perfect swamis
Rishikesh is the Mecca of swamis of all hues —saffron clad with long white beards, in white robes, with tattooed arms. One may even find gurus in black. Some look as if they practise black magic. Some have beatific smiles, which may be likely be hashish-induced rather than spiritual. Tall, strapping, tantric-looking swamis may stride up to you holding a bone aloft and offer to open their 'third eye'. Most are consummate in striking poses for photographer and tourists.
Foreign tourists
Mostly clad in white, you can see foreign tourists in expensive resorts, bathing in the Ganga, rafting and trekking and even being guides on treks and steering the rafts or training the kayakers. Often, they are better informed about the Ganga and the history of Rishikesh than most of the locals.
Rishikesh is the hub of yoga. Courses, short and advanced are held at various centers. Vipassana courses, ashtanga yoga, hath yoga, pranayam classes — you have it all. In February, Rishikesh hosts an international yoga week. This attracts practitioners from more than 30 countries. The event is organised by the State Tourism Department in Rishikesh.
Cafés and food
Rishikesh is officially vegetarian and non-alcoholic. No café serves non-vegetarian food, though it may be served in some camps. However, there are some quaint cafés here like the Shanti Café where you can get warm spirulina juice and cheese toast. Rishkesh is full of such places. You can eat at the various vegetarian restaurants along the river. Chotiwala is a popular restaurant and most tourists have at least one meal here. A thali meal at the Govindji temple restaurant is another must. The Geeta Bhawan canteen with its spartan decor serves the most delicious food, snacks and mithais.
Fact file
How to reach: It is well-connected by road and rail from Chandigarh and New Delhi. From New Delhi many trains are available till Hardwar. Rishikesh is around 23-24 km from Hardwar. Taxis and buses are available from Hardwar to Rishikesh.
Languages: Garhwali, Hindi, Punjabi, English.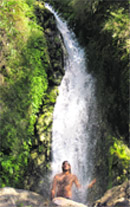 Where to stay: Rooms are available in many ashrams at reasonable rates. There are various hotels with rooms starting at Rs 2,000. Rafting camps by the Ganga are another option. The packages start from Rs 2,500. There are luxury hotels Glasshouse on the Ganga and Anada Spa.
What to see:
Laxman Jhoola: Five km north of Rishikesh, Lakshman is said to have meditated there.
Ram Jhoola: Another pedestrian bridge over the Ganga River. It is downstream of Laxman Jhoola and is much wider.
Triveni Ghat: A bathing spot on the bank of the river Ganga, where devotees take holy dips and offer prayers.
Bharat Mandir: The oldest temple in Rishikesh.