On Olympic track
Grappling glory
Gagan K. Teja
Haryana wrestler Geeta Phogat made history when she became the first-ever Indian woman wrestler to have qualified for the Olympics. Phogat won a gold medal in the Wrestling FILA Asian Olympic Qualification Tournament that concluded at Almaty, Kazakhstan recently. Phogat, who plays in 55-kg weight category, feels that Olympics is just the beginning.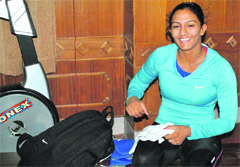 Phogat also holds the record of being the first Indian woman wrestler to win a gold medal in the Commonwealth Games. She is now eyeing a medal in the London Olympics — hopefully gold. She is currently undergoing rigorous training at Netaji Subhas National Institute of Sports, (NSNIS), Patiala, under the guidance of chief coach OP Yadav and foreign expert Ryan Dobo. She has numerous other international medals to her credit, including three consecutive medals in the Asian Cadet Championships in 2003, 2004 and 2005.
Born in a family of wrestlers in Bhiwani, where all four of her sisters are top grapplers, and are part of the national team, Phogat started her initial training at the age of 12 under her father and coach Mahavir Singh. A renowned wrestler, Mahavir Singh motivated his all five daughters to take up the sport and ever since then, they have made him proud at every step.
Following in her footsteps, her younger sister Babita has also made it to the Indian squad, and is a renowned wrestler in the 48-kg weight category. She, too, is a silver medallist in the Commonwealth Games and is a member of the Indian squad.
Delighted with her sister's selection, Phogat gives the credit of her success to the unflinching support from her family and her father's dream to see her on the Olympic podium.
"My father has been proudly telling our relatives and villagers that my girls will make the country proud. Now that I am so close to this dream, I will leave no stone unturned to turn it into reality. Hard work has been my mantra throughout my 10-year career, and there, still, is no short cut for me. I have been undergoing training under by coach O. P. Yadav, who often helps me in increasing my knowledge about latest techniques using internet and providing more exposure," she added.
Her father is equally excited about her Olympic debut. Talking to The Tribune over the telephone, Mahavir Singh said he was a proud father whose girl have given him the best gift of his life but still there was no time for celebrations. "Wrestling, which for ages was considered as the domain of men in India is now equally associated with women courtesy Geeta. But this is just the beginning. She has to be focused and prepare for an Olympic medal and when she gets it then we will celebrate. As of now, everyone who meets me greets me and praise my daughters, what else can one ask for?" says the proud father.