entertainment
Out-of-the-box hit
Ayushmann Khurrana is neither a star kid nor did he follow the conventional path to success. With a debut film on sperm donation, this Chandigarh boy is making headlines with Vicky Donor, which grossed a profit of Rs 13.4 crore in its first week. Excerpts from an interview:
Seema Sachdeva
Vicky Donor handles the sensitive issue of sperm donation, a topic which is still under wraps in mainstream cinema. Was it not a risky subject for a debut film?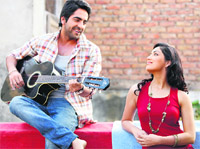 Risk is a very relative thing. When I signed the film, I was looking for a strong script where I would be a hero. I didnít think that it was a risky venture because for me, it was starting from a safe zone. Besides, the responsibility was low as I didnít carry any baggage of being a star or a star kid. Besides, I had full faith in Shoojit.
How was it working with Shoojit Sircar?
Shoojit is a great director. He gave me lot of liberty as an actor and he had complete faith in me. Only a person of Shoojitís calibre could have handled such a sensitive subject so well. We wanted to have a light-hearted take on sperm donation without being preachy. Also, we were conscious that a subject like this could have turned into a caricature if it wasnít dealt with sensitivity. On the sets, I had lot of fun. Artists are overgrown infants. They love attention. I am lucky to have been pampered a lot on the sets and I enjoyed each moment.
What kind of groundwork did you do while preparing for the role?
For me, sperm donation was not an altogether new subject. In fact, I had donated sperms while participating in Roadies on MTV in 2004. Before shooting for the movie began, I attended theatre workshops by Prof N. K. Sharmaís theatre group Act 1, where we did theatre exercises and practised voice mannerisms. I visited IVF centres and also met some sperm donors.
You come from a non-film background. With star children all around, how difficult was it to get a toehold in Bollywood?
If I were a star kid, I would have made my debut four years back. But I was in no hurry. I always wanted to be an actor but I wanted to wait for the right kind of role. Meanwhile, I have enjoyed each moment of my journey. I am proud of the fact that I have been able to create a niche for myself without any godfather.
Did your stint on MTV and as a TV anchor give you an advantage?

Becoming an MTV VJ was the high point in my life. It gave me an opportunity to be myself. Being a VJ gave me a chance to showcase my talent. As an anchor on various TV shows, I was able to get in touch with all the big shots of Bollywood.
What is the most important criteria you look for when you sign a film?
For me, the director comes foremost, followed by a good script and, of course, a good producer. A good director can make a good film even out of a bad script.
Now that your debut film has been a hit, do you plan to take a break from TV and concentrate on films or would you like to divide your time between both the mediums.
My current focus will be on doing films though I am open to doing quality programmes on television too.
Film promotion is becoming very important these days. How important is hype for a filmís success. What chance do small-budget films stand?
Hype is extremely important these days. A good budget is mandatory for film promotion. For a subject like Vicky Donor, we started spreading the message of the film first. We also used social networking sites like Twitter and Facebook to promote the film. Vicky Donor got 10 lakh hits on its YouTube trailer before the filmís release.
The song Pani Da Rang from the movie sung by you has been a hit. Would you like to combine singing with acting?
Iím glad that the song, which I wrote, along with my friend Rochak Kohli in 2003, has been well received. Though I hosted music reality shows, I didnít really get an opportunity to sing. I am open to using my singing skills in films.

What other hobbies do you have?
Music is my passion. I am a singer, composer, lyricist. I enjoy writing poems. I am quite active on my blog ayushmannkhurrana.blogspot.com. Besides this, I love playing cricket. I have played under-19 cricket from Haryana. My knowledge in cricket came in handy while hosting IPL. In fact, I play cricket with the children in my locality every Sunday.
How do you remain grounded?
I had never been so grounded but my wife Tahira, who is also my best friend, has been a great stabilising factor in my life. She has seen me grow. In fact, she is my biggest critic and keeps a reality check on my ambitious nature, which I get from my father, who is like Krishna and I am like Arjun.
Any role models you would like to emulate?
The legendary Amitabh Bachchan has always been a great inspiration. In fact, each time one sees him on and off screen, one feels one can always learn something new from him. I am also a huge fan of Sachin Tendulkar and Roger Federer.
Do you believe in destiny?
I am a firm believer in destiny. Itís a random world. My success is a perfect example of meeting the right people at the right time.
As part of Aaghaz and Manchtantra in Panjab University, you have been closely associated with theatre. Do you still do theatre?
Not much. I really donít get time for it because there are too many things. But I am very flexible.
What next?
I had a two-film deal with Shoojit Sircar and John Abraham. The second film that I have signed with them is Hamara Bajaj, a film about small-town actor Sanjay Bajaj, who becomes a superstar.