Exploring Tagore's oeuvre
Mujibar Rahman's 90-minute documentary Images Unbound — The life and times of Rabindranath Tagore gives a peep into the life of one of the greatest writers of the 20th century
Shoma A. Chatterji
Making a documentary on India's greatest littérateur Rabindranath Tagore is a challenging job. Mujibar Rahman, a young documentary filmmaker, decided to take on this challenge and made Images Unbound — The Life and Times of Rabindranath Tagore.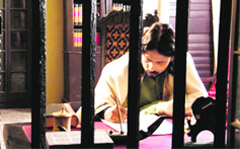 The pains this young filmmaker has taken to put this difficult film together, stringing a garland that puts across the creativity of one of the greatest creative writers of the 20th century is evident in this 90-minute film in every frame, every shot and every minute. Though the world knows Tagore mainly as a poet, he is famous for his public lectures on philosophical issues that are universal and timeless. He wrote fiction and is known as the father of the Bengali short story. He traversed every single area of literature from poetry through prose, drama, dance drama, composing the music of his own songs. Very late in his life, he took to painting. He also made a film under the New Theatres banner and acted in it. Rahman has put together these creative talents of seamlessly filling the soundtrack with Tagore's compositions.
Mujibar Rahman honed his skills with brief bio-pics on Munshi Premchand and Begum Rokeya. Says Rahman, "The film is an intimate kaleidoscopic journey into Tagore's oeuvre of life and art. I planned the film on Tagore to come out as a simple but grand bi-lingual documentary mainly as an informative and educational exercise. I relied more on research and little on fictionalisation. With the help of Tagore scholars like Sankha Ghosh and Prof Ananda Lal, I could put together around 500 rare, archival photographs and chose the songs with great care to suit the moods of different phases of the poet's life."
The film demonstrates how the poet's creative expression emerged from his personal life, especially the quick deaths of his father, wife, young son, daughter and his eldest daughter. There is not a single moment of boredom as the film scans across a live footage of Tagore and Subhas Chandra Bose when the poet came to Kolkata on the latter's invitation. Photographs of Tagore with Roman Rolland, Albert Einstein, Rothenberg, Mahatma Gandhi, Pandit Jawaharlal Nehru are rare archival documentations. His friendship with Victoria Ocampo and Rothenstein are referred to. One can see a young Indira Gandhi celebrating the poet's birthday at Santiniketan.
Images Unbound — The Life and Times of Rabindranath Tagore scans the littérateur's life and works principally through research. The graphical visualisation of every frame is rich with factual details comprising photographs, newspaper clippings, book covers of first editions and rare manuscripts, songs, poems, elocutions, video clippings from some of his plays, and even Tagore himself as an actor. When he heard about the Nobel Prize, he wrote the song e monihaar amaye nahi shaaje. The same man gave up his knighthood after the massacre in Jallianwalla Bagh. The film covers almost everything you wanted to know about Tagore but were afraid to ask.