M A I N N E W S
Hidden message in Collector's abduction Man Mohan
Our Roving Editor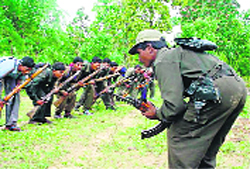 Raipur, May 8
Was there a 'hidden message' of the Maoists in the kidnapping of Sukma district collector Alex Paul Menon on April 30?
Top police and bureaucratic circles engaged in understanding the reasons behind the abduction of the 2006 batch IAS official believe that the Naxalites succeeded in sending a 'strong signal' to the BJP-ruled Chhattisgarh Government, especially to Chief Minister Raman Singh.
Raman Singh was planning to visit in the near future the same village from where Menon (32) was kidnapped by armed Maoists. "It is now getting clear that the Maoists did not want the Chief Minister to visit the area and take political mileage out of it," a senior official in the state government secretariat told The Tribune.
Menon was abducted from Manjhipada village in Keralapal, near Sukma (South Bastar), where he had gone to hear the tribals' grievances under the 'Gram Suraj Yojna' which has been functioning for several years. Menon's two security men were killed when they resisted his abduction. Menon was released on May 3.
Sources said that Menon was preparing the ground for the Chief Minister's likely visit to Manjhipada and other villages in the region.
"The Chief Minister regularly visits the rural areas to gather first-hand knowledge about the progress of various welfare schemes, especially those which are meant for the tribals," sources informed.
By kidnapping the district collector, sources felt the Maoists sent a signal to the state government that "it is a no man's zone for the official machinery - and don't bother about schemes like Gram Suraj Yojna".
The Chief Minister's visit in the area in near future would have brought a large contingent of security personnel in advance, affecting the Naxalites' movement in this core area.
Incidentally, it was the same spot where the president of the district unit of the BJP had been killed one month ago by the Naxalites, who had also attacked a 'Gram Suraj Yojna' team led by the Parliamentary Secretary Mahesh Gagda.
Menon was released in the dense forest of Tadmetla after an agreement was worked out by two representatives each of the Maoists and the state government on the night of April 30.
The spot of his release is less than 10 km from Chintalnar, where 76 men of the Central Reserve Police Force (CRPF) were ambushed and massacred on April 6, 2010. The CRPF has set up a major base at Chintalnar, where Menon spent the night after being released before returning to his family 85-km away in Sukma by a helicopter. Beyond Chintalnar, the para-military forces rarely go deeper into the Tadmetla forest, where the Maoists' writ runs.
In the red rebels' land
n CM Raman Singh was planning to visit in the near future Manjhipada, from where Menon was kidnapped by armed Maoists
n Sources said Menon was preparing the ground for the Chief Minister's likely visit to Manjhipada and other villages in the region
n The area is a no man's zone for the official machinery and the CM should stay out of it, seems to be the Maoists' message