M A I N N E W S

Twin mishaps in the sky, home and abroad
J'khand CM survives copter crash

Ranchi, May 9
Jharkhand Chief Minister Arjun Munda, his wife Meera and four other persons had a miraculous escape when the helicopter carrying them developed a technical glitch and crash-landed at the airport here today.

Munda (44) suffered multiple injuries, including those on the shoulder and ankle. He is admitted to the ICU of Apollo Hospital. Doctors said Munda's condition was stable and he was out of danger.

All six persons are able to talk coherently, they said. "The helicopter crash-landed from a height of 20 to 25 feet at the Birsa Munda Airport here. The doctors are examining the Chief Minister," DGP GS Rath said. The mishap occurred around 12.30 pm.
Aviation regulator DGCA has launched a probe into the accident. "We have appointed Assistant Director (Air Safety) Sanit Kumar as the Investigating Officer," Director General of Civil Aviation EK Bharat Bhushan said in Delhi.
The weather was fine at the time of the mishap that revived memories of copter crashes that claimed the lives of Chief Ministers of Andhra Pradesh and Arunachal Pradesh YS Rajasekhara Reddy and Dorji Khandu, respectively, and Lok Sabha Speaker GMC Balayogi in the past decade.
All on board the helicopter were immediately rushed to Apollo Hospital, Rath said.
A senior airport official said besides the CM and his wife Meera, two pilots, a security officer and BJP MLA Barkuanr Gagrai were on board the twin-engined Agusta AW 109 helicopter.
A medical bulletin issued by Apollo Hospital said: "There is no need for any immediate surgery on any patient. Trauma protocol is being followed and CT scan reports of all patients are normal. The Chief Minister himself told attending doctors there is no cause for any worry."

On demo flight, Russian plane with 50 missing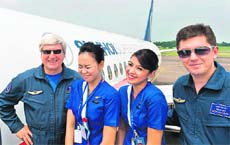 Russian test pilot Alexander Yablontsev with crew before take-off, at Jakarta airport.
Jakarta, May 9
A new Russian-made civilian plane carrying 50 persons went missing in Indonesia while flying over mountains today during a demonstration flight for potential buyers and journalists, officials said.
Search and rescue teams were heading to the area just south of the capital, said Bambang Ervan, a spokesman for the Ministry of Transportation. Bad weather, however, forced at least two helicopters to turn back.
The Sukhoi Superjet-100 took off from Jakarta's Halim Perdanakusuma Airport at 2.21 pm (0721 GMT). It went off the radar 21 minutes later near the Salak mountain range, after crew asked Air Traffic Control for permission to descend from 3,000 to 1,800 metres.
No explanation was given for the sudden change of course. Though drizzling at the time, it was not stormy.
"I saw a big plane passing just over my house," Juanda, a villager who lives near the 2,200-metre mountain, told local station TVOne.
Rear Marshal Daryatmo, chief of the National search and Rescue Agency, said several diplomats from the Russian Embassy, potential buyers from major Indonesian airlines and journalists were on board what was supposed to be a 50-minute demonstration flight, the second of the day.
Together with the Russian crew, the plane was carrying 50 persons, said Sunaryo, from PT Trimarga Rekatama, the company responsible for the guest list. — AP